This TikTok Hack Can Double The Cabinet Space In Your Kitchen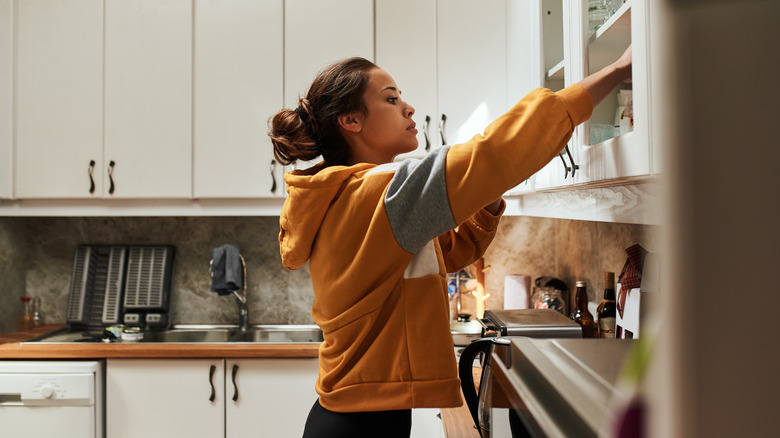 Adene Sanchez/Getty Images
We may receive a commission on purchases made from links.
One common problem we all face — especially when moving into a new rental apartment or house that's fully furnished — is that we rarely get the space that we need. This is particularly true in the kitchen where, more often than not, the cabinets are just too small to fit all our dishes and utensils. Sometimes you're stuck with a too-long or too-wide cabinet without enough shelves to divide everything up efficiently. Luckily, TikTok mom and home improvement content creator Fatima Kosar (@fatima.kosar) has a brief tutorial on how to use IKEA VARIERA mini-shelves to perfectly organize your kitchen cabinets and double up the space.
Kitchen cabinet space is a necessity, especially if you spend more time cooking than eating out. You simply need more room to put things away without worrying about cluttering up your space. Because full-scale renovations and touch-ups can be expensive and draining, easy-peasy hacks like this are always the best way to go. Plus, you only have to purchase as many shelves as you need to make a difference and you're good to go.
Set up the shelves in the cabinets to increase storage space
Your kitchen cabinet is the one place you need to make sure is clean and tidy at all times to deter pests who love hanging out in cluttered areas and also finding condiments easily. Putting up some movable shelves is a great way to do this. You only need to buy IKEA's VARIERA shelves and put them up as shown in TikTok creator Fatima Kosar's video above, it's as simple as that. 
Remove the dishes, utensils, or clutter in your cabinets, give the furniture a good wipe-down to sanitize it, and then set up the shelves the way you want them. Replace the dishes. The shelves are also foldable so when you're not using them, you can simply collapse them and put them away. You can also screw two or more together to create a longer shelf if you're looking for even more space.
You can find the VARIERA shelves at IKEA for just $10 to $17 a pop depending on the size. However, you have to make sure the shelves fit your kitchen cabinet colors and style, so you can always opt for other designs like this floating shelf that comes in different colors from Amazon or this foldable shelf similar to the VARIERA also from Amazon. It's more affordable and comes in sets of two.