The Brilliant Hack To Keep Your Outdoor Cushions In Place On A Windy Day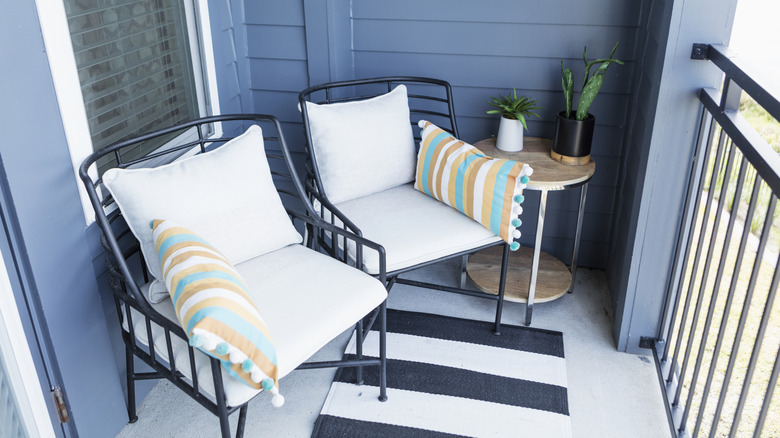 Kali9/Getty Images
We may receive a commission on purchases made from links.
It seldom takes more than a gust of wind to scatter the cushions from your outdoor furniture all over your deck, and sometimes the only workaround is the tedious process of removing them after every use. Not only do you need suitable storage space for your outdoor pillows, but it creates more work when all you want to do is enjoy your yard. However, a brilliant TikTok video shared by @houseon610th explains that you can cut strips of Velcro, securing your cushions in place all day. And the best part? This hack also works on indoor furniture, making it a versatile trick of the trade. 
This Velcro hack from TikTok can also prevent your cushions from sliding around when you're sitting outside, but it works to keep them safe during inclement weather. Although you can purchase waterproof outdoor cushions, they're not impervious to mold and mildew. Your furniture might be under an awning, but a rainy, windy day can quickly send your pillows out into the wet weather, making this hack an absolute must. Although some cushions come with ties, they don't work with every furniture style. Instead, defer to this handy hack. 
Attach Velcro to your outdoor cushions
To carry out this TikTok trick, all you need are Velcro strips, which you can purchase from Amazon for less than $6. Since this roll of Velcro is only 5 feet long, you may need several packages to accommodate a lot of exterior furniture. Simply cut a strip of Velcro that's long enough to secure your seat pillows in place and attach one side to your cushion and the other side to your patio chair or couch. Press your cushions snugly onto your furniture to fasten the Velcro, and voilà! The results are cushions that can stand up to windy weather. Keep in mind that, according to Velcro, the adhesive backing might not work well on certain materials, including canvas. However, you can use fabric glue to secure it in place. If you enjoy sewing, you could always permanently attach your Velcro strips with a needle and thread. 
As your outdoor cushions and pillows accumulate dirt and grime, they'll need a thorough cleaning. Luckily, Velcro is washable, but with one precaution. You don't want to risk it snagging other fabrics in the washing machine. Velcro has two sides — the hook and the loop. The hook is the scratchy, abrasive side, and the loop is the soft side. This means that, when you install Velcro on your outdoor furniture pillows, ensure the loop side is attached to the fabric and not your patio furniture. This way you won't tear any materials when washing them.