Give Your Thanksgiving Decor An Extra Pop With These Off-Beat Colors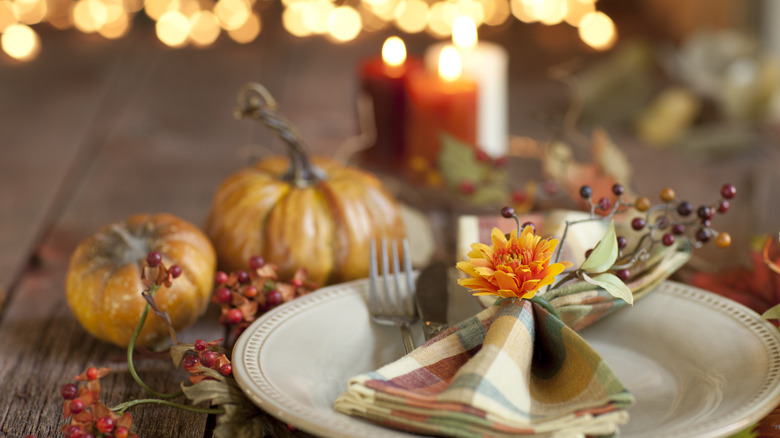 Liliboas/Getty Images
Once most homeowners have thrown away the Halloween jack-o-lanterns and taken down the fake cobwebs, their minds are instantly filled with images of snowflakes and Christmas trees. Because of this, it's often hard to make headspace for Thanksgiving décor. If we bother to decorate at all, this mid-autumn holiday too often gets a beige and white treatment, accompanied by basic tiny gourds and no real design plan. This is the year to change all that! Elevate your Thanksgiving décor with the help of items in shades of plum purple, sage green, lemon yellow, and orange. This is an unexpected color scheme that perfectly pairs with the shades of the season and can brighten up any space. 
Orange, yellow, and green are common enough in Thanksgiving decorations, but it's the tone of each specific color that helps to make it pop. As opposed to extra-vibrant hues, aim for richer terracotta shades of orange. Lemony yellow gives a fresh pop of pigment as opposed to the usual mustard tones we see in autumn. Sage green differentiates enough from the gem-toned shades we see at Christmastime and offers an earthy foundation to anchor the color scheme. Plum is the real wild card here, as purple isn't a color we often integrate into our fall décor, but it's a deep tone that matches cranberry sauce. There are countless ways to use these colors this Thanksgiving, both in the dining room and throughout the home. 
Mixing and matching is a great strategy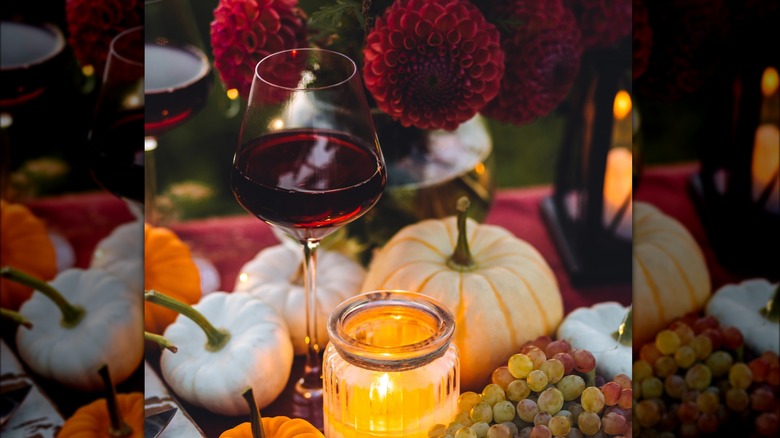 Vera Prokhorova/Shutterstock
Since Thanksgiving often centers around food, there's no better place to start decorating than the dinner table. Try to add these tones through the tablecloth, napkins, placemats, dinnerware, and centerpiece accessories. West Elm's $59 set of four Mosey Me Placemats features orange, yellow, and plum tones that bring instant warmth. Further, the soft pinks add a playful touch that would look lovely with Ruvanti's Cloth Napkin Set of 12 in sage, sold on Amazon for $15.
However, Thanksgiving decorations don't have to stop at the table. Consider also including throw pillow covers and blankets as decorations, as these are great ways to add both color and pattern. For instance, you could buy a two-pack of white and orange Patterned Cushion Covers from H&M Home for $13 that would go perfectly with Wayfair's $39 Lark Manor Chelchowska Super Mink Throw in tawny port, a plum shade. The fluffy texture of this blanket makes it perfect for relaxing on the couch after Thanksgiving dinner.
If you're on a shoestring budget, there are cheaper options, too. With a little paint and some tiny gourds (real or faux), you can customize your own bookshelf and tabletop décor. Faux flowers and a vase in these colors is a decorative option that will last for years. Finally, taper and pillar candles or tealights in colorful votives are always your friends. For instance, you could buy plum or yellow Taper Candles by Ashland at Michael's for $2 each.