Add A Touch Of Texture To Your Kitchen With This Simple Fixer To Fabulous Upgrade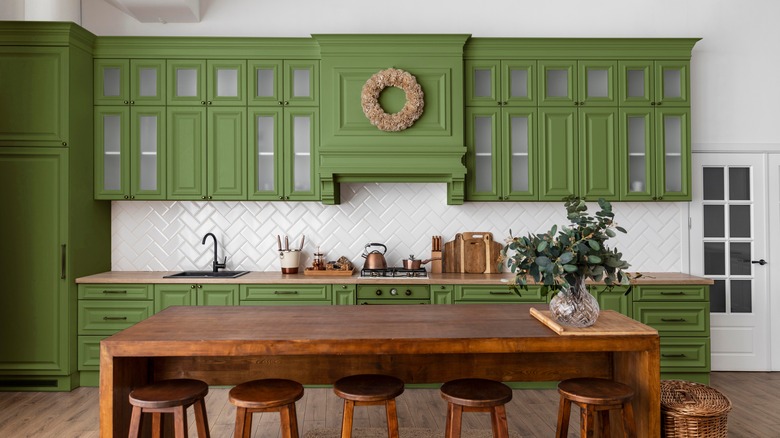 james benjamin/Shutterstock
Adding texture to your home decor prevents your interior designs from looking flat and dull. Contrasting textures give a room visual interest and allow the eyes to bounce around. You can also use this strategy to draw attention to key aspects of the space. Some rooms pose more of a challenge to add texture to. In particular, the kitchen has many flat, glossy surfaces, such as countertops, cabinets, and backsplash tiles. For an easy way to add texture to your kitchen and a functional and fabulous island lighting idea, look to Dave and Jenny Marrs from HGTV's "Fixer to Fabulous."
The couple designed a sleek, modern, black kitchen for an episode, incorporating pendant lights with woven shades over the island. The lights serve as a statement piece in the room, with Jenny describing them as "a little touch of lake, a little texture and natural." Infusing natural materials into the kitchen helps break up the large expanse of dark cabinets, counters, and backsplash tiles. Ultimately, the pendants provide a pop of contrast without detracting from the overall design or appearing out of place.
Choose pendant lights with a natural, woven texture
Drawing inspiration from nature is a great way to bring texture into your space. Woven materials like those Dave and Jenny Marrs used in their clients' kitchen add instant texture that stands out. Jute, rattan, and wicker are standard options used in woven interior details. Woven light shades incorporate texture and offer a warm glow in a room. Plus, they're an easy way to up the visual interest without requiring a significant renovation, and many are available at a price that won't blow a budget.
Lighting Direct offers a Bellevue 14" Wide Pendant featuring an organic shade for $108.41. Are you interested in a variety of options from a single retailer? Crate and Barrel has several natural pendant lights in unique shapes that range from $279 to $399. For instance, the Cabo Large Woven Pendant Light ($349) has a more classic shape, while the Noon Small Natural Wicker Pendant Light by Leanne Ford ($399) feels more modern. Meanwhile, the Craftmade 1 – Light Dome Pendant ($264.48) from LuxeDecor is made of natural grass and has a thicker weave to create a bolder texture.
Natural materials work well in a variety of interiors. Because they're typically a neutral color, they will fit regardless of the room's color palette, often acting as a grounding detail. Ultra-modern spaces, such as the kitchen the Marrs duo designed, can use a bit of natural detail to infuse it with life, making it warmer and more approachable.