How To Choose The Right Type Of Paint For Your Vinyl Siding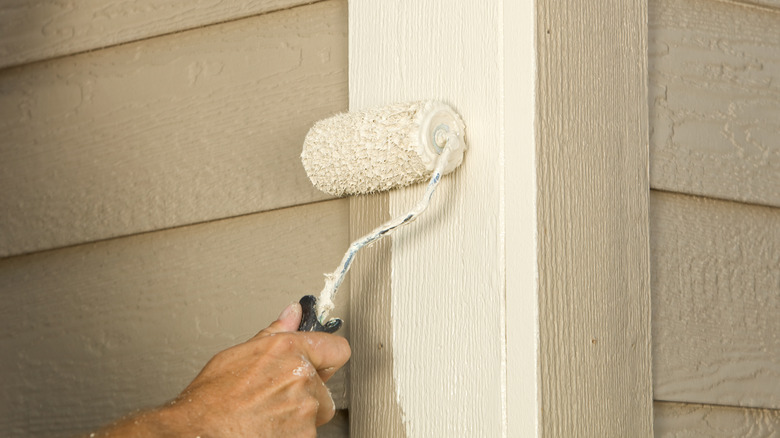 Banksphotos/Getty Images
You don't always have to replace the vinyl siding to update the exterior of your home. You could paint it, and with products designed specifically for this task, it's easier than you may think. Various paint manufacturers, including Benjamin Moore and BEHR, make products specifically designed for painting vinyl siding. For example, Sherwin-Williams created its SuperPaint Exterior Acrylic Latex to give your vinyl siding a fresh, new look while decreasing the likelihood of fading or peeling over time. If a product doesn't indicate that it's vinyl-safe, it could damage your vinyl siding.
The product you select for painting your vinyl siding should include a few elements. First, choose acrylic paint, as this type goes on easily and adheres to the surface of the vinyl. It also lacks the heaviness of other paints, so it likely won't weigh down the siding or drip and run during application (as long as you use it properly). You'll also want to ensure the paint texture isn't too thick or thin so it won't peel away after a couple of seasons. With the right tools and a quality product, painting your vinyl siding makes for the perfect weekend exterior project to refresh your house.
What to look for in vinyl siding paint
As you compare the best exterior paint for vinyl siding, look closely at the product labels. Most paint for vinyl will require the application of a primer, which helps the acrylic paint adhere better and covers up any dark siding you may have. However, some products do not. For instance, the Sherwin-Williams SuperPaint Exterior Acrylic Latex combines paint and primer in a single package. This will cut your time on the ladder as a single coat applied to clean siding will give you the desired results, allowing you to save money and move on to other tasks faster.
While choosing the right color plays an essential role — no easy task given that the SuperPaint Exterior Acrylic Latex alone offers 100 color options — you should also consider the sheen. You have several sheen options: flat (no shine), low-luster, satin, gloss, and high-gloss (lots of shine). This decision comes down to personal preference; however, satin may prove ideal thanks to its toned-down reflective qualities and ability to hide dings and dents better than other sheens. The small amount of shine also makes it easier to keep clean since materials don't stick to it as readily.
The benefits of using paint designed for vinyl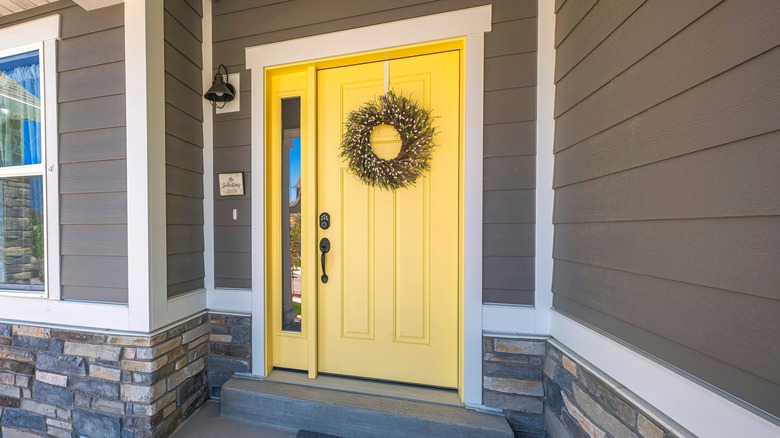 Jason Finn/Shutterstock
Acrylic paint does an excellent job regarding durability and reducing the chance of mildew and mold growth. You also want to choose a product that won't warp or buckle on the siding, which can happen with low-quality options or paint not designed for vinyl. The Sherwin-Williams product line features Advanced Resin Technology, which the company designed to provide adhesion to the surface of the existing paint on your siding. It states that fade resistance will also make your chosen color less likely to lose its brightness quickly from weather exposure.
Sherwin-Williams suggests its latex is also unlikely to blister. Blistering often happens when the paint lifts off the surface of the vinyl due to heat or moisture. The resulting bubbles can lead to peeling. Cleaning or fixing your siding poses a challenge after blistering occurs, meaning you may have to replace it instead — the last thing you want when trying to make your vinyl siding look new again.
Additionally, using paint made for vinyl siding can offer benefits in terms of when you apply it. Many people don't want to spend a hot summer day painting their siding, but some products allow you to use them at points later or earlier in the year with cooler temperatures. For example, you can hit your siding with a coat of SuperPaint Exterior Acrylic Latex in temperatures as low as 35 degrees Fahrenheit.