Use This Genius Rolling Planter Hack To Keep Your Kitchen Storage Organized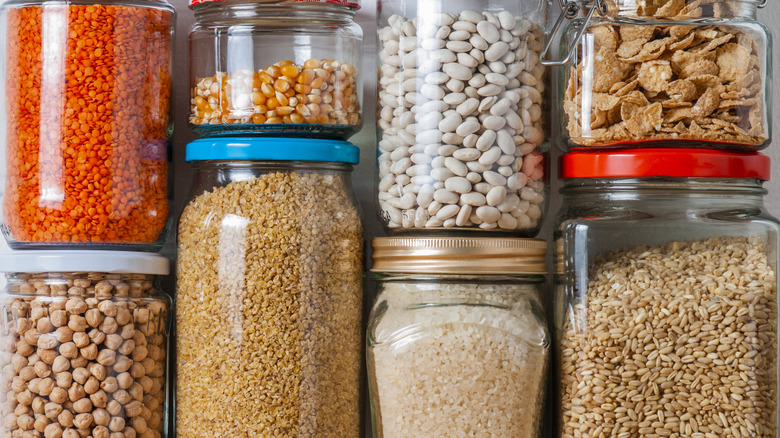 Cemagraphics/Getty Images
We may receive a commission on purchases made from links.
According to a OnePoll study, people spend an impressive 400 hours every year in their kitchen, which means that organization is essential to this corner of your home. However, you may find your cabinets overflowing with clutter and your pantry filled to the brim with canned and dried goods. But in an incredible TikTok hack shared by @juliessoapb0x, you can organize your kitchen storage with nothing more than a rolling planter and some baskets. If you already have one that rolls, you can repurpose a planter for this hack, saving you money on new items. 
Although you can purchase all these materials at Target and on Amazon, you can also upcycle items within your home as you build this DIY project. If you're fond of visiting thrift stores or garage sales, you might even come across the perfect baskets for this creative craft. Once constructed, you can roll these baskets around your kitchen with ease, stashing them in your pantry afterward. This hack is wonderful for anyone who struggles with lifting heavy objects, as you can use it to store hefty items such as sacks of potatoes, pet food, and more. You'll not only have effortless, rolling storage, but you'll have an organized kitchen in no time. And the best part? You can use these rolling baskets throughout your entire home. 
Purchase your baskets and plant stands
To carry out this incredible TikTok basket organization hack for kitchen storage, you'll need to purchase two Woven Abaca Crates from Target. They come in two sizes, so be sure to purchase the large one for $20. This basket has a base of 13" by 14.25", so your rolling plant stands need to accommodate these dimensions. Amazon sells a two-pack of wooden rolling plant stands for less than $23, and since they're 12" square, they fit these baskets perfectly. You'll also need eight zip ties — four for each basket. 
Begin by installing the wheels on your rolling plant stands. Next, slide four zip ties through the bottom of each basket, ensuring they're evenly spaced. From there you can secure them to your plant stands. You can customize this incredible hack by switching up the types of storage crates you use. If you're looking for brighter, lighter colors, you could purchase white wicker baskets from Wayfair. They're $20 each and perfectly fit Amazon's rolling plant stands too. If you're looking to store larger items in your kitchen, you could purchase a long, rectangular basket. You'd attach it to both plant stands the same way you would the smaller baskets. Additionally, you can paint your wicker baskets with an oil-based paint or use wire crates for an industrial appearance. It all depends on the look and utility you want to achieve in your kitchen.