Is It Better To DIY Or Hire A Pro To Install Hardwood Flooring?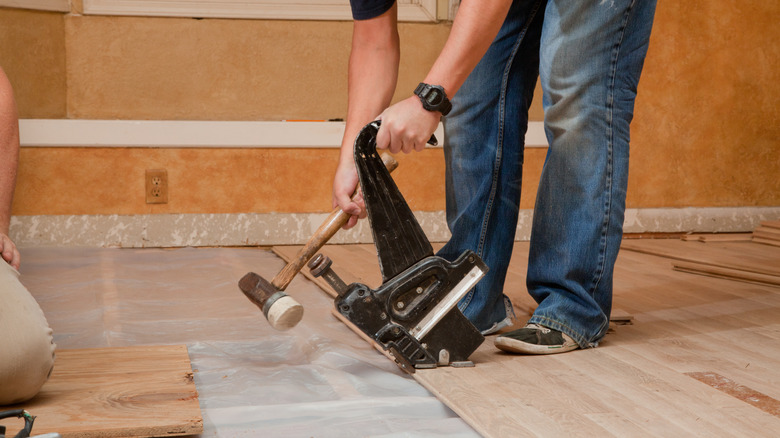 EFDN/Shutterstock
Deciding whether it's worthwhile to install your own hardwood or engineered floor comes down to a few key factors: the quality, the speed, and the cost of putting in wood flooring. In the simplest terms, you'll typically find that pros are faster and do better work, while DIYers can get it done far more affordably. But there are some wrinkles along the way that might change how much these advantages and disadvantages apply to your situation. The thing about a DIY project is that you often have an opportunity to stand conventional wisdom on its head, at least a little.
One key aspect of deciding whether to DIY a flooring job is being honest with yourself about your skills, and what you do and don't know. Another piece of the puzzle is understanding the level of quality you'll find acceptable. And, of course, only you can have a handle on your budget limitations, including just how firm those limitations are. Having a clear understanding of all these things will help you weigh up the pros and cons of DIY versus a professional installation and how much latitude you have to make either situation work.
The Pros and Cons of DIY Installation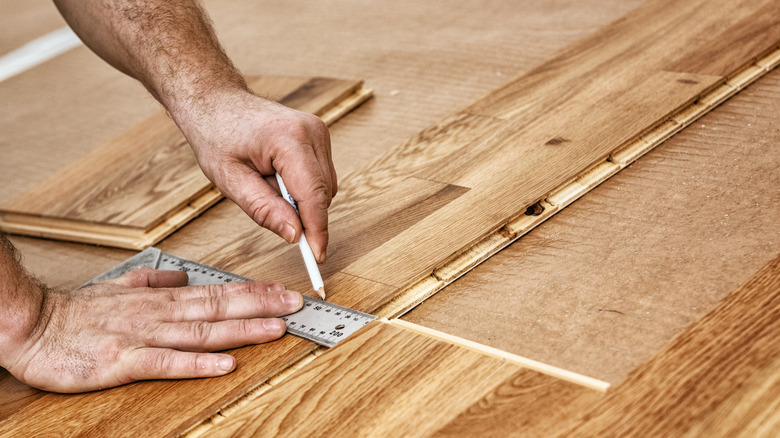 Ingo Bartussek/Shutterstock
Installing your own hardwood flooring with completely acceptable — and even spectacular — results is 100% doable. Most homeowners decide to take on the task to keep costs down. According to Home Depot's estimates, you can save more than half the cost of your flooring by doing it yourself — 55% for solid wood and 51% for engineered hardwood — assuming you have the tools already. 
There are, of course, downsides too. You might accidentally void your warranty by DIYing, which also might not pay for labor if you do the work yourself. Voiding a warranty is as easy as violating some arcane rule about documenting subfloor moisture or room humidity levels at the time of installation, for example, or not properly acclimating the wood, an important step for a durable and easy wood flooring install that's recommended by experts.
But, perhaps the most important downside is that the cost savings of doing it yourself aren't a sure thing. Floor Authority suggests doubling the waste allowance for DIY work, which would mean budgeting an extra $95 for a 500-square-foot area. Moreover, flooring-specific tools can be costly, for instance, the cheapest 16-gauge pneumatic nailer at Lowe's, the Numax 3-in-1, is $133.36. If you need a power tool for undercutting door jambs, the Roberts jamb saw costs $229.00, or the Craftsman oscillating multitool will set you back just over $100.
The Pros and Cons of Professional Installation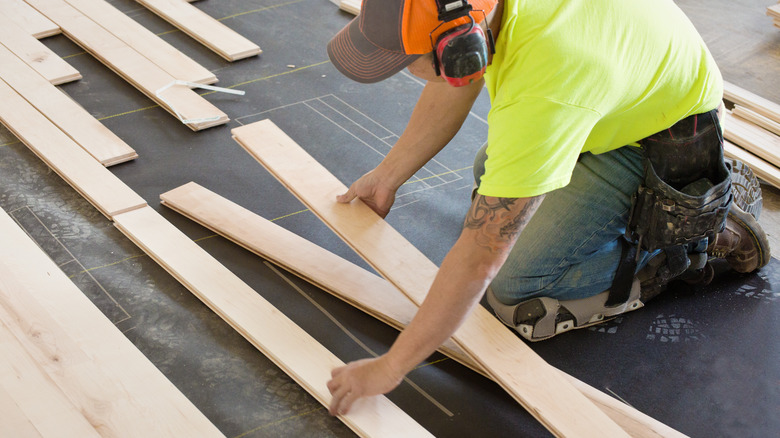 Yinyang/Getty Images
A professional installer's experience comes with a lot of advantages. You won't be buying tools or spending time learning how to do every task, and pros generally work much faster. For example, installing wooden trim around a doorway can be slow going for a novice. Similarly, a two-person crew might lay 1,000 square feet of flooring in a day, which would be something of a challenge for an inexperienced DIYer. And, an installation warranty could be worth as much as your total installation costs, an average of $1000 for a 500-square-foot space.
However, there are some cons to pro installation, too. A professional isn't necessarily as invested in your floor as you are. Always check a contractor's portfolio and references — one of the more common mistakes homeowners make when hiring contractors. And many downsides to pro installation have to do with flexibility. A professional crew's schedule could involve waiting lists and priorities other than your convenience. Finally, having strangers in your home can be inconvenient, so you can forget about making that towel-clad dash from the shower to your bedroom to grab the clothes you left on the bed.