The Dollar Tree Garden Find TikTok Swears By For Easy Propagation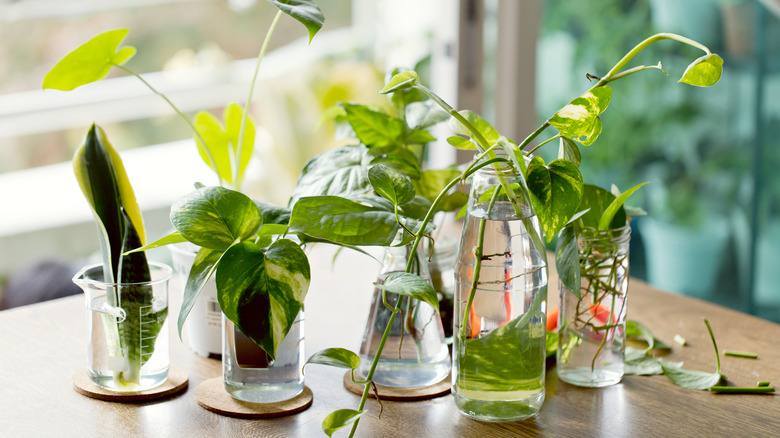 AngieYeoh/Shutterstock
If you're new to propagating and growing your own plants, then you may find the whole process overwhelming at times. However, it doesn't have to be. If you don't know where to start, then @unrulyliving on TikTok suggests using a plastic cloche dome from your local Dollar Tree store to help you propagate plants like an expert. Not only is this beneficial for you, but it's also good for your plants too — trapping necessary humidity and protecting your small plants from pests or other damage. You can purchase as many as you want, which makes it perfect if you're looking to grow several plants at once. Even better, the product is also incredibly cheap, coming in at only $1.25, which makes it perfect if you don't want to spend a huge chunk of money and are looking to keep your costs down.
Thankfully, the cloche domes are also incredibly easy to use — even if you're new to the whole process. This will help to take much of the strain off your shoulders. If you're looking to propagate either one or several plants separately, then this Dollar Tree product should be able to help.
Prepare your plants for propagating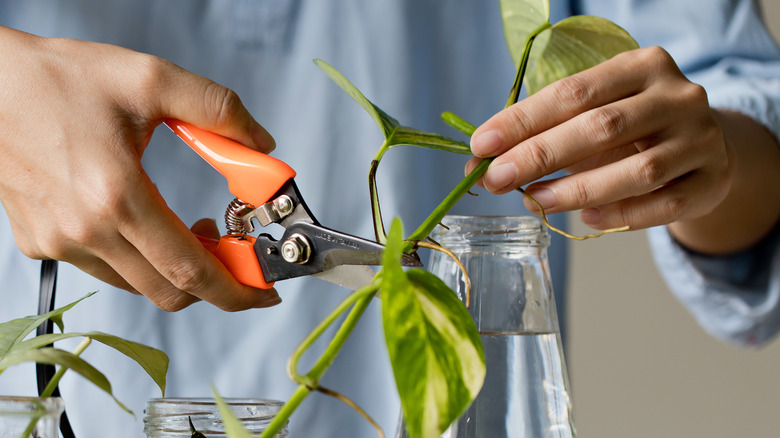 AngieYeoh/Shutterstock
Propagating your plants using this product is relatively straightforward. All you need to do is arm yourself with a plastic high cloche dome and prepare your plants. To do so, you'll first need to use a small tub that's a suitable size to fit under the dome. You could also use a small upcycled laundry detergent cap, yogurt container, or some Dollar Tree tealight candle holders to prepare your nursery plants. Once that's done, simply put them in place on the black or brown base and add the dome on top, ensuring that it's secure. Now, all you need to do is wait and let the cloche work its magic. The whole process should last roughly four weeks, and you should check up throughout. You can also propagate plants through rhizome or root division without a cloche if you're feeling adventurous.  
When propagating plants in this way, you should always ensure that you give them access to a small amount of air from time to time. Doing so will help to support healthy growth and make the whole process run much smoother. Just don't forget to give them a top-up of water roughly every two weeks. However, you should always double-check what's best for your specific plants. 
The dome provides your plants with optimal conditions
The dome helps to create optimal conditions for plant propagation by increasing the humidity trapped there. In turn, this helps to support the plant's growth, and you shouldn't have to water them as much as a result. However, you don't have to use this specific cloche. You can purchase cloches with dedicated air vents for as little as $3.98 at Walmart, which you can use for outdoor propagation too. In addition, many other stores sell different-sized domes depending on the size of your cuttings, such as this rustic dome for $24.88 on Etsy.
Alongside using your plastic cloche dome, you should also ensure that you place your cuttings in indirect light around your home if you want to enhance your results. This could be anything like a shelf or a bedside table — the choice is yours. You should avoid anywhere pitch black, as this will likely stunt your plants' growth. If you're still unsure of where a good location would be, plant doctor Charlotte Hosking explains to Stylist that "this is when you place your plants in a [well-lit] room where the sun will not shine directly onto your plants' foliage." Of course, you can always experiment with different places to see where it is best. In addition, you should also ensure you use the right products while propagating, such as liquid plant food if you are growing hydroponically, or use an appropriate potting medium for the job.