Give Your Laundry Room Floors A Gorgeous Upgrade With TikTok's Genius Design Idea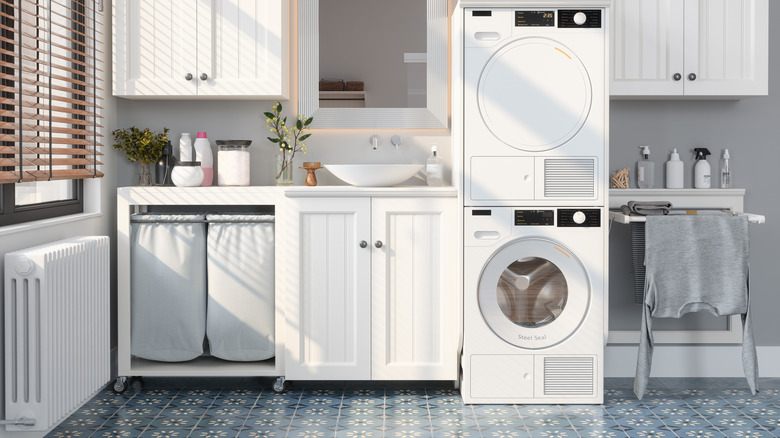 Onurdongel/Getty Images
We may receive a commission on purchases made from links.
Of all the areas of your home that are slated for remodeling or refurbishing, the laundry room is probably low on the list simply because guests do not frequent it, it's not a gathering spot, and it doesn't greatly increase the value of your home. However, you do spend a good deal of time there, so if you can make it a more cheerful spot, you should. The cost might be prohibitive, though, so a fun and inexpensive way to give your laundry room an upgrade is to simply paint over your basic flooring. Even if your laundry room floor is concrete or raw plywood, TikTok has a genius idea to spice it up with nothing but some paint and a stencil.
You can find large stencils for floors or walls at craft stores, home improvement stores, or even online on Amazon, usually listed as tile stencils and available in sizes from 6-12 inches. They're also available for just about any budget, from under $5 to $30, depending on size and design. However, some specialty stores sell designs for upwards of $50, so the possibilities are practically endless. Choose a simple, repeatable pattern, or something elaborate and striking, whatever will bring you the most joy in this utilitarian space.
Painting your laundry room floors with a stencil
To paint your laundry room floors, you first need to prep them. For plywood, this means sanding and filling any gouges with paintable caulk. It's necessary to sweep and vacuum the surface of whichever floor you have and mop it clean, letting it dry before you go any further so you don't paint down any dirt or debris.
When you're ready to paint, cut in the corners and edges with a brush, then use a large roller to cover the bulk of the floor in broad strokes for quicker coverage, working from the inside toward the exit. Your first coat should be primer, and your second and third coats should be done using floor and porch paint in the color you want to use for your base coat. Pick two complementary but contrasting colors for your stencil project. Black and white are classic choices, but other popular combinations are blue and gray or pink and green. It doesn't matter which is your base and which is your stencil, though it is usually easier to paint darker colors onto lighter ones.
After your base is dry, secure your stencil in place and use a roller the size or slightly smaller than the stencil to roll your accent color. Wait a minute before repositioning, then repeat the process. After you've covered your floor and the paint is dry, you can apply polyacrylic, if desired, for extra protection and durability.