Jenny And Dave Marrs' Curb-Appeal Boosting Trick Won't Break The Bank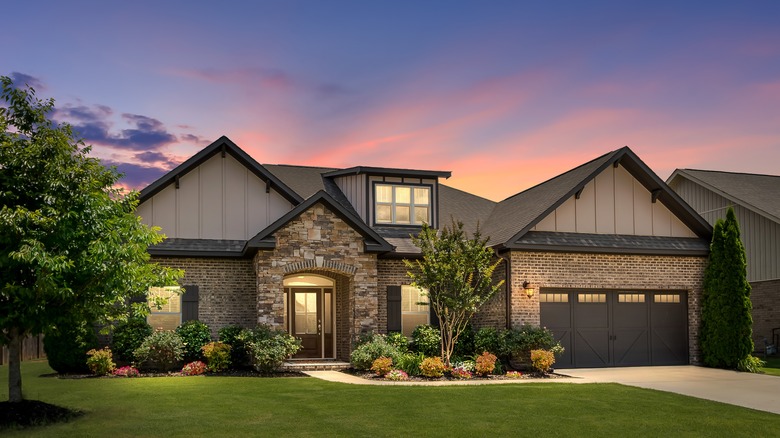 Right Home Media/Shutterstock
You shouldn't focus solely on cultivating a stylish home on the inside; the exterior of the home should receive just as much attention. Boosting your curb appeal can help increase your home value as well as beautify it. Luckily, Dave and Jenny Marrs from HGTV's "Fixer to Fabulous" have an easy way to improve your exterior. "I think swapping out lighting [is important]," Jenny Marrs says in an interview with Apartment Therapy. "Sometimes you buy a house and you have some builder grade lighting on the front porch and that really is the first thing people see." The easy swap can instantly make a home exterior feel more customized.
Consider the exterior of your home like a first impression. It's often the first thing that guests see when they arrive, and for strangers, it's likely the only part of the home they'll see. A well-designed exterior can boost home value, and the right light can be a small but impactful detail that contributes.
Illuminate your exterior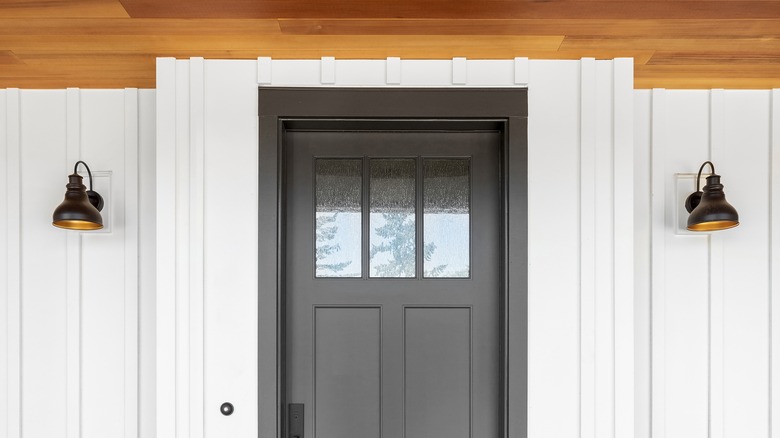 BM_27/Shutterstock
You shouldn't neglect the details on the exterior of your home. Dave and Jenny Marrs believe that swapping out builder-grade lighting for something a little more custom should be a top priority. When selecting a new light fixture, consider the style of the exterior and allow that to be your guide. A sleek modern fixture will look out of place on a very traditional colonial home. Similarly, you'll want to think about the finish of the light fixture paired with the exterior of your home. Matte black finishes feel more modern than oil-rubbed bronze, for example. Finally, keep in mind other features of the exterior, such as the front door hardware, shutters, and roof. You can match a light fixture to one of those features to ensure a cohesive design.
Consider the overall architecture of the exterior when choosing the style of a porch light. Lantern-inspired lights fit well with traditional homes. These often have a bronze finish with glass sides that show off flame-shaped light bulbs or even gas flames. However, contemporary and modern homes often pair best with simple, sleek, and minimalist exterior lights. Other homes, however, blend both styles. Craftsman homes, for example, tend to fall somewhere in the middle with lantern-inspired designs that use decorative sleek lines and geometric shapes. Take a cue from the architecture to choose a complementing light fixture.
Other ways to boost your curb appeal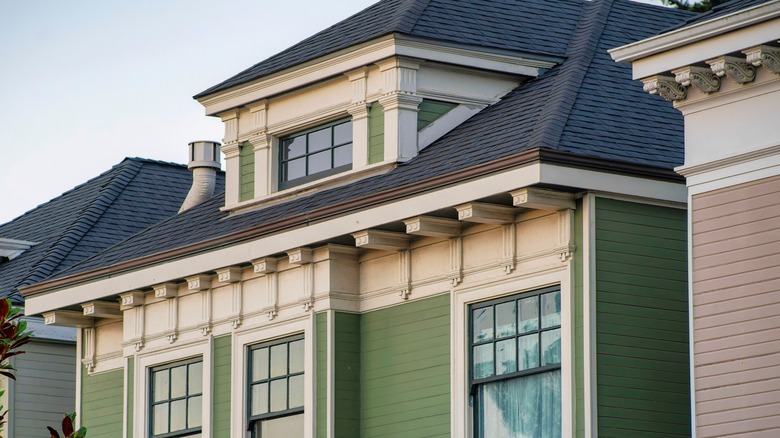 Aaron Finn/Shutterstock
Lighting isn't the only easy way to give your curb appeal a boost, according to Dave and Jenny Marrs. The designing pair also likes using corbels and shutters on the exterior. "To put a corbel on or put on some shutters ... it's not expensive, but it really is a big impact without having to change the structure of the house," Dave Marrs says in an interview with Apartment Therapy. Corbels are a decorative support that can be used both in and outside the house. While they can be used to hide structural supports, they're often added for a decorative detail on the exterior. They're often used on the bottom of roofs, underneath window boxes, or under awnings. Adding corbels creates more depth to an exterior that may look flat. They're installed by simply fastening them to the side of the home, so it doesn't require a renovation.
Shutters are a similar project in terms of scope; you won't have to undergo a large renovation to add them to your exterior. Shutters often look best on traditional exteriors, such as colonials and coastal homes, to add depth and texture to what could be a flat facade. Louver and Bermuda-style shutters can add high texture, while board and batten or panel shutters are more minimal. Use shutters to add a pop of color to an exterior. Match them to the front door or use a contrasting color as the home's facade.