The Classic Blind Style That Will Pair With Your Curtains In 2024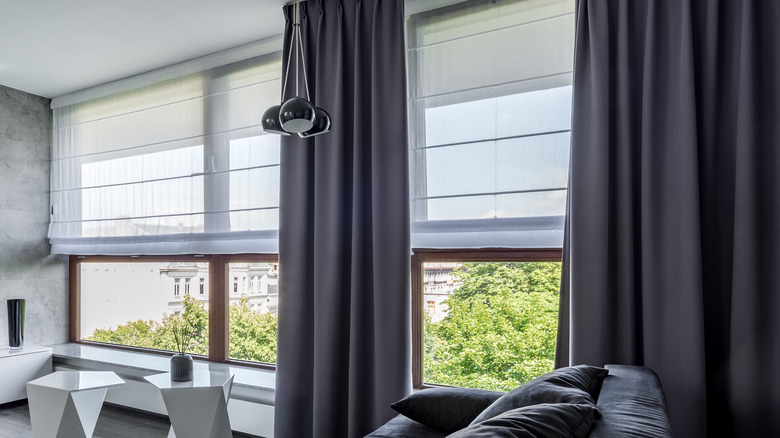 Dariusz Jarzabek/Shutterstock
Strategically layering window treatments like blinds and curtains will let you enjoy the sunlight, facilitate privacy, and enhance the aesthetic appeal of a room. But which blind style should you pair your curtains with for a classic and trendy look in 2024? The answer is Roman shades. Though these blind's lineage can be traced back to the bygone Roman Empire, they've gained traction in the past couple of years and are set to take center stage in 2024 due to their functionality and elegance.
When layered with draperies, these timeless and stylish window treatments will add a touch of whimsy and infuse warmth into your room. The best part, though? This design trend is adaptable, highly practical, and adaptable to any area of your home. You can take advantage of this combination to breathe new life into a dull room or overhaul the existing decor theme without burning a hole in your pocket.
Why pair roman blinds with curtains?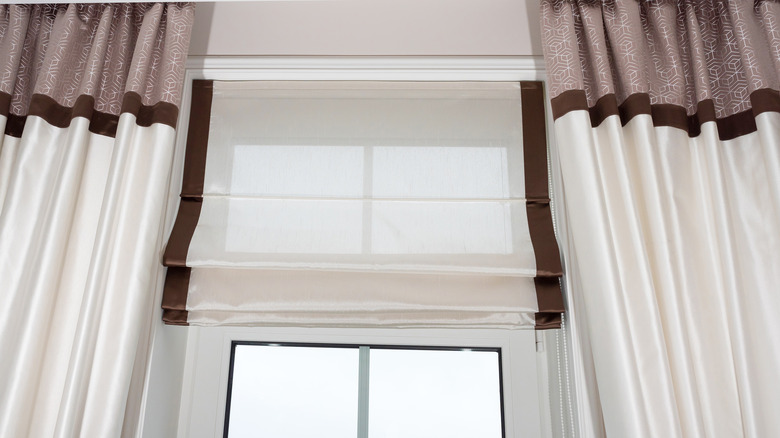 shablovskyistock/Shutterstock
While the primary reason to pair Roman shades with curtains is their attractiveness and the range of fabric and design options available, there are various other reasons why they're a classic match. For starters, these window treatments let you decide the amount of natural light you want brightening your space. For instance, if you need to create a dark room in the middle of the day, lowering Roman blinds will block most of the light, but there might still be leaks around the corners. However, drawing the curtains—blackout or regular—will help you block the light even further.
Similarly, if you require some privacy but don't want a pitch-dark room, investing in sheer or semi-sheer draperies and rolling up the Roman blind into neat folds will help you get exactly the right balance. Better yet, when used in tandem, this dynamic duo will preserve heat during cold winter months and prevent air-conditioned air from escaping the room in the summer, maintaining your room's temperature and effectively lowering your energy bills. Since such blinds are often composed of thick and rich materials, they double as insulators. Bonus advantage: this layered approach can make your window appear larger than it is. Simply position the shades a few inches from the ceiling, then install the curtain rod at the same level and let it extend at least 30 to 60 cm beyond the casement.
How to incorporate this trend in your home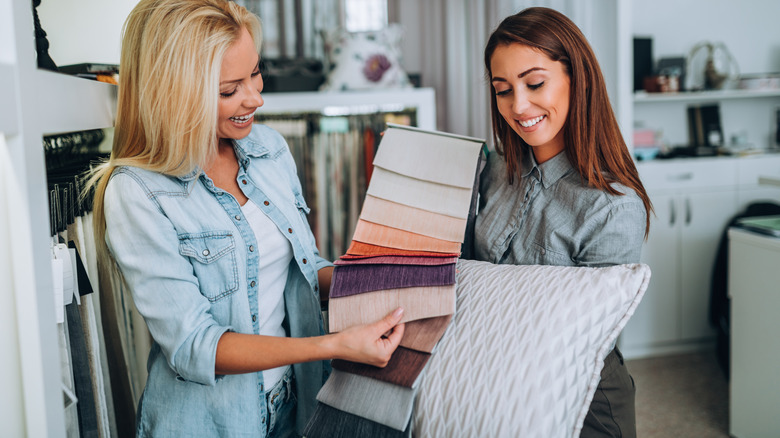 hedgehog94/Shutterstock
If you're thinking of pairing Roman blinds and curtains in your home, you need to determine if you want to incorporate this trend because it's in vogue, its light control and privacy aspect, or both. For instance, if you want the best of both worlds, install one window treatment for purely decorative purposes and the other for functionality. Think printed, patterned, or textured Roman shades paired with a decadent curtain fabric in solid hues. It can go the other way, too, with fun curtains and solid blinds. However, if that doesn't match your taste, match sheer, semi-sheer, or blackout curtains with sumptuous and luxurious Roman blinds for a minimalist style statement.
Another approach that would work for both maximalist and minimalist lovers is to pair two solid shades. You can go with bold hues or choose neutral colors for the shades as well as curtains. Or add a playful touch by matching one bold element with an earthy one to ground the treatments. The choice is yours as long as you don't forget to consider and draw inspiration from the overall design scheme of the space. You can also enlist the help of a color wheel to choose shades that go together. Since blinds are often picked first, it's best to experiment with them as much as possible and decide if you want them solely for their style or if you want them to double as insulators and privacy enhancers.