Hide Your Essential Oil Diffuser In Style With TikTok's Brilliant Decor Trick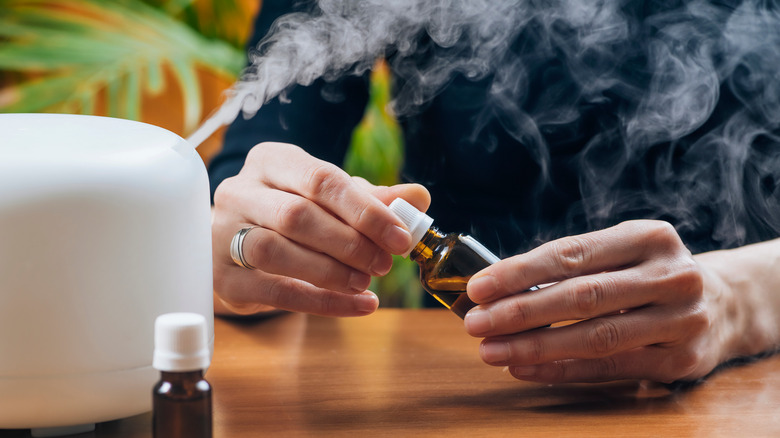 Microgen/Shutterstock
We may receive a commission on purchases made from links.
Because so many homeowners love scenting their space with essential oils, you can find diffusers in countless different sizes and designs. However, if you're on a budget, you may find that cheap ones don't exactly match your personal style. For instance, the Mainstays Teardrop Diffuser at Walmart only costs about $6, but it looks quite plain. If you love using diffusers but want to improve the appearance of your inexpensive piece, this TikTok trick by @redeux_style will do just that. Measure the height and width of your diffuser, then get yourself a stylish storage basket that's taller and wider than the measurements. Just pop the diffuser inside, and fire it up! If you want to completely hide the piece, choose a basket with a lid, but if not, use one that's open at the top. 
To complete this hack, you'll also need to poke a hole in the side of the basket for the diffuser's outlet plug. You could create this hole with a screwdriver or perhaps a knitting needle, depending on the material. Also consider making a small hole in the middle of the lid for the water mist to emerge from. Once you've placed the diffuser inside the basket, think about where you want to keep it in your house. A fresh mist of essential oil fragrance at your home's entryway is welcoming. Otherwise, placing the basket in a central location will give you the best room coverage.
How to choose the right basket
For this hack to work, you'll need a basket that breathes, allowing the mist from the diffuser to escape. The basket materials to look for should be woven, so ones made out of rattan, rope, wicker, beach grass, or reed are good options. You might even use a cable-knit basket from a master knitter for a completely-unique look. Next, you'll need to choose the right style container. Are you a minimalist who enjoys monochromatic schemes, or are you more eclectic? Consider shapes as well — if you like to keep things neat and symmetrical, then an uneven, handmade vessel probably won't work, but a structured, rectangular basket could be perfect. If your taste is more whimsical, search for an organic and unexpected shape.
A benefit of this hack is that it can make an inexpensive diffuser look better for less money. If you're on a strict budget, hunt down the right piece at a thrift store. You could also purchase the two-pack of OrganiHaus Planters from Etsy for around $29, though they don't come with lids. An alternative is the 12-inch Hogla Basket from Ten Thousand Villages that costs about $30. The small version of the Pear Braided Storage basket for $65 from Ferm Living could be perfect for hiding a diffuser in the kitchen. And at 7 inches high, the Rope Woven Basket from Amazon for about $22 can handle a small unit and hide it well under a lid.