Genius Towel Bar Home Hacks That'll Elevate Your Everyday Life
Zhanna Danilova/Getty Images
We may receive a commission on purchases made from links.
So many daily organizational problems could be solved with one simple object: a towel rack. They can do so much more than hold our wet towels, as they can also provide storage space or add visual interest to a room. Further, many of them are super affordable. We've found 15 of the best ways to use towel bars to hack the home, and there's a tip for nearly every room. When repurposing towel racks for creative uses, consider the weight-bearing capacity and the style of the rack to ensure it suits the intended purpose and complements your decor. Because these will be visible in some of your most-used spaces like the living room, bedroom, and kitchen, you want to make sure you aren't just going for the most basic option. 
Also, if you are renting, keep in mind that some towel racks need to be secured with a drill and screws. You may be able to use furniture hanging strips like Command Strips, but these will impact the towel bar's total weight capacity. There are also over-the-door towel racks that can fit over cupboards and regular-sized doors — take advantage of these if you want zero installation time. You'll note that some of these hacks also require the use of S-hooks, and you can find these on Amazon. 
1. Free up storage space with a pot rack
If you're battling a pile of pots, pans, and lids every time you open your cupboard door, consider using a towel bar to create a makeshift pot rack. You can hang it from the wall, cupboard, or ceiling, then use S-hooks to hang the pot and pan handles. You'll want to be very mindful of the weight capacity, lest you have big heavy pots falling from up high. Also consider hanging your lighter-weight aluminum and nonstick pans from this bar while keeping the copper and cast iron types in the cupboards. 
2. Attach a decorative wall tapestry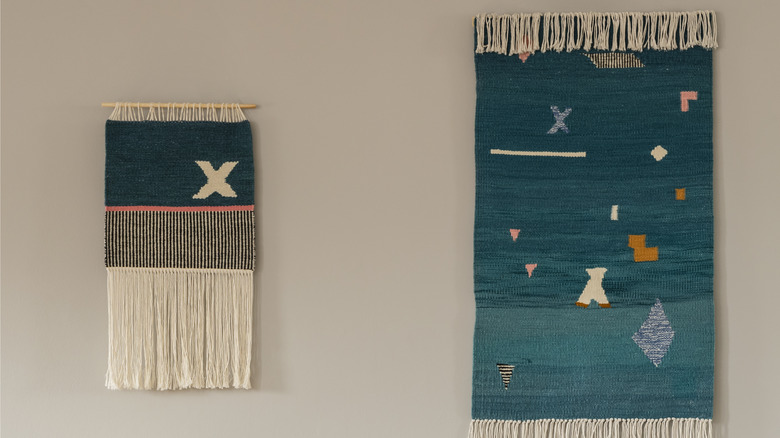 Katarzynabialasiewicz/Getty Images
Original paintings can be expensive, while prints can make a space feel totally generic. That's why wall tapestries are the perfect solution, and hanging them is easy as can be with the help of a towel bar. You can either drape the tapestry over the bar if the pattern won't be obscured, like with a macrame piece or patterned rug, or tie the corners of the tapestry to the bar. Because you're using the bar to display art, try to find one in a stylish finish such as brass or a natural wood tone. 
3. Dry delicates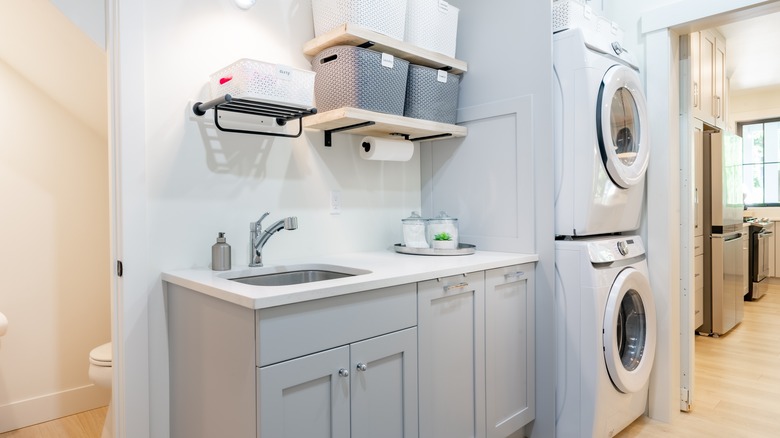 Sheila Say/Shutterstock
You don't always need to get out the clothes drying rack for delicates, especially when you only have just one or two items that you don't want to put through the drying cycle. Instead, install a towel rack on the wall above your washing machine or dryer and hang the delicates directly from the bar. You can also hang storage baskets with hooks from the bar to hold laundry supplies like dryer sheets, laundry softener, and scent beads. However, avoid storing large and heavy bottles of detergent here for the weight capacity's sake. 
4. Add hanging storage to any shelf
You can never have too much vertical storage, so why not maximize the efficiency of the shelves you already have hanging on the walls with a towel bar? Instead of attaching the bar to the wall, attach it to the bottom of the shelf. From here, you can attach hanging plants, electronics, chargers, and so on, leaving the top of the shelf free to hold non-hangable items and decor. With the help of S-hooks and metal clips, you could even display artwork from this bar. 
5. Create a dreamy coffee bar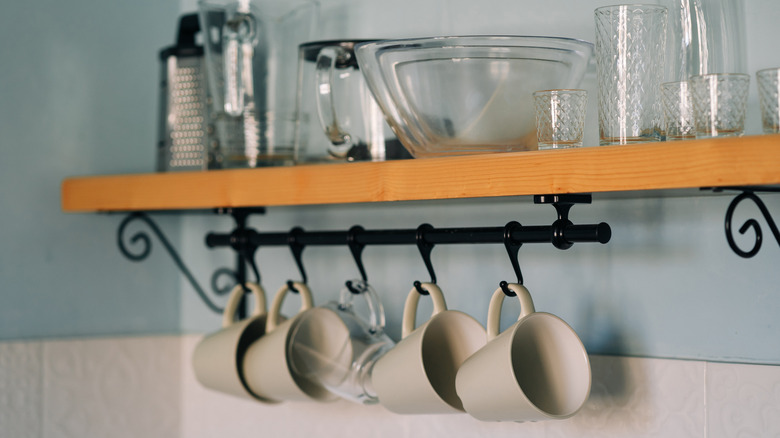 Dimitri Disterheft/Getty Images
Make your DIY home coffee bar feel customized and save precious countertop and cupboard space by hanging a towel bar for your mugs and coffee accessories to hang from. Using S-hooks, you can attach mugs by the handle so you can always view your collection. You can also suspend measuring spoons or coffee-themed tea towels. Add a few hanging wire baskets to hold your coffee pods, sugar containers, and flavored syrups as well. 
6. Hang kitchen utensils for more countertop space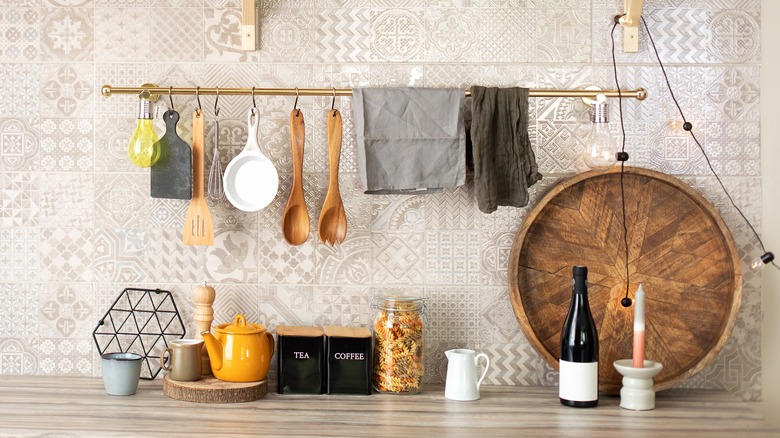 stock_studio/Shutterstock
Ever wondered why most spoons, spatulas, and ladles have a hole at the end of the handle? It's actually so you can hang these tools, so if you have an overfilled drawer or a clunky utensil jar that always seems to be tipping over, try using a towel rack and S-hooks to free up some much-needed kitchen space. If you use furniture hanging strips to mount the rack, keep in mind that the heat and grease from the stovetop can cause the adhesive to wear away faster. 
7. Get garden tools off the shed floor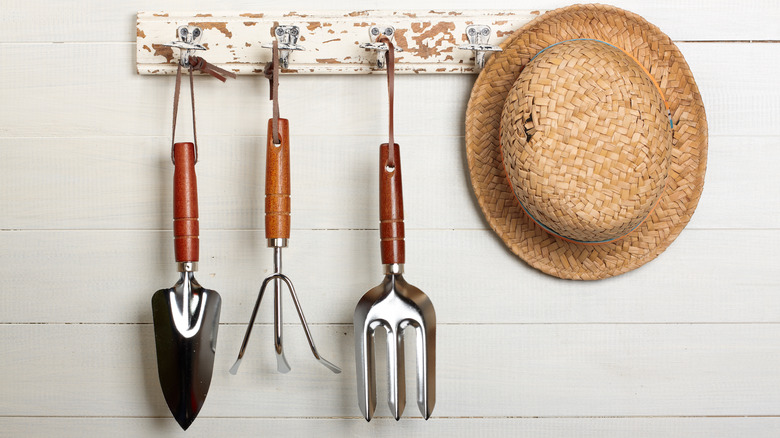 macka/Shutterstock
Many of us can only dream of having a totally-customized gardening room or shed, but a towel rack is one easy way to ensure your tools are accessible, always visible, and not gathering dust and dirt at the bottom of your gardening bag. Just like cooking utensils, gardening tools like shovels, trowels, and rakes have holes in the handle, which are perfect to use when hanging. You can either place S-hooks through the holes or make twine or rope loops.
8. Give your pet their own storage space
If you have a furry friend, you know they have a lot of accessories that go along with them. Collars, harnesses, leashes, and more can get, well, nasty. So even if you have a mudroom rack, you probably don't want them next to your suede gloves or cashmere scarf. Use a towel bar to give your pooch their own storage space. Hang it in your mudroom or near your entryway for convenient storage before and after walks, and you'll never have to waste time searching for the leash again. 
9. Store shoes vertically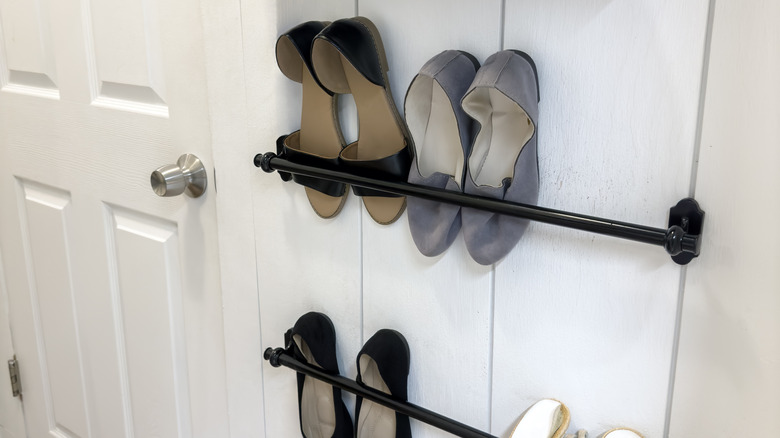 Gerenme/Getty Images
If you need a place to store your shoes vertically, consider using towel bars. You can tuck the toes of your pairs into the bars or hang them by the heel. this is a great option for lightweight, low-structure shoes. On the other hand, heavier shoes like boots can get warped or weigh down the bars, so they should be kept somewhere else. It may also be best to hang the bars on a stationary wall so you don't have to worry about shoes falling when you open the door. 
10. Keep cleaning products out of reach
A lot of us just push our many cleaning products to the back of the cupboard under our sink without giving it much thought. But if you have little ones or pets around, you may want to keep some of the products that contain harsh, toxic chemicals out of reach, or you might just need to make space for bulkier items. To fix either of these problems, simply hang a towel bar from a pantry door or upper cabinet and hang the bottles by their sprayer handles.
11. Sort out your scarf collection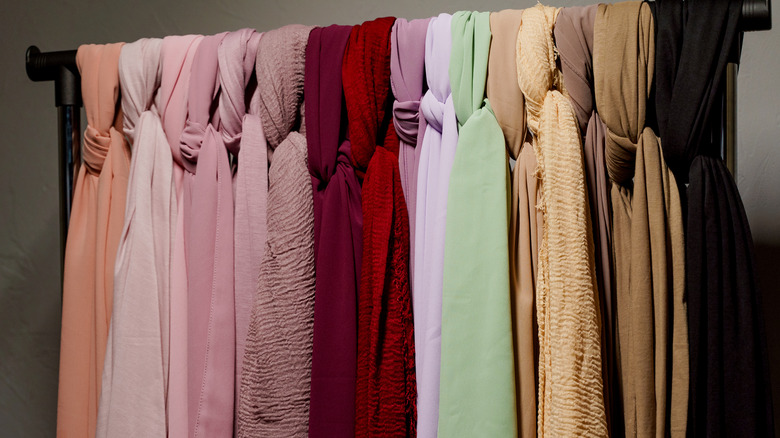 Rabizo Anatolii/Shutterstock
Scarves don't take up much room and they can transform any outfit, so it makes sense to collect them. But over time, they can overwhelm a storage space, get clumped together, or spill out of a bin or drawer, making it impossible to ever find the one you want. That's why a towel bar is the perfect organizational choice. You can hang each scarf individually and you won't lose out on a ton of clothing storage or closet space. 
12. Prevent necklace tangles with a jewelery organizer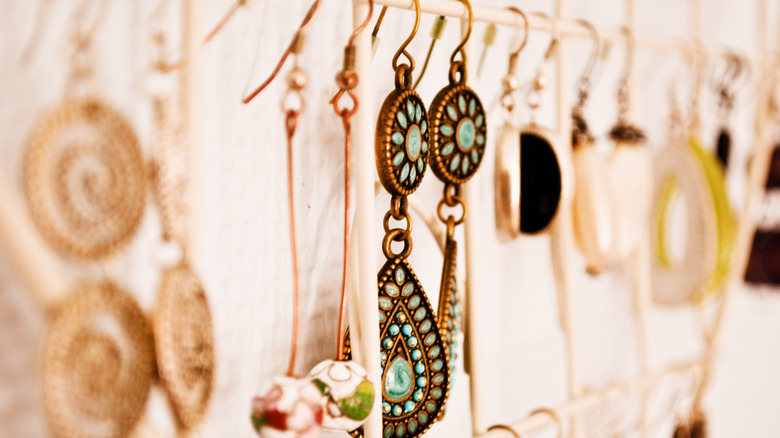 Froggyfrogg/Getty Images
Jewelry boxes can be great until you find your favorite necklaces, bracelets, and earrings tied up into an impossible knot. To prevent this, try mounting a towel bar in your bathroom, bedroom, or closet. You can hang any jewelry on long chains from S-hooks or simply place earrings with curved backings right over the bar, which will keep them from tangling and make it easy to quickly view your collection. 
13. Transform your entryway into a proper mudroom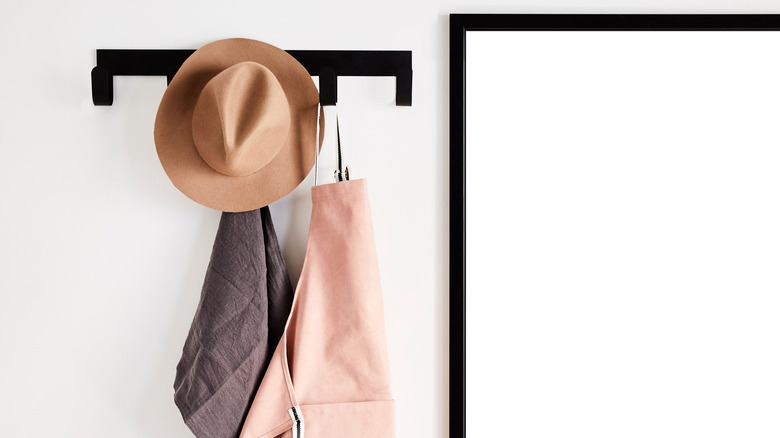 PhotoMavenStock/Shutterstock
You don't need a built-in storage cabinet budget to create a mudroom. Instead, you just need a few towel racks. Hang one with towel hooks at the entryway to make a more functional space. You can place regular clothes hangers on the rack to hold jackets securely, but keep the weight capacity in mind.  Additionally, use S-hooks as a lightweight hanging option to hold keys, purses, and scarves. Metal clothespins could also work well here for hanging lightweight, small items like gloves and hats. 
14. Build an herb drying rack
In the kitchen, use a towel rack to dry herbs or small vegetables. Simply hang them upside down from the rack with clothespins, hooks, or twine until they're ready to use. To maximize space and optimize your drying time, try using laundry mesh bags to dry herbs in bulk while they hang from your towel bar rig. We recommend installing this in the kitchen but far enough away from the stove that they won't get grease on them while drying. 
15. Suspend items and baskets in the bathroom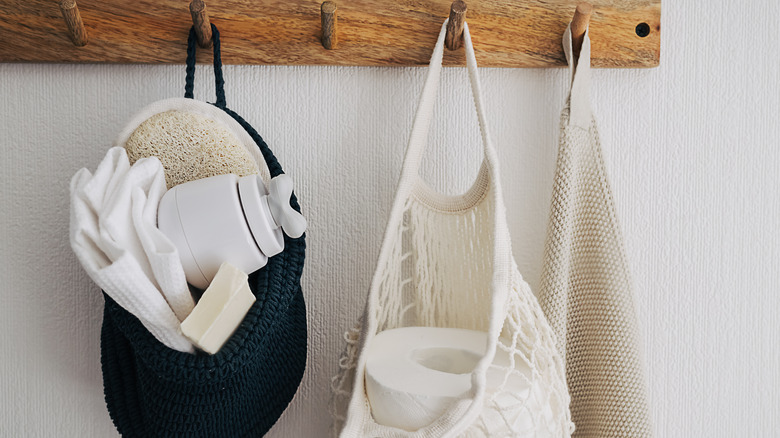 Kudzina/Shutterstock
In addition to hanging towels in the bathroom, use additional towel racks to store and display cosmetics, hair accessories, or hanging bags full of extra toilet paper. This can add a decorative touch to your bathroom, all while keeping clutter off of your countertops. You can even hang heavy hair styling tools like blow dryers, flat irons, and curling irons directly from the bar with some clever maneuvering.