Turn Your Belt Into A Floating Shelf With This Impressive DIY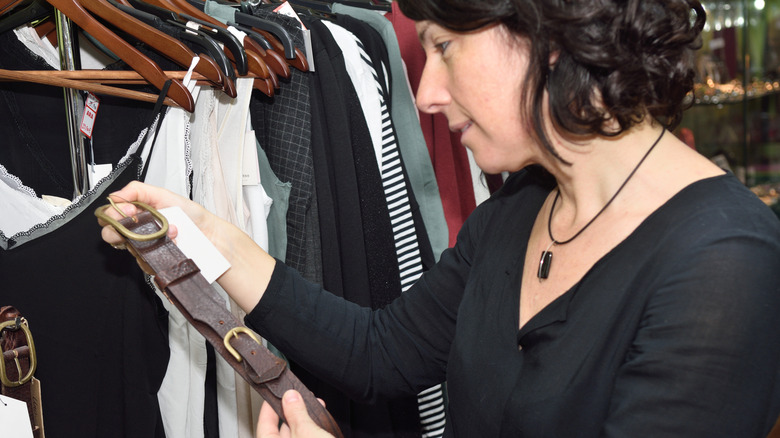 Curtoicurto/Getty Images
If you have a large expanse of unadorned wall space in need of an upgrade, you might be inspired by this unique accent. Of course, you can always improve a space by incorporating macrame, paintings, or other types of artwork you enjoy. However, for those DIYers itching to get their hands on a project, consider making some shelves that can serve a practical function as well as provide a visual anchor point for an unfocused room. For instance, minimalist shelves allow you to showcase the beauty or meaning of any objects you choose. For a cool DIY project, we recommend getting a length of lumber, attaching two belts in a loop to the wall, and floating the wooden shelf in between them. Add some plants or art, and voila — you have a floating shelf!
Most of the time, installing a shelving unit means purchasing a large item of furniture that rests on the ground, sticking into the room by a foot or more. In the right spaces that's fine, but consider some of the benefits of floating shelves. They don't interfere with the flow of traffic in a room or close up the space from a lot of bulkiness. And, by strategically using color, you can either make them blend with the wall or choose textures and colors that harmonize with the existing furniture.
How to construct a floating shelf
This project was completed for $8 by TikToker @onthecheaptip because they already had most of the needed materials, and bought discounted belts at a local close-out store. You'll need a long piece of wood, which can be purchased for under $15 at Home Depot, two belts (from thrift stores, or Shein perhaps), some 220 grit sandpaper, wood stain, a paintbrush, polyurethane, a tape measure, level, drywall anchors for the screws, and a power drill.
Have the woodyard cut the wood for you at the desired length of the shelf, then sand and stain it. When it's dry, give it a coat of polyurethane. Use painter's tape to mark where you want the shelf — we suggest experimenting with eye level – or about five feet from the ground. Mark where the belts will attach to the wall with a pencil, and drill in your wall anchors. Fasten the first belt to the wall anchor and then repeat on the other end. Fasten both belt buckles and float the shelf through them. Use a level to make sure the shelf is straight, then nail the belts to the bottom of the board so it won't slide around. To blend with your existing decor, consider painting the wood a contrasting color, using colored or textured belts, and utilizing your shelf to display vibrant, colorful art. Or, create more than one shelf and fill them with whatever you love to collect.