The Common Cleaner That'll Secretly Do Major Damage To Your Marble Countertops
Creativastudio/Getty Images
Maintaining the pristine beauty of your marble countertops is a priority for any homeowner. These exquisite surfaces, often considered the crown jewel of kitchens and bathrooms, elevate the aesthetic appeal of any space. However, in the quest for cleanliness, it's crucial to be aware of the potential pitfalls, and one common household cleaner stands out as a silent assailant — Windex.
The popular window cleaner, Windex, is a familiar ally in the battle against smudged glass and streaks. It may seem innocuous, but its use on marble countertops can have far-reaching consequences. These luxurious stone surfaces, known for their natural patterns and timeless elegance, are more delicate than meets the eye.
The unsuspected danger lies in the chemical composition of Windex. While effective on glass, it can be abrasive when it encounters the calcium carbonate in marble, leading to subtle yet impactful deterioration. Let's delve into the intricacies of this commonplace cleaner and uncover why it's essential for homeowners to rethink its role in their cleaning routines to safeguard the enduring allure of their marble countertops.
Why Windex is bad news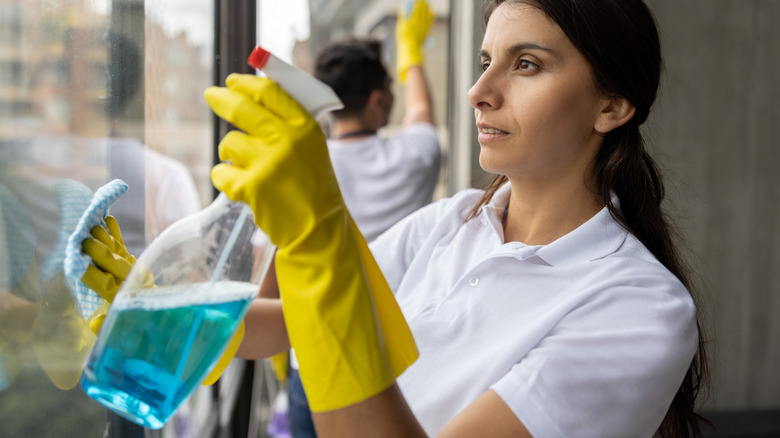 Hispanolistic/Getty Images
Understanding the chemistry behind the damage is important for homeowners looking to preserve the longevity of their marble surfaces. Marble, a metamorphic rock prized for its natural beauty, is particularly sensitive to the effects of acidic substances. Unfortunately, Windex, in its pursuit of glass clarity, poses a unique threat to your marble countertops. The key culprit lies in Windex's ammonia content – an ingredient that proves effective for glass but can be abrasive and detrimental when you use it to clean marble.
Marble reacts adversely to ammonia. This chemical interaction leads to a process known as etching, wherein the surface of the marble becomes corroded. The result is a loss of the countertop's polished sheen, the emergence of dull spots, and, in some cases, the development of fine surface scratches. It spoils any protective coating your countertops may have been treated with and thus can increase the possibility of staining your expensive marble. Over time, these seemingly minor damages accumulate, gradually compromising the overall aesthetic appeal and structural integrity of your marble countertops.
How to protect your marble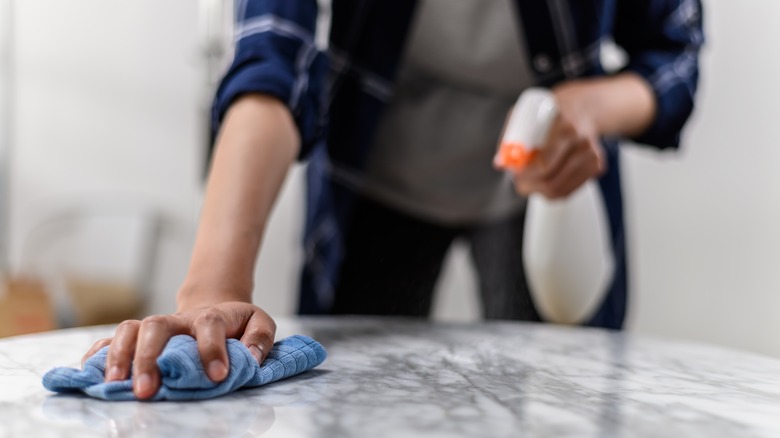 Cat Box/Shutterstock
It is essential to highlight practical steps homeowners can take to shield their marble countertops from the potential harm of Windex. Instead of reaching for this commonplace glass cleaner, consider adopting a more marble-friendly approach to cleaning. Opt for pH-neutral cleaning solutions specifically designed for delicate surfaces, ensuring a thorough cleaning without compromising the integrity of your countertops.
Regularly sealing your marble surfaces is another key protective measure. A high-quality sealer acts as a barrier, preventing harmful substances from penetrating the porous surface of the marble. This extra layer of defense goes a long way in preserving the natural beauty and durability of your countertops over time.
By making an informed choice, you can enjoy the timeless elegance of the marble countertop without inadvertently subjecting it to the corrosive effects of common household cleaners like Windex. In the long run, this will not only aid in preserving the aesthetic appeal of your home but also contribute to the longevity of the marble countertop surface, thus protecting your investment.