Create A Stunning Arched Mirror With TikTok's Creative Pool Noodle Hack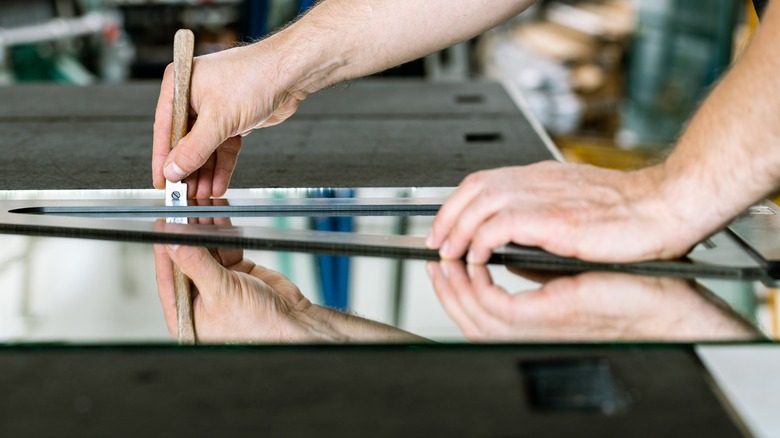 Andrzej Rostek/Shutterstock
Uniquely shaped mirrors are a beautiful, but often expensive element to add to your interior. Decorative mirrors can cost several thousands of dollars from trendy retailers, particularly if they have details like fabric, carving, or unusual accents. TikTok user @blondesigns, however, recently showed off a very stylish decorative mirror hack that transforms an ordinary rectangular mirror into a beautiful tufted fabric piece using plywood, foam pool noodles, and some fabric. The result is a dead-on dupe of this Upholstered Iris Floor Mirror from 1st Dibs, coming in at a much more budget-friendly $80.
To create this DIY mirror, you will need a full-length piece of mirrored glass, a piece of plywood that is larger than your mirror by at least 2 inches, and enough fabric to cover the length of your pool noodles and mirror. Depending on the look you are trying to achieve, you can select different fabrics to cover the pool noodles. @blondesigns uses a textured beige cloth for the inner foam arch and a mustard yellow for the outer. To tie the mirror in with your decor, select colors that blend with your accent pieces, or go with all black, white, or gray for a monochromatic look. You will also need a jigsaw and a staple gun. To cut your mirror, you will also need a mirror-cutting kit, available from Amazon. You can also skip the more tricky glass-cutting process and buy a mirror that is already arch-shaped, like this one from Amazon. 
Creating a fabric arched mirror
While @blondesigns uses an arched mirror as her base, you can use this hack with pretty much any mirror shape, including rectangular, round, oval, and hexagonal pieces of glass. Just shape the foam around the edges of the mirror and add fabric. Begin by laying out the pool noodles to create the shape you want on the mirror using packing or duct tape. This will guide you on where to cut the mirror as well as the dimensions you will be cutting out from the plywood with the jigsaw. Using liquid nails, fasten the mirror to the plywood, leaving a 2-inch margin around the outside for the pool noodles, and allow the adhesive to dry overnight.
To attach the fabric, lay it over the mirror and place the pool noodles over it, then wrap it around and secure it in place on both sides with staples. Creates the innermost arch first, trim off the excess material in the middle, then repeat the process to form the outer foam arch. As a finishing touch, you can add more fabric stretched across the back of the mirror to cover the unsightly plywood, then add a flexible trim, like this one from Amazon, to the outermost edge for a finished look. @blondesigns places her mirror on the floor but you can also add wire hanging hardware to fasten it to the wall.