DIY Festive Elf Christmas Decor With This Easy Pool Noodle Hack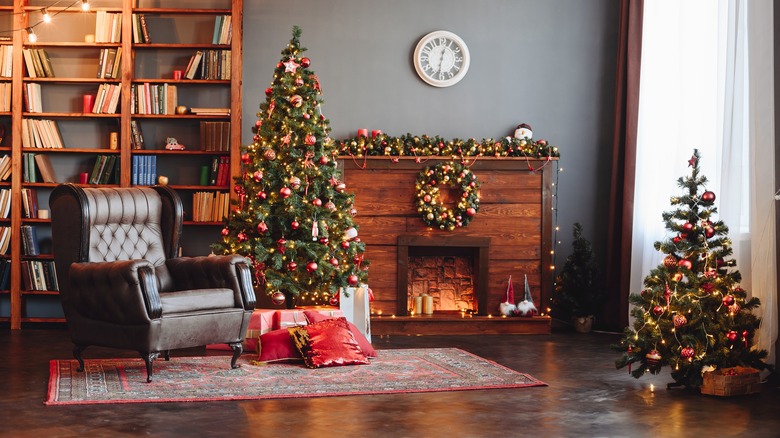 maxfoto.shutter/Shutterstock
We may receive a commission on purchases made from links.
Once summer has come and gone, you might have some old and tired-looking pool noodles hanging out around your backyard. No need to throw them away, though, when you can repurpose them for the upcoming holidays. Even if you don't have any, a quick trip to the Dollar Tree can supply you with just about everything you need to create an adorable DIY Christmas elf decoration for your home.
Whether you're looking for a DIY craft you can do with your kids, something to give as a gift to extended family, or just want to make a cute and festive piece of creative holiday decor for yourself, this is easy and inexpensive. First, you'll need a couple of pool noodle sections, which can be cut from a single noodle. You'll also need an elf hat and either some striped socks or Christmas chair/table leg covers, available on Amazon for about $14. To secure it all together, a glue gun works best. Walmart, Target, craft stores, and even Five Below all stock glue guns, while Dollar Tree's Christmas section should be well-supplied with elf hats and holiday socks in addition to their general supply of pool noodles. Of course, if you don't find the exact clothing items you like, you can buy a whole set at Amazon for less than $16, containing everything you need.
Putting your DIY elf together
For certain pool noodle DIYs, straight cuts are imperative and the use of a miter box is recommended to prevent the noodle from wiggling out of position. However, for this particular craft, your cuts don't have to be perfect, so a simple serrated knife will do the job. Though, you can draw a guideline for better accuracy. Cut your noodle into two equal-length sections of 14 to 16 inches, and stuff them into the socks or leg covers. If you're using socks, you will also need to stuff the toes with newspapers or put them into pointed shoes. If you're using leg covers, elf shoes are part of the package, so this isn't necessary.
Glue your elf hat onto the legs, covering the tops so no part of the noodle shows. If you would like to hang up your elf display, you can glue a holiday ribbon to the top of the elf hat and place it where you like. If you'd like it to stand, by the tree or the fireplace or wherever, buy two balloon weights from Dollar Tree or Walmart for around $1 each at either store. Stick a weight in each of the toes of the elf shoes. This will hold them down steadily and prevent the elf from tipping. However you choose to show it off, your DIY elf decor will look fabulously festive.