Turn A Few Dollar Tree Items Into A Functional Kitchen Storage Shelf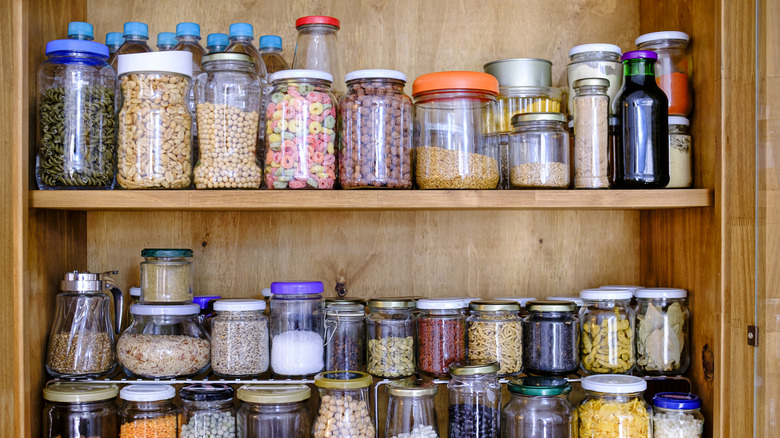 Studio Cj/Getty Images
We may receive a commission on purchases made from links.
It often feels like there's never enough kitchen storage, complete with cluttered cabinets becoming the norm. If you have limited space, you might not be able to install additional cabinetry or incorporate a center island. But you can take full advantage of your walls, creating a Dollar Tree floating shelf thanks to TikTok's basket organization hack for kitchen storage. And the best part? You can create this DIY project for less than $25 using just a few items like wire baskets, zip ties, and broom handles. 
Even better, this project is customizable. The Dollar Tree sells rectangular and round wire baskets, which means you can alter this project to meet your kitchen's aesthetic. You can also choose baskets based on the type of items you're looking to store. For example, the rectangular wire basket features a tight weave, making it ideal for smaller items. The round iron baskets have a wider weave, which means they're perfect for large items or even kitchen towels and fruit. If you really want to get creative, you can add a layer of paint to your wire baskets, customizing them to match your home decor, all while creating a perfectly organized kitchen. 
Purchase a few Dollar Tree items
To complete this TikTok Dollar Tree hack by @hometalk, begin by purchasing a broom handle, some wire baskets, zip ties, and rope or twine. You'll also need to secure your floating kitchen storage shelf to your wall, so you'll need brackets (more on that to follow). You could even use yarn if you want to add some color. Begin by wrapping the rope or yarn around your broom handle. It may help to secure it in place as you work, using a bit of hot glue. Next, attach your baskets using zip ties, trimming the ends. 
Now comes the fun part — hanging your shelf and putting it to use. However, the way you secure it depends on a few things. If you're looking for semi-permanent storage, you can use Command hooks to attach it to your wall. Amazon sells them for less than $8 each, so be sure to purchase two. Command hooks are also ideal for renters who can't put holes in their walls. These hooks are specifically crafted for broom handles, so they expand to accommodate a variety of widths. Conversely, if you're looking for a permanent storage solution, you can install brackets. Just be sure you choose the correct size. Since the Dollar Store broom handle is .8 inches wide, you would want to use 1-inch curtain rod brackets. You can buy them on Amazon for around $8 a set, and they come in a variety of colors to choose from.