The Hardwood Flooring Finish That Hides Scratches & Imperfections For Years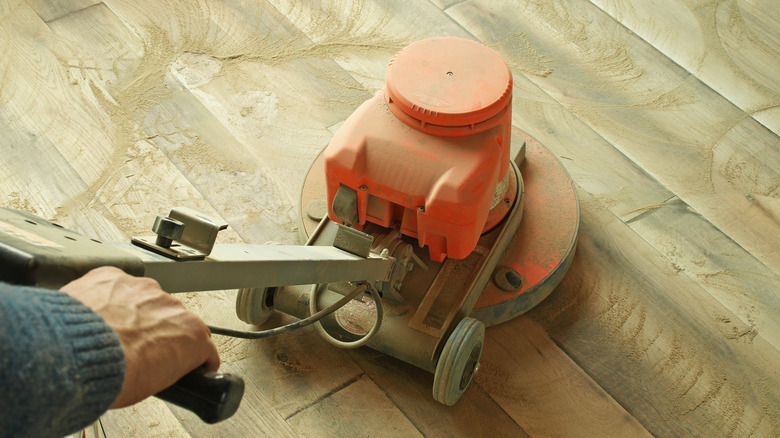 Twin Design/Shutterstock
You have many elements to think about when installing hardwood flooring in your home. You've got to pick a wood type, a stain, and a finish. Alternatively, you might be in a renovation stage in your current house and wondering how to treat or refinish your hardwoods if they need some love. In either case, you should consider a satin finish for a contemporary result that keeps the look of dents, dings, and imperfections to a minimum.
Hardwood floor finishes come in four basic varieties: glossy, semi-gloss, satin, and matte. Glossy floors can look dated because their thick, shiny varnish resembles a coat of clear plastic. Its high shine pinpoints any knots or imperfections in the wood. Semi-gloss also shows scuff marks. A matte finish, while durable and low scuff, has a flat appearance that works best for rustic, barnhouse, or cottage settings. Satin hits the sweet spot between durability and aesthetic appeal. It has a subtle luster that looks brighter in spaces with lots of natural light pouring in. It also hides nicks and dents beautifully and just needs sweeping and mopping.
Different satin finishes for hardwood flooring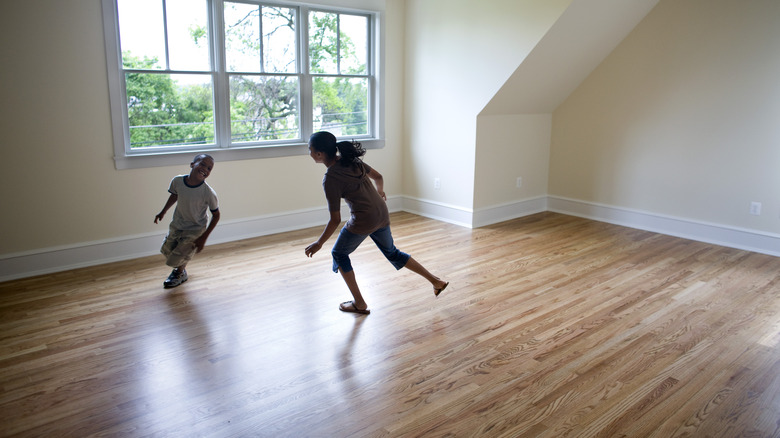 David Sacks/Getty Images
If you're ordering new floors or refinishing old ones, starting a conversation with a flooring expert at Lowe's, Home Depot, or a local flooring shop is a great idea to decide which sealer suits your wood type. Polyurethanes, wax, and varnish all come in a satin finish. Your home might qualify as a high-traffic area if you have pets, kids, or both. Its ability to withstand lots of action makes satin finish a popular option. The subdued gleam keeps your floor elegant and updated but hides wear and tear well. You will, however, want to recoat every three to four years.
Water-based poly is great for beginners if you're DIYing your floor; it's low odor but less durable over the long haul and requires three to four coats per application. Oil-based poly is strongly recommended for hardwoods; it is highly durable, takes one or two coats, and enriches the wood color, but it is also more toxic, with a high degree of VOCs. It also tends to leave behind an amber tint.
One gallon of finish typically covers about 500 square feet, so your mileage will vary depending on the size of your room and product type. You can pick up 1 gallon of water-based satin poly at Home Depot for $70 or an oil-based satin poly from Lowe's for $50. Expect to spend around a week refinishing hardwood floors.