What You Need To Consider Before Installing Hardwood Flooring In Your Home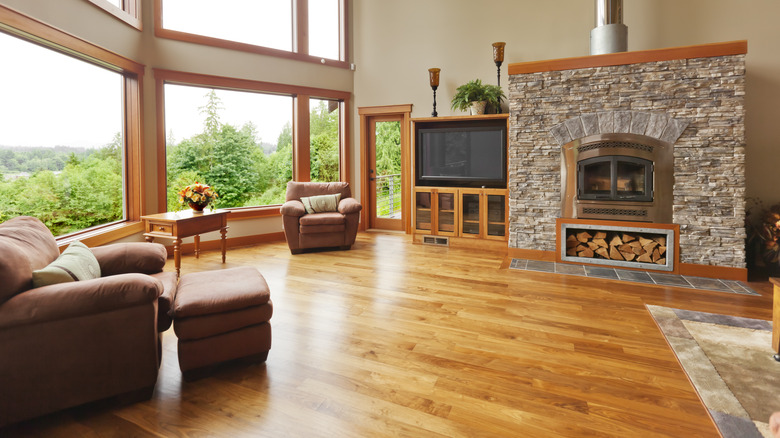 Christinakurtz/Getty Images
Flooring is an essential part of a home. It sets the tone for the entire space, so selecting the right one is crucial. If you've decided that hardwood flooring is what your home is missing, you could be right. Hardwood flooring is a timeless, elegant design staple. It has been used in homes for hundreds of years, and that likely won't change anytime soon. Plus, it works with any design style. Whether your home is ultra-modern, farmhouse-inspired, or historic, there is a type that could work with your current aesthetic.
Determining whether hardwood flooring would work in your home goes beyond just liking its appearance. The popular flooring material is a big investment, so it's important to do your research and make sure you get the product that best suits your needs. If you're planning on having hardwood floors installed in your home, these are some elements you'll need to consider first.
What is your budget?
Eleganza/Getty Images
Something important to consider before installing hardwood flooring is your budget. The material can be much more expensive than other flooring options. The total amount you'll pay will depend on quite a few factors, including the size of the space where the flooring will be installed, the type of wood you choose, and even the thickness and width of the planks. The cost of hardwood floors ranges anywhere from $6 to $40 per square foot, with engineered hardwood being the least expensive and genuine parquet being the most.
If your budget is on the lower side, one way to minimize costs is to install the flooring yourself. Surprisingly, installing hardwood flooring can be a straightforward DIY project. And, while it may cost you time, the savings to your wallet can be huge. Installation ranges from $3 to $20 per square foot, so doing the work yourself can cut the total cost in half.
What finish would look best?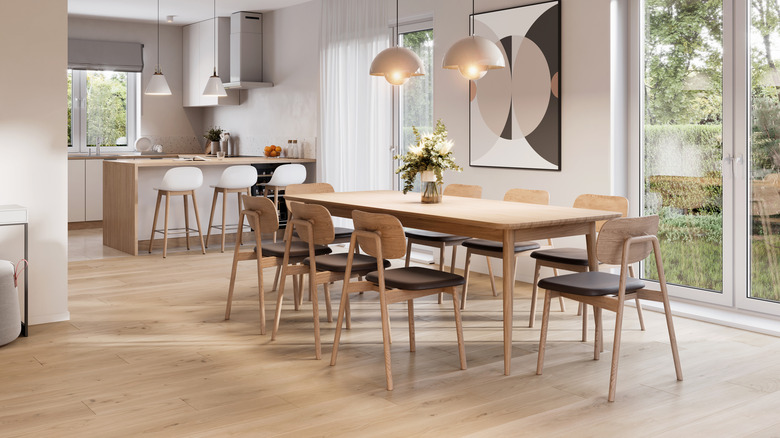 Alvarez/Getty Images
Hardwood floors are highly versatile and can work with any style of home. Before diving into decisions like which type of wood would be best or how wide you'd like the planks to be, you could consider which finish and level of texture would look best in your space. Once you have those aspects specified, it will help you to narrow down the other options.
There are many hardwood floor finishes and textures to choose from. One popular one is a low-sheen water-based polyurethane which provides extra protection from scratches while allowing the wood's natural beauty to shine through. Another more trendy option is to opt for distressed wood floors. The finish of this style features imperfections making it look more rustic, adding charming character. You can also opt to have your flooring stained in a wide range of hues. Pale stains can help achieve an airy vibe, while dark stains blend well with dramatic and modern interiors.
Do you know how to avoid pest problems?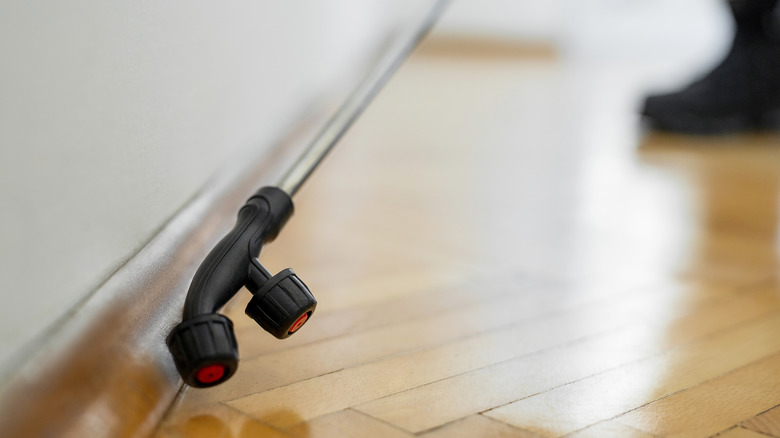 Bymuratdeniz/Getty Images
It seems like everyone loves hardwood flooring. The problem is that so do some destructive pests. Household bugs like termites and carpenter beetles can destroy your hardwood floors, and if they go undetected for too long, they could even damage the structure of your home. Termite damage costs Americans over $5 billion per year, and some of the time, that damage is not covered by homeowners insurance.
Fortunately, there are some steps you can take to prevent a pest infestation from causing damage to your home and flooring. First, you'll want to make sure your home is completely sealed since even the tiniest crack can be the perfect entry point for bugs. Next, since termites love moisture, make sure your floors are free of dampness that could act as a magnet to these intrusive pests. An underlayment designed to block moisture can be installed under your floor's planks can help with this. Even then, you'll want to keep a vigilant eye on your flooring for any signs of damage. Watch for loose boards, a spongy feel, or the appearance of small holes, and call a pro if any occur. 
Are you looking for a sustainable flooring option?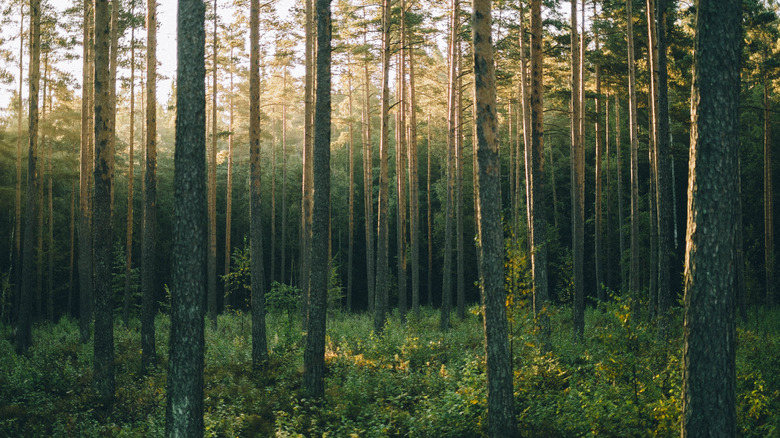 Ivar Østby Simonsen/Getty Images
While making updates to your home, it's always a good idea to focus on designs with sustainable materials. As far as flooring materials are concerned, hardwood floors are about as sustainable as you can get. Its longevity, both in home design trends and durability, make it a sustainable choice since you likely won't need to replace it any time soon. While shopping for your materials, it is important to look for manufacturers that sell ethically sourced wood and that use eco-friendly stains and sealants.
Some types of wood are more sustainable than others. Engineered hardwood is a sustainable choice because the way it is manufactured uses raw materials more efficiently than solid wood planks. Wood from fast-growing trees like pine and Douglas fir are excellent choices, as is bamboo since they regrow rigorously and can be replaced quickly. Oak is another sustainable option since it is highly durable and won't need to be replaced as often as softer woods.
Have you considered your climate?
Mariia Boiko/Shutterstock
Although hardwood floors work with any style and have been a staple for hundreds of years, if you live in a humid climate, it may not be the best choice for your home. Do you know how humidity can make your hair puff up? It can do that to wood, too. Too much moisture in the air will cause the wood floors to expand, which leads to warping or expansion gaps around the room. So, if you live somewhere with excessive humidity, you might want to look into less porous flooring options.
If you still want the iconic material, engineered hardwood is the best choice since it does not expand or contract as much as other wood flooring. This option is made by gluing together many layers of wood to create a more sturdy material than natural wood. However, if you aren't sure you want to deal with the trouble that could come from humidity, you could always opt for porcelain or ceramic wood-look tile planks that will give you the same look without worry.
Do you have the time to maintain the floors?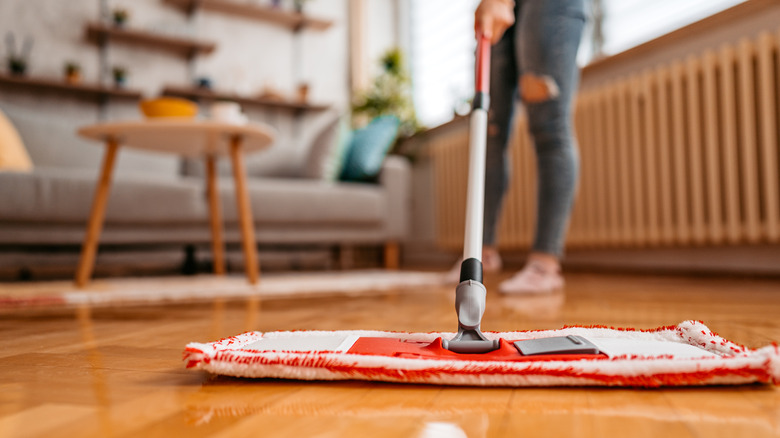 Urbazon/Getty Images
Like many beautiful things, hardwood floors require a maintenance routine. Keeping them looking shiny and new will require a lot of work on your part, more than some other popular flooring options. Depending on how much traffic the flooring sees, you could have to tend to them daily. You'll want to thoroughly remove debris and moisture to prevent scratches or damage.
The good news is that cleaning hardwood floors doesn't require any fancy supplies. A broom or a vacuum can be used for daily cleaning to keep the floors free of dirt and dust. Mop them with a mixture of mild dish soap or wood floor cleaner concentrate and water as needed to eliminate grime. Additionally, a couple of times per year, you should use a floor polish to ensure the floor's longevity and fill in any minor dents. And, if you do find that regular cleaning isn't keeping your wood floors looking like new anymore, you can have them refinished to bring them back to their former glory. 
What type of hardwood would be best for your space?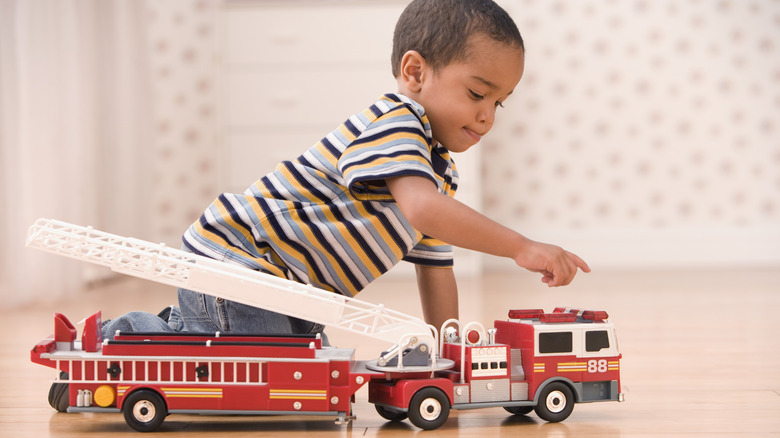 Jose Luis Pelaez Inc/Getty Images
There are quite a few different types of hardwood flooring options and they aren't all created equal. The amount of traffic the area will receive can play a significant role in determining which choice is best for you. Hardwood floors are durable, but they aren't indestructible. They are prone to scratches and dents, some types more so than others.  
If you're installing hardwood floors in a high-traffic area like the kitchen or a busy hallway, it's best to steer clear of softer woods like pine or birch since they can scratch easily. The same is true if you have kids or pets who are hard on these surfaces. In that case, oak or maple floors are a better choice since they are harder and more durable. You can also have a sealant applied that will offer an extra barrier of protection once it's cured.