Use Jenn Todryk's Simple Tip To Add Charm To Bulky Structural Columns In Your Home
Experienceinteriors/Getty Images
Sometimes, the columns in our homes aren't just there for aesthetic value and therefore can't be removed when we decide we want a different look. If your home has columns that are structural, you'll have to find a way to incorporate them into your interior design. Expert Jenn Todryk of HGTV's "No Demo Reno" has a simple and inexpensive hack to make structural columns look like design choices instead of unwanted obstructions, integrating them into your vision when you can't tear them down.
The key to this, according to Todryk (via Realtor.com), is to give the structure a purpose. If the columns you can't get rid of seem like they serve as part of your design, then they no longer look like an intrusion into your space. Todryk accomplishes this by adding a light sconce to the column. You can achieve a similar effect using artwork, mirrors, or paint designs. You can also make the column a statement piece of its own by covering it with wood, greenery, rope, and more. With just a few simple tricks, your columns will go from eyesore to eye-catching design.
Jenn Todryk transforms a column with sconces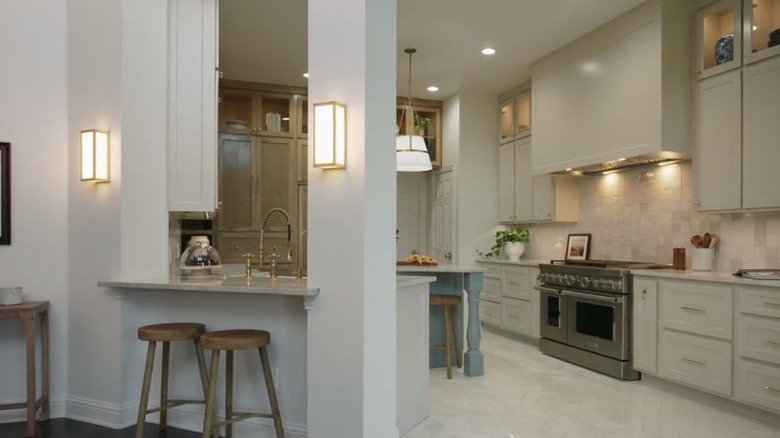 HGTV
In Season 3, Episode 5 of "No Demo Reno" titled "Vegas Luxe," Jenn Todryk is tasked with remodeling a couple's Texas home. A column that separates the kitchen from the living room is a necessary structural beam. Even though the homeowner doesn't like the column, Todryk tells him she can't take it down. "It was really, really supporting, like, a lot of weight on it," she explains, "so it had to stay."
As a solution, Todryk found some matching light fixtures, placing one on the column and one on the wall next to it, creating a symmetrical design that looks intentional. In fact, the column now looks like part of the plan all along. Adding the sconces gives the column a lighting and design purpose in addition to its structural one, and lighting — even if just by easily hung, battery-operated fixtures — has the look and feel of permanence, like it was always there and always meant to be. Todryk says in the episode, "I had to figure out a way to make these columns have a purpose," and that's exactly what the light fixtures do.
Various lighting ideas for columns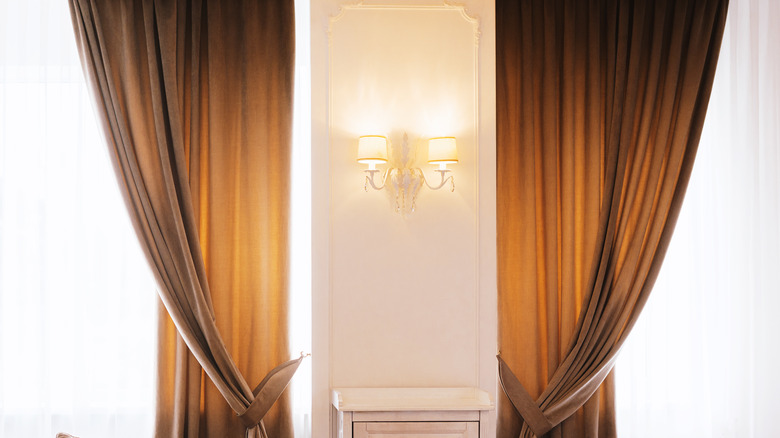 Vulp/Shutterstock
Todryk uses wired lighting in her column redesign, enlisting the work of an electrician and requiring new switches to be installed. If this is out of your budget, you can still work in a similar trick with your own columns. Several retailers sell battery-operated sconces – some even remote-controlled — in neoclassical, mid-century modern, or art deco styles. Or, try a DIY wireless wall sconce hack.
You should also consider the shape and style of your lighting, and how it fits in with the aesthetic of the rest of your home. For example, Todryk liked how her sconces mirrored the shape of the column, creating a sort of repetitive effect. She also rejected a few options that would hang too low or too far out into the walkway. 
Another option you want to consider is the function of your lighting. Will it provide ambiance or serve as pathway lights? Will it be used for reading? Or, perhaps you want small, directed lights to feature artwork. There are lots of ways to integrate a dramatic light fixture into a column to make it look like an intentional part of your design, and then it no longer feels like an obstruction.