Use This Design Tip To Turn One Kitchen Staple Into Budget-Friendly Wall Art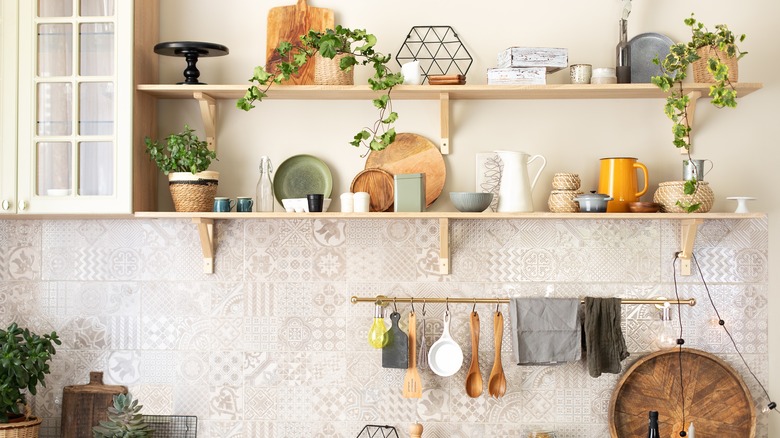 stock_studio/Shutterstock
We may receive a commission on purchases made from links.
Gone are the days when you had to spend hundreds of dollars or more on an expensive painting by an obscure artist to have something unique gracing your walls. Now, you can ditch the framed art and decorate your walls using items you already have in your house. Your kitchen might not be the first place you think to decorate, but you'd be surprised how much a creative piece using a cooking staple can brighten up this space. If you have an old wooden cutting board sitting in a drawer somewhere, dig it up and grab your paintbrush and tape to give it a minimalist, budget-friendly design.
Unconventional wall art pieces will always stand out. Painting and hanging your cutting board serves as an immersive arts and crafts project that you can customize for little to no cost. Before getting started, you might want to level your cutting board by sanding the surface. This should even out any rough patches created by chopping food. The tiny grooves of the sanded wood will also come in handy as you move forward, as it will help the paint stick better.
Customize your cutting board
This design tip only requires a cutting board, paint, and tape. If your cutting board looks way too ancient for artistic redemption, you can purchase another like this two-pack from Amazon for $28. However, this can be a great way to bring an old cutting board back to life — just not in the manner you might have expected. Pick up a set of acrylic paints, such as the one offered by Blick, for $11. If you need additional guidance, follow in the footsteps of TikTok DIY art creator @wilshirecollections. First, tape the cutting board to create straight lines and fill the gaps with matte black acrylic paint. This will result in a simplistic striped design, which you can hang on a nail on the kitchen wall for all to admire.
Alternatively, you can go all out with your cutting board design. Snag some stencils from Blick and add a pattern to the surface of the wood or even cute calligraphic phrases related to cooking. "Food is a girl's (or guy's!) best friend," or even "Eat. Pray. Love." are good examples that can get your creative juices flowing. Add glitter to your art or even tie a ribbon across the board. Once you've completed your masterpiece, you can spray on a protective varnish coat to keep the paint looking pristine and brilliant. You can leave it flat with a clear matte varnish or go for an extra glossy finish with Liquitex's spray varnishes that come in gloss, matte, and satin for about $13 each.