Try This Easy IKEA Kitchen Hack To Store Cutting Boards With Ease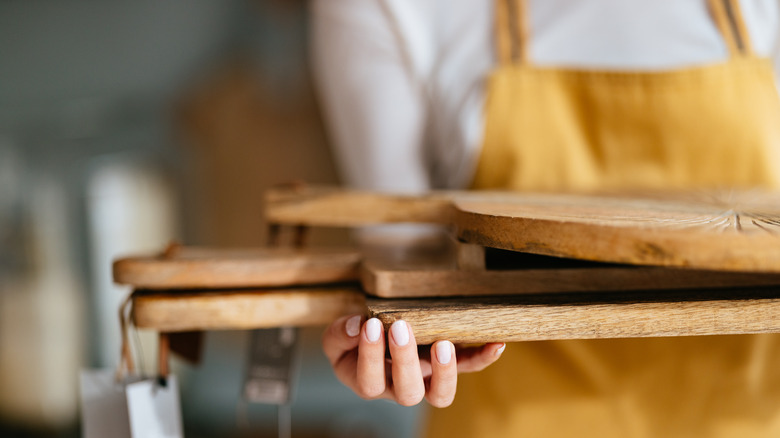 Miniseries/Getty Images
Whether you consider yourself a decent at-home chef or simply cook at-home meals a couple of times a week, you know the hassle of having cutting boards in the kitchen. They're handy for giving you a clean slate to cut your fruits, veggies, meats, etc., but when it comes to putting them away, they can take up unnecessary space. Some folks store their cutting boards in a drawer or in the drawer under the oven, which is actually the one place you want to avoid storing your cutting boards. Others keep their cutting boards on the countertops, which can be visually appealing except when they slip and slide from their resting place. Instead of having trouble storing your cutting boards, a TikTok video shows us the easiest way to hold every sized cutting board.
TikTok user @lovinghhome uses IKEA's FAGNING magazine organizer to hold all her cutting boards. When deciding where to store cutting boards, you don't have many options, mainly if you have limited storage. IKEA's magazine file has a neat design with three different slots to hold various-sized cutting boards without looking messy or cluttered. It's made of metal in a light beige color and costs $12.99. You can decorate the metal file with Polaroid pictures or food recipes instead of leaving it blank. Further, it'll allow you to clear some space in your kitchen drawers for other items.
Keep your cutting boards in one location
Even though TikTok user @lovinghhome's cutting board organizer hack is helpful, it does take up space on your counter. Placing the magazine file in any corner can make the area look cluttered if you don't have a lot of counter space. However, IKEA has an item similar to the magazine file: a wall organizer. The FAGNING wall organizer can easily be mounted anywhere on your kitchen walls for $16.99. This product is longer than the magazine file, so it lets you store cutting boards up to 15 inches wide instead of 10 inches. It also has a few hooks underneath that are meant to hold keys, but you can always use them to hang your most-used utensils.
If you decide to use either the magazine file or wall organizer, it's best to allow your cutting boards to dry thoroughly before placing them in the slots to prevent water build-up and, thus, enable your cutting boards to last longer. Water build-up could cause the organizers to rust, which warps the cutting boards over time and renders them unusable.
Of course, you can use these materials for other items around your house, such as the home office or bedroom. Store your mail and important papers in the magazine holder so that you always know where they are. Or, hang it in your bedroom as a decorative piece to hold trinkets and your favorite books.