Sunglasses Storage Can't Get More Stylish Than This With IKEA's Genius Plate Rack Hack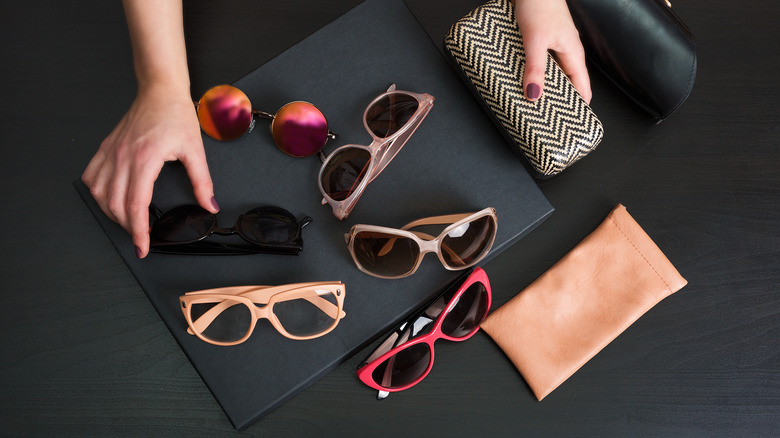 Tinatin/Shutterstock
We may receive a commission on purchases made from links.
If there's one thing we've noticed about DIYers, it's that they can squeeze every ounce of creativity out of high-value, money-saving IKEA products. Usually, they conjure up budget-friendly hacks that add a cute Scandinavian design to your home and that either save space or somehow make life easier. One of these ideas that comes with all these benefits is hanging simple IKEA bamboo plate racks on a closet wall as a way to store your collection of sunglasses. IKEA's practical lacquer-coated bamboo OSTBIT plate holder that costs about $6 is at the heart of this hack. You can use as many of these racks as you need for all your eyewear, keeping in mind that each holder can accommodate seven pairs of sunglasses.
If you and other household members are tossing a surplus of sunglasses (or even a few pairs of eyeglasses) into a drawer, bureau, or ten different pocketbooks and briefcases, that can cause a bit of a hot mess. The sunglasses can scratch each others' lenses up, and you can't fully see each pair when they're all jumbled together in a chaotic pile. This simple IKEA hack will keep your collection neat and visible, ultimately saving you time and protecting your sunglasses from damage.
How to make this hack work for you
To begin this hack that was shared by @emily_jane_johnston on TikTok, scan your regular-sized or walk-in closet for any available, unobstructed wall space. You'll need at least 6 inches of horizontal space or a bit more to accommodate the plate racks, which are each 5 inches wide. Once you've found a spot that you won't easily bump into, consider mounting the first plate rack 5 feet above the ground, which is usually at about eye level. Then, you can add more racks above or below this central one. Either drill them into the wall or use pieces of adhesive Command strips all along the back; you could purchase these at Target for under $4. You may need to cut the Command strips vertically so that they're not visible from the front of the racks. Once your organizers are hung, place a pair of sunglasses on each of the pairs of rungs with the lenses on top and the bendable arms below.
If you don't have any available wall space in your closet, there's another area in the home that could work as well. Look at the wall area immediately next to your front door — this could be the perfect place to install this DIY. Consider placing it next to an umbrella stand at your entryway so you can grab either a rainy or sunny day accessory as you walk out the door, depending on the weather.