Samsung Has $1,300 Off The Bespoke Refrigerator This Black Friday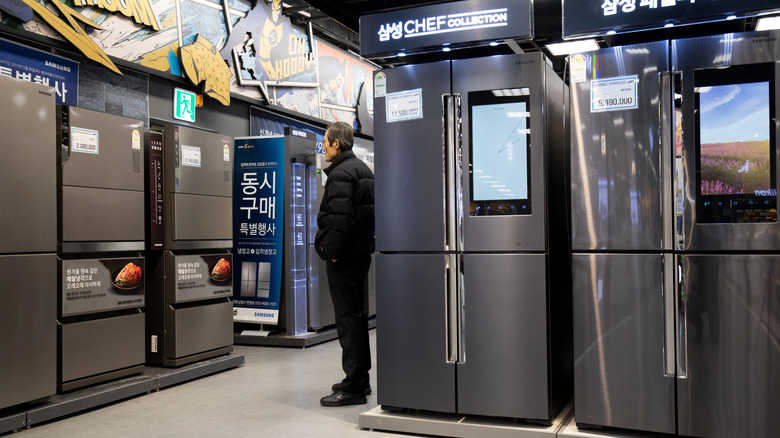 Bloomberg/Getty Images
We may receive a commission on purchases made from links.
Black Friday is the ideal time for shoppers to stock up on the products they've been wanting early in the holiday season. With retailers introducing large discounts on traditionally expensive items as well, the post-Thanksgiving weekend is also a great time for homeowners to find deals on much-needed appliances that may only come around once a year. Samsung is giving customers a chance to enjoy Black Friday savings a bit early, offering significant discounts on select merchandise in a wide range of categories. If you're looking for a new refrigerator, Samsung's website has a Black Friday deal offering $1,300 off its 4-door Bespoke model, reducing its original price of $3,399 to just $2,099
Samsung's Black Friday deals extend far beyond the company's high-tech refrigerators. Customers will also be able to save hundreds, if not thousands, of dollars on select television models, personal devices, and accessories like smartphones, watches, and tablets, as well as other home appliances like dishwashers and washer and dryer combos. And if those deals don't sound promising enough, the company is also offering extra benefits to customers who choose to purchase several appliances at once before the sale ends: $150 off a two-appliance bundle, $375 off a three-appliance bundle, and $650 off if you buy four or more. Samsung's Black Friday deals are available now until November 30.
Samsung's Bespoke refrigerator explained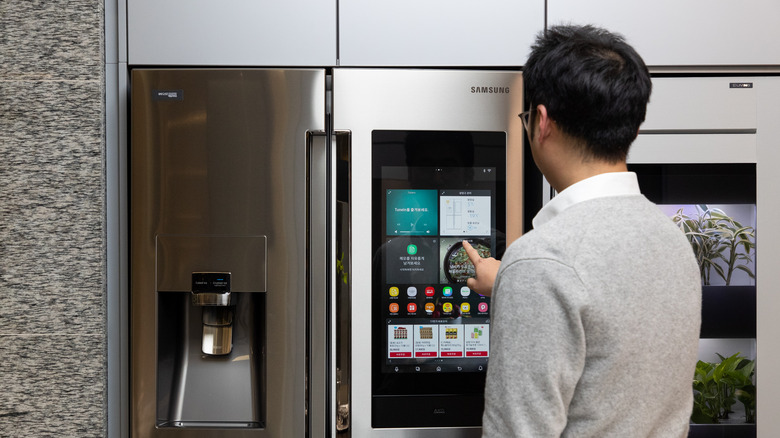 Bloomberg/Getty Images
Samsung offers three variations of its Bespoke 4-door French Door Refrigerator, the cheapest of which is discounted to $2,099, a 38.25% markdown from its original price of $3,399. This model comes with a water pitcher that can refill itself automatically and an ice maker capable of generating ice in two different cubed varieties. The refrigerator's other two models cost $300 and $900 more than the base model and feature additional accessories that make handling the appliance and its contents even easier, like a built-in beverage center and a family hub equipped with a digital screen that can stream music, create calendars, and reveal the fridge's interior with the simple push of a button. Each Bespoke 4-door refrigerator also comes in one of two size options: full-depth and counter-depth, the latter of which will cost customers an additional $100 even after the Black Friday discount takes effect.
Customers can choose between three methods of payment provided by Samsung: a one-time payment valued at the appliance's total, a set price divided into four equal installments expected to be paid every two weeks, or a series of monthly payments that will be charged until the device is paid in full. Customers can avoid any added interest if the refrigerator is paid off within 24 months of acquiring it. Samsung also offers free delivery and in-store pickup for orders purchased online, with their delivery experts installing the appliance free of charge.