The Drill-Free Hack To Hanging Your Christmas Garland This Holiday Season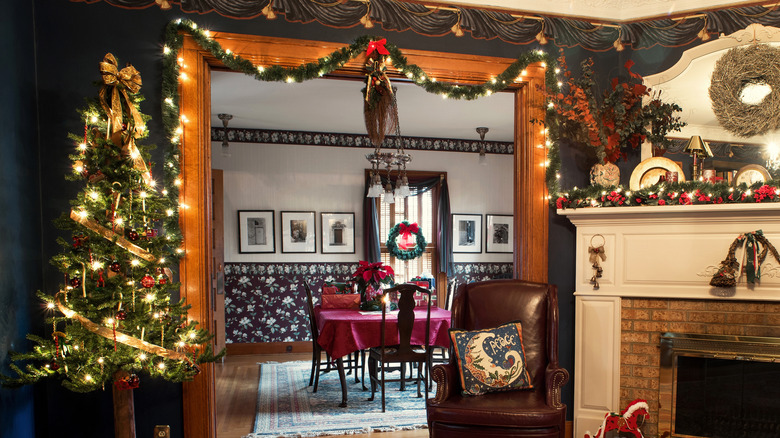 Lawcain/Getty Images
We may receive a commission on purchases made from links.
Not everyone has a mantelpiece in their home to beautifully display some holiday garland. Luckily, it's not necessary. Any arch or doorway can be outfitted to feature gorgeous, festive decorations. You don't even need to drill or damage your walls in any way. Simply pick up a shower curtain tension rod and secure it in the doorway where you want to hang your garland. This damage-free hack is quick and easy to both install and take down, can be used to hold premade garlands or ones you build yourself, and won't break the bank.
Most doorways are 30 to 36 inches wide, but if you have a wider entrance to a family room, dining room, kitchen, or similar space that you'd like to spruce up with some Christmas garland, you'll need to be mindful of how far your shower rod can extend. Amazon has one with over 25,000 5-star ratings that extends from 43 to 73 inches wide, or just over 6 feet, and can hold up to 30 pounds of weight. If that is too wide for your space, Target has a smaller rod, but smaller rods generally hold less weight. This one won't handle more than about 15 pounds, though that should still be plenty for a nice garland.
Hanging garland on a tension rod
Craft, discount, and home decor stores like At Home sell Christmas garlands and other decorations you can use to build your display. Pick up some premade Christmas decor from a store like Joann Fabric and Crafts with greens and berries, or mix and match with a variety of decor. You can even make your own easy and sustainable holiday garlands. Layer battery-operated LED string lights into your design. Five Below has a 12-foot strand of twinkle lights for $5.55.
As demonstrated by TikTok user @thekwendyhome, mount your rod in the passage where you can easily reach it and add your garland. Twist the garlands around the rod, making sure to accentuate the branches if they've been lying flat in the store or storage. Mix your lights in with the greenery and other decorations. Once everything looks the way you want it, loosen the rod and raise it to the top of your entryway — you may need a ladder to reach the right height. Then, tighten it back into place until it's secure. 
This hack is easily customized to suit your style and design preferences. When the season is over, you can replace the garland with ornamentation for any holiday, perhaps a balloon arch for Valentine's Day, streamers for birthdays, and more. Or, simply remove the tension rod at the end of the year and store it until next Christmas. However you use it, the tension rod allows your walls to stay free of damage and you to enjoy your fabulous seasonal decor.