This Is The Most Pet-Friendly Couch Material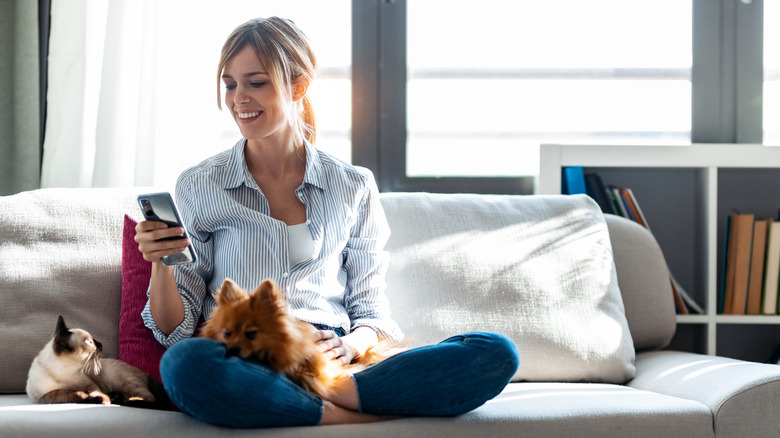 Shutterstock
Does this sound like a familiar scenario? You get a new pet and swear up and down that it won't be allowed on the furniture because you want to keep that expensive sectional sofa looking its best. However, cats laugh in our faces when we try to tell them what to do, and dogs wear down our resolve with their heart-melting eyes. It's only a matter of time before we cave and the couch belongs to our four-legged friends. We've all been there. Now you're dealing with hair, claw marks and scratches, that distinctive animal smell, and plenty of mysterious stains. Your once-pristine couch looks like it belongs in a frat house, and no amount of Scotchgard will save it.
This doesn't have to be your furniture destiny forever, though. You can break the couch replacement cycle by choosing a material that will withstand whatever dogs or cats have to throw at it. Keep reading for the most pet-friendly couch material available.
Leather is the best option for a pet-friendly couch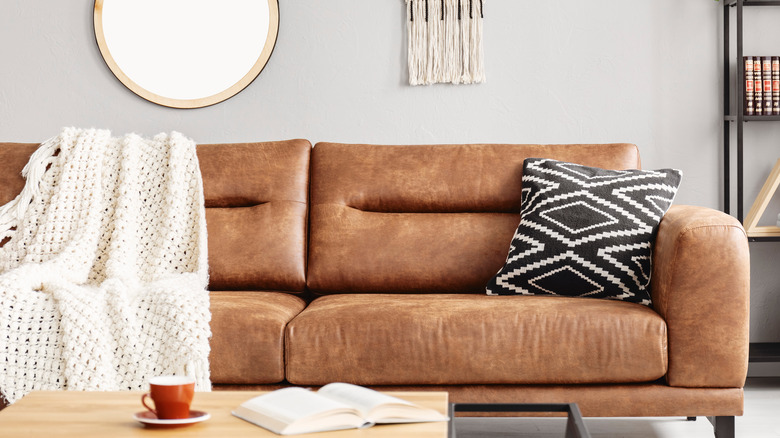 Shutterstock
Genuine leather is the tried-and-true, best overall option for a pet-friendly couch. The keyword is genuine because synthetic leather couches don't have the same durability, and you'll find yourself in the same predicament all over again.
Leather is a terrific choice because pet hair and fur won't stick to it, according to The Spruce. Gone are the days of using a lint roller to remove all the pet hair on your couch before you can even vacuum it — only to repeat the process after a couple of days. It's a cinch to wipe leather clean, and its surface is much more resistant to stains than typical upholstery. Leather also holds up to paws and claws, though it's important to note that it's not indestructible. Cat scratches can still do plenty of harm. 
Unlike other fabrics, a little wear and tear gives leather a casually cool vibe. House Beautiful argues that leather even gets better with age. The surface marks lend character without looking ratty or neglected. Another plus? "Leather naturally develops a worn patina over time, so minor scratches or scuffs will blend right in," according to Better Homes & Gardens.
Outdoor fabric is another good choice for homes with pets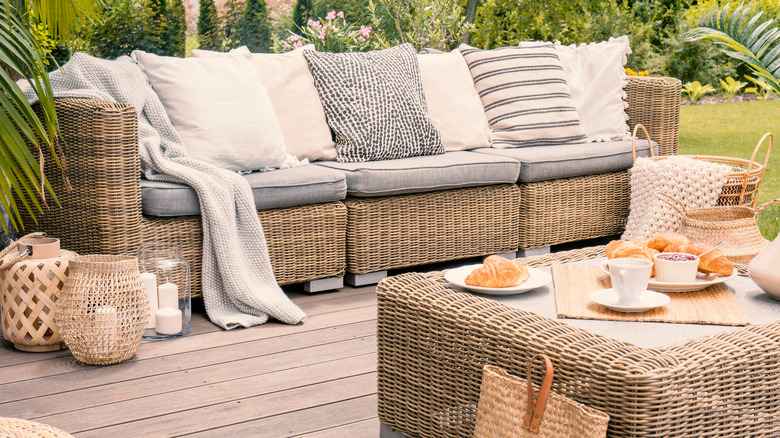 Shutterstock
While leather has tons of advantages for pet owners, there is one big negative: cost. High-quality leather furniture can set you back a pretty penny. Although you'll recoup some of that expense thanks to the longevity of the couch, it's not a reasonable purchase for everyone. If that's the case, a favorite second choice for a pet-friendly couch material is outdoor fabric. Yep, the same stuff that covers the cushions on your poolside lounge chair is an excellent defense against pet stains and odors. 
"You may be hesitant to use outdoor fabrics on indoor furniture, but think about it — they turn your patio furniture into pieces that can withstand bad weather, so naturally, they can handle a dog or two," according to House Beautiful. Just make sure to choose a reputable brand like Sunbrella or Perennials to get the most bang for your buck. 
Whether you decide to shop at Restoration Hardware or Bob's Discount Furniture, know that you can find a stylish, suitable couch that you and Fido will love for years to come.