The Real Reason You Might Regret That Chalkboard Paint Wall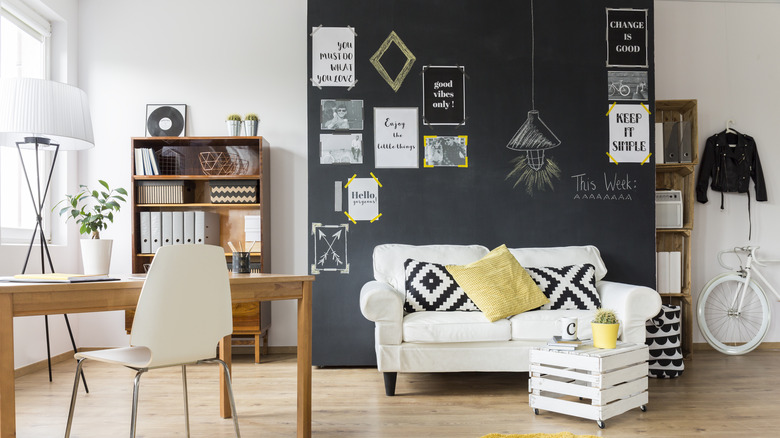 Shutterstock
Chalkboard walls were all the rage for years, and it's a paint trend that's still kicking. A quick search for "chalkboard wall" on Pinterest yields nearly endless results, ranging from chic to playful to practical. It's timeless, with a nod back to an old-school vibe, but also works as a functional focal point. What's better than keeping your chores chart or weekly to-do list front and center for the entire family to see (and follow)? Or maybe you want to give the kids something interactive to play with that's not a video game on their iPads. A chalkboard wall in the playroom might seem like a rainy day dream.
But, behind the simplicity of a chalkboard wall, there's a whole list of hidden cons that you may want to consider. And we're not talking about the crazy messages your kids might leave behind or the occasional stick figure drawing that may very well mess up your room's aesthetic. Here's the real reason you might regret that chalkboard paint wall.
A chalkboard wall could add more to your to-do list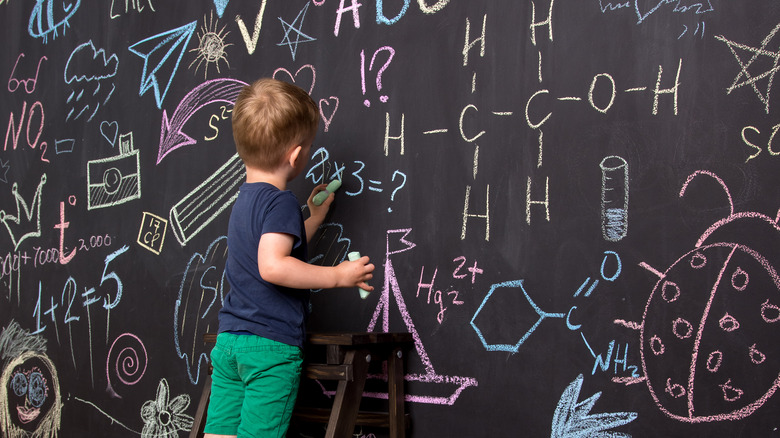 Shutterstock
Ironically enough, chalkboard walls — while occasionally handy, especially when used to display some sort of calendar — are actually high maintenance. Chalk equals dust, and dust equals more sweeping. If you intend to use your wall to stay organized, you may have a whole new task to add to your regular to-do list, says Family Handyman. Colored chalk, especially, might discolor floors, walls, or furniture.
The problem with chalkboard walls begins before you even get painting. According to House Beautiful, you'll need a perfectly smooth surface before you get started painting. If you skip the sanding, you'll see every bump, crevice, and bit of texture through the finish of the chalkboard paint, leaving your DIY project looking far less Pinterest-worthy.
Once you fully paint the wall, you'll have to "season" it (via Tip Spoke). This requires covering every inch of the wall with some white chalk, then wiping it down to give it a gray, worn-in finish smooth enough for writing on. This doesn't sound so terrible if it's just once, but heads up: You'll have to season the wall each time you wipe it down, which will be a regular occurrence with the dust dilemma.
So chalk it up to this: If you want to cut down on your cleaning regimen, opt for a fun peel-and-stick wallpaper instead, and keep the calendars and to-do lists virtual.