The Best Kind Of Lawn For Shady Backyards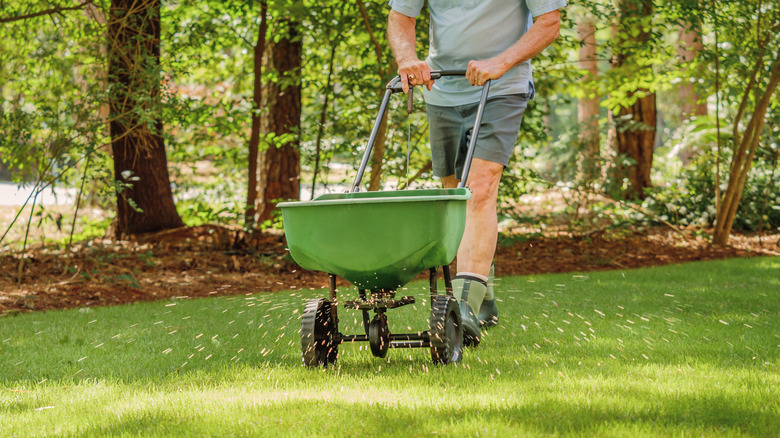 Shutterstock
When you're in the dog days of summer, shade is a priceless commodity. You can kick back with a cold drink and forget that it feels like 100% humidity outside. When you're trying to grow a lush, healthy lawn, though, shade can feel like more of a curse. 
Thankfully, there are varieties of grass that can thrive with only a few hours of sunlight per day. It's important to note that, if there's an area of your yard that doesn't receive any light whatsoever, growing grass just isn't going to happen for you. In that instance, you'll want to consider options like a rock garden, a water feature, or an assortment of shade-loving plants like hostas (if you go one of these routes, make sure your garden tools are primed and ready).
If you know your shady backyard still gets enough light, you need to determine if your area grows warm-season grass or cool-season grass. "Cool-season grasses thrive in regions with early spring and fall temperatures between 65 and 80 degrees Fahrenheit, such as Northern California, the Pacific Northwest, the upper Great Plains, the upper Midwest, and New England," according to BobVila.com. "Warm-season grasses grow best in regions with summer temperatures ranging between 75 to 90 degrees, such as the Deep South and the lower southeast and southwest." 
Now that you know which category your lawn falls into, read on to find out what types of grass will work best for your shady backyard.
The best cool-season grass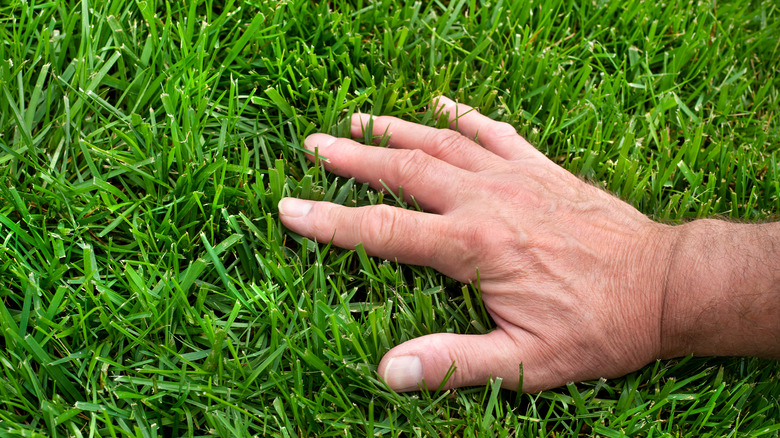 Shutterstock
With its attractive dark-green shade and deep root system, fescue is a favorite choice for cool-season lawns. The Lawn Institute says that the strengths of this grass include its "fine leaf texture, shade tolerance, low maintenance requirements, slowly spreading growth habit, winter hardiness, and good drought tolerance when compared to other cool-season grades." Gardening Know How specifically touts red creeping fescue as a solution to your shady lawn woes, as it performs exceptionally well and has an excellent track record.
The Lawn Institute recommends mowing fescue every one or two weeks during the growing season, and you want to set your rotary mower height between one-and-a-half and three inches. You'll definitely want to fertilize with nitrogen and possibly add other nutrients, like potassium or phosphorus, but the necessity for additional fertilizing is based on the individual needs of your lawn, which can be determined by soil testing. Once you've got your cool-season yard looking lush and healthy, you can add some easy garden plants to complete your outdoor oasis.
The best warm-season grass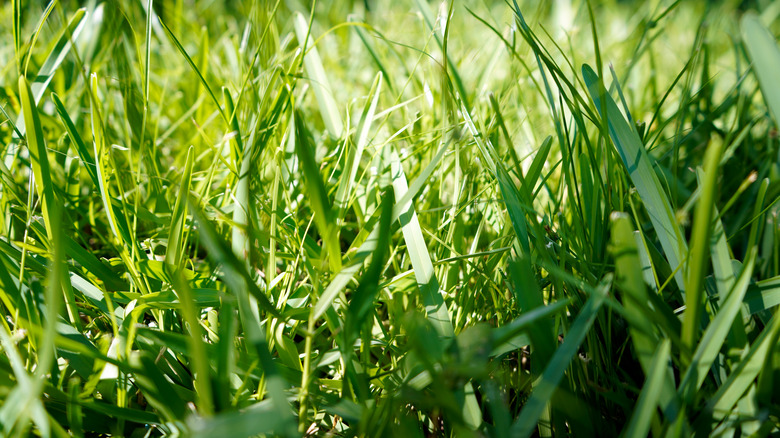 Shutterstock
While there are several great options for your shady backyard in a warm-season climate, you can't go wrong with St. Augustine grass. "St. Augustine creates a smooth even turf which is tolerant to extremely high temperatures and low moisture," per Gardening Know How. "It retains its color longer than other warm-season grasses when exposed to cool temperatures and requires infrequent mowing." The pros for using this grass certainly outweigh the cons, though it's important to note that it's a coarser grass, which means it won't feel nice and soft under your feet. If grass texture is a make-or-break point for you, St. Augustine might not be totally out of the running. The Lawn Institute says that advancements in plant breeding have created new varieties with a "finer leaf texture."
St. Augustine grass needs to be planted as sod or plugs, not seed. You'll want to mow weekly, with the rotary mower set between two-and-a-half and three-and-a-half inches, per The Lawn Institute. Once your lawn is ready to enjoy, make sure to keep mosquitoes at bay so nothing gets in the way of your sizzling summer fun.