The Genius Idea To Clean Your Large Area Rug Without Going To The Cleaners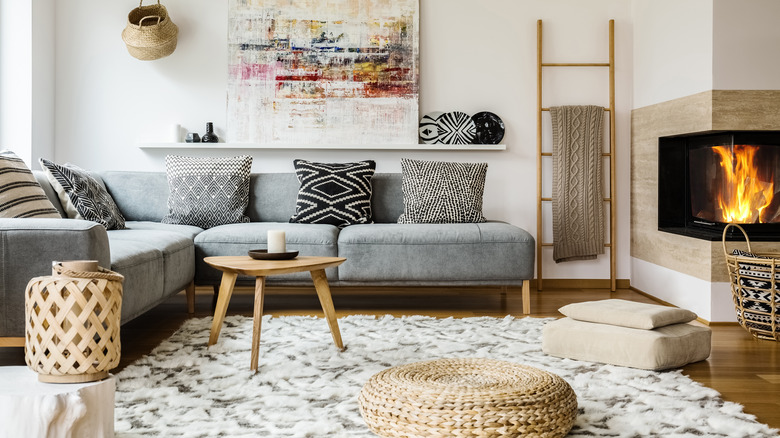 Shutterstock
Large area rugs bring plenty of ambiance to a room, but they're also a magnet for pet hair, dust, and dirt — no matter how many times a week you vacuum. But, thanks to TikTok, we now have a genius hack to clean your large area rug without bringing it to the cleaners, which can cost hundreds of dollars, depending on its size and material. The high price tag can force you to put off the task for years, and you end up living with a grimy rug that isn't as great as it used to be. 
But you don't have to spend an entire paycheck to clean a rug professionally. Instead, you can just do it yourself. Cleaning a rug is as simple as grabbing soap and a hose, but that formula gets a little tricky when you don't have a spacious backyard or driveway to clean it in. If all you have is an apartment or a small balcony, then don't be discouraged. You're not doomed to shoulder expensive rug cleaning bills. Instead, just follow this one genius TikTok rug-cleaning hack that will give you professional results no matter what your living situation is.
The TikTok rug cleaning hack that will save you money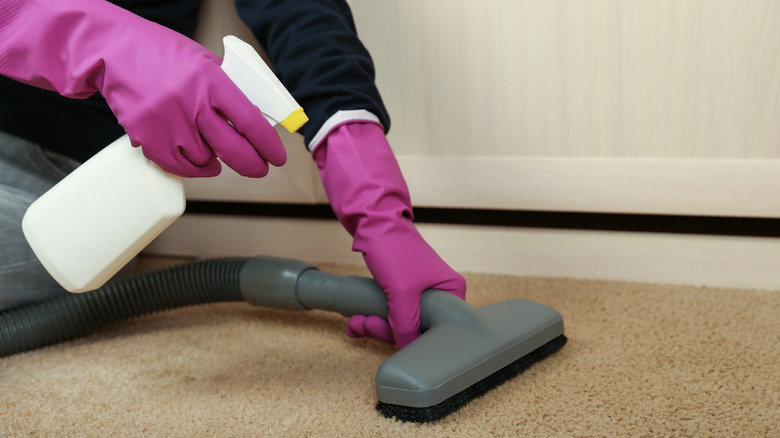 Shutterstock
TikTok user Kelleen Ison shared her viral rug cleaning hack, inspiring rug owners everywhere. She shared that she takes her rugs to the car wash, where she then uses a power washer and scrub brush to remove the dirt and grime from her large area rugs. In the video, Ison vigorously scrubs the rug with soap and a brush and then removes the dirt with a power washer. To remove the excess water, the rug is rolled tight, which pushes out the water.
"My area rug gets disgusting, I have so many animals," Ison shared in the video. "This worked wonderfully. I need to hang it up in a sunny location for a day or two. It's perfectly clean, it dries off wonderfully, and it's like brand new."
Ison posted a second video as a follow-up to her viral rug-cleaning post in which she answered some frequently asked questions. She said that as long as you don't go to the car wash during peak hours, no one will care that you're using the facility to wash a rug. She also recommended fully rinsing the soap from the rug and hanging it in a sunny spot to dry so it won't smell like mildew. Finally, she noted that the rug wasn't overly heavy to lift after it was wet, but you might need two people to lift it, depending on the size.
So there you have it! As long as you have a car wash nearby, you automatically have a stain-removal strategy that won't cost you an arm and a leg.