This TikTok Tip Will Keep Your Bathroom Smelling Amazing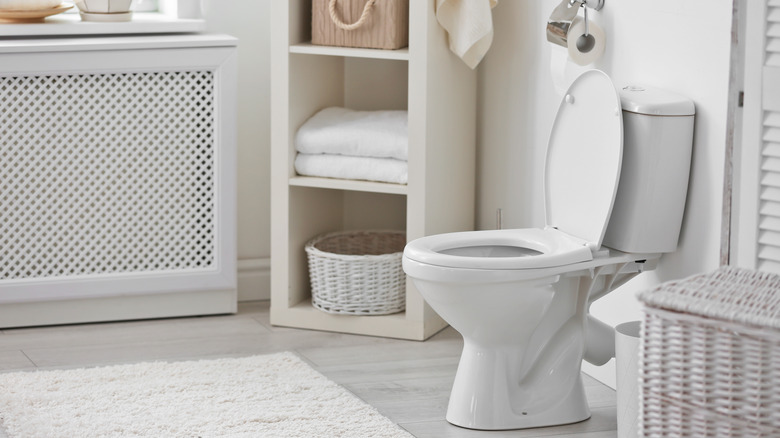 Shutterstock
We all want our houses to smell nice and fresh — and that especially goes for our bathrooms. Candles and air fresheners might create a fleeting scent, but there is one TikTok tip that will keep your bathroom smelling amazing all day long. This one toilet cleaning trick will keep your bathroom smelling like it was freshly cleaned, even as you're approaching the end of the week.
Rather than burning all of your money on expensive candles and fading air fresheners, you can instead hack your toilet to smell nice with every single flush. This will not only save you money in the long run, but it will also create a welcoming experience every time you walk into the powder room. If you want to make your bathroom more spa-like, then having a clean scent is paramount. You can have all the fluffy towels and luxurious bathrobes you want, but if your bathroom doesn't smell clean, no other touches really matter. So be excited about this one bathroom cleaning hack that will help you achieve that fresh scent, and for very little cost.
Keep your bathroom smelling fresh all week long with this TikTok trick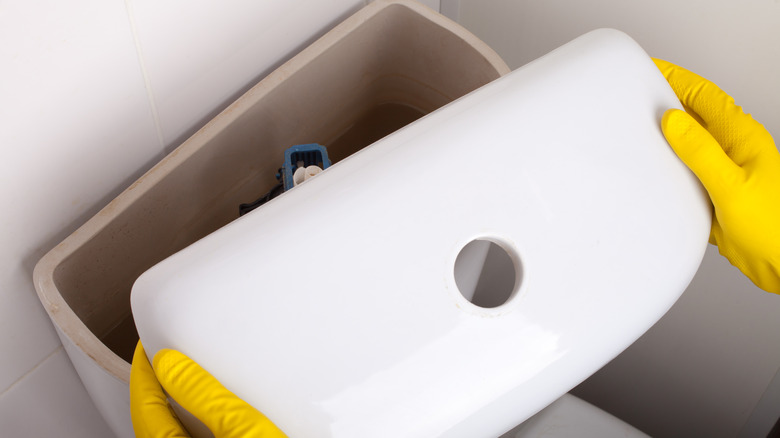 Shutterstock
In order to make your bathroom smell nice, you need to borrow a staple from your laundry room. According to lifestyle TikToker Yolleny, (@yollenysimpledecor), all you need is fabric softener. The product that makes your linens and sweaters smell crisp and clean will also make your toilet smell fresh, too. In a video posted in January of 2021, Yolleny shared this amazing bathroom cleaning hack that eventually went viral. In the video, Yolleny explains that all you had to do is remove the lid from the tank, and then pour two cups of fabric softener into the water. This will make the water immediately turn blue, and when you flush the toilet, the blue water will filter down to the bowl and release its fresh scent.
If you're skeptical, then it might put your mind at ease to know that professional cleaners also swear by this tip. Sadie's Professional Cleaning Services LLC posted the same tip onto Instagram in January of 2020, sharing the company's trick to a fresh-smelling toilet. "Pour a cup of laundry detergent or fabric softener in the tank of the toilet," the experts wrote in the caption. "Each time you flush, a sweet aroma will be released in the tank, and the whole bathroom will smell amazing."
This is an exciting, easy tip. Now you can have a great scented bathroom that will feel and smell as welcoming as a spa.