Why You Might Want To Reconsider Switching From Carpet To Hardwood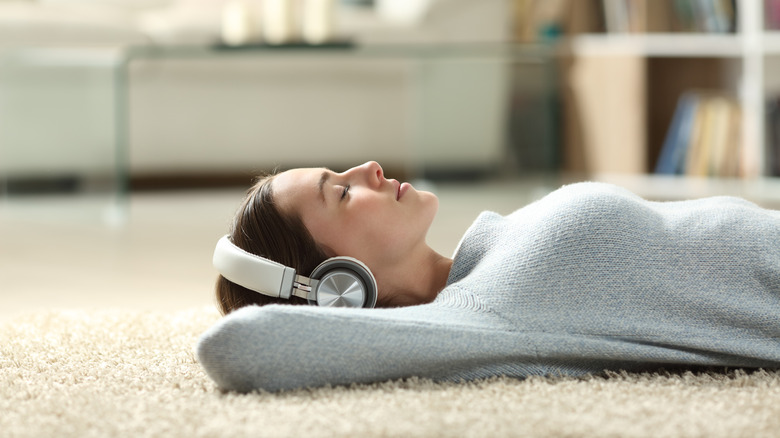 Shutterstock
If you're like most homeowners, choosing the flooring for your living space can be quite the process — and one that may spur a lot of back and forth decisions. Each option has pros and cons, and there are so many choices within each category. On the one hand, carpeting is really soft to walk on, comes in different textures, and has so many color options to choose from, per The Spruce. But on the other hand, hardwood flooring exudes elegance, it offers many color choices from dark mahogany to a light bamboo style, and can be in high demand when it comes time for resale. Not to mention, hardwood flooring can be easier to clean than carpeting.
Cost can be a major factor in flooring decisions. In 2020, according to HomeAdvisor, it can cost anywhere from $755 to $2,595 to install carpet, with the average homeowner spending $1,675, typically needing to be replaced every five to 20 years. On the flip side, HomeAdvisor estimates that homeowners can shell out $6 to $22 per square foot, anywhere from $2,492 and $6,756 for installed hardwood flooring, depending on the choice of materials used and area covered.
The flooring you decide on for your home can depend on your lifestyle, according to This Old House. So, if you're thinking about installing hardwood flooring, you may want to reconsider. Let's examine why you might not want to switch out your carpeting for hardwood flooring just yet.
Don't lose the carpeting just yet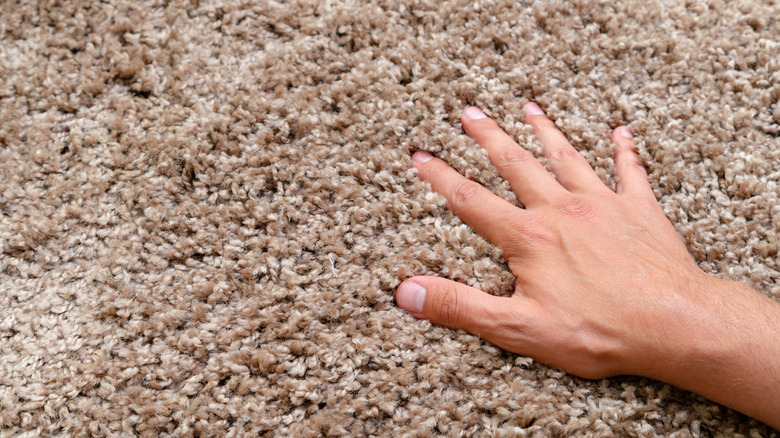 Shutterstock
You may want to reconsider switching out your carpet to hardwood flooring for several reasons. Carpet generally needs more maintenance than hardwood, including regular vacuuming and professional cleaning. Although it's prone to stains and wear-and-tear in some high-traffic areas, there are some excellent reasons why you may want to consider keeping your carpet.
One primary reason you may want to think about is the noise reduction it can provide, especially if you live in an apartment or a multi-level home. Acoustical consultants from Graeme E Harding and Associates (GEHA) noted that carpet can make a 20-decibel difference for lowering any noise, reducing the sound of the pitter-patter of small children or pets scurrying across the floor (via The Carpet Institute). Along with noise reduction, adding warmth and comfort to your home is another factor to consider. Geoffrey Adams, a Phoenix-based real estate agent, also noted the acoustic benefit to HomeLight, but Adams noted that he prefers carpeting, saying, "I like waking up in the morning and feeling carpet on my feet."
Cost, noise reduction, warmth, and comfort are deciding factors as to why to reconsider switching from carpet to hardwood, but it really comes down to personal preference, lifestyle, and which rooms you want to have it in. However, you may want to keep it out of high moisture areas such as a kitchen or bathroom. Epicurious suggested adding area rugs to those rooms instead to provide warmth and to protect the floors.