What You Should Know About Sustainable Architecture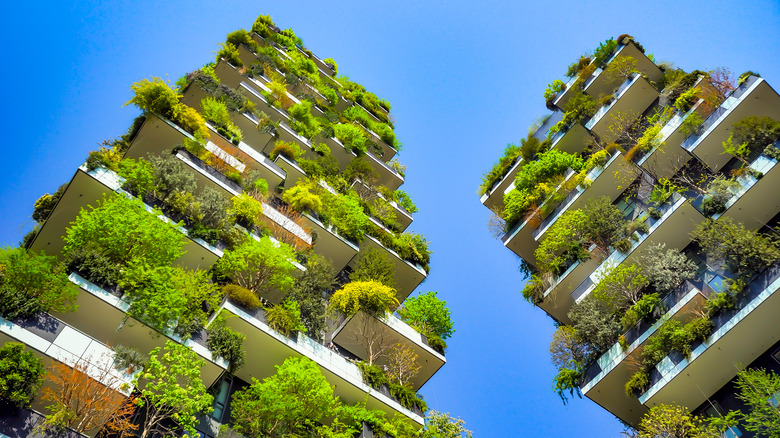 Shutterstock
If you're into architecture, you've most likely heard of popular trends in design such as eco-friendly and green living when it comes to new high-rise hotels, apartment buildings, and even homes. Still, you may be wondering, what should I know about sustainable architecture and jumping on the green movement bandwagon? Well, the fundamentals of sustainable architecture have to do with everything in the construction process, including a water conservation system, the building materials, and the type of heating and cooling used, per The Spruce. The World Green Building Council report found that we produce plenty of carbon dioxide emissions through building and construction at 39%. Operational emissions are at 28%. (That's the energy it takes to run a building, from keeping the lights on to adequately heating or cooling the structure.)
Many building designers have moved towards sustainable architecture for the future, creating healthier spaces for people to live in and community spaces to experience physical and mental well-being while conserving energy and lessening harm to the planet. "Sustainability is a fundamental factor of design and business in the 21st Century ... The education of architects, designers, and engineers in sustainable design has accelerated exponentially because our clients are demanding it," explained architect Guy Battle in an interview with BetterBricks.
Read on as we dig into what characteristics to look for in your next sustainable home or apartment — because living with less can be so much more — now that you have a better understanding of what sustainable architecture is.
The top sustainable characteristics to consider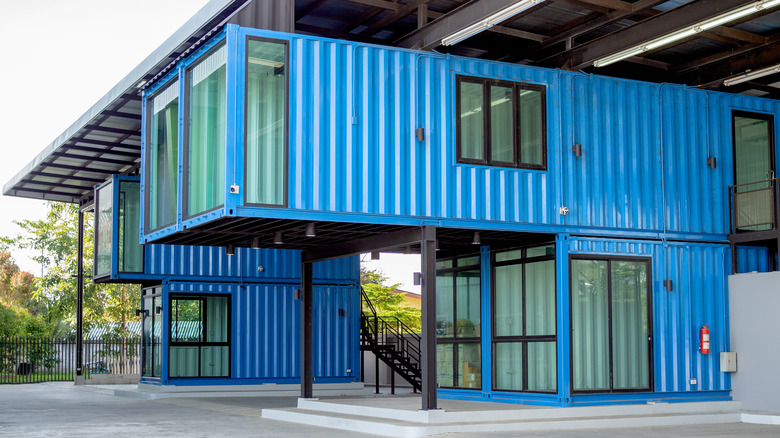 Shutterstock
There are several recommendations for sustainable architecture and how you can contribute to conversation efforts when it comes to your home. With that being said, we've narrowed down a few favorites. 
BobVila noted the significant benefits of reducing your energy consumption. The outlet pointed out that you can lessen your carbon footprint by installing solar panels, thereby paying less for utilities each month. You could also update your AC and heating units to lessen your energy usage. Another idea is recycling — which is reusing materials such as bamboo or cork flooring in your home (via The Spruce). The outlet also recommended using shipping containers as your home, living in tiny homes or micro-apartments for using less energy and owning less stuff in general. (Goodbye, clutter!) The Whole Building Design Guide mentioned that water conservation can be incorporated during any building process by using "water-saving" fixtures for plumbing in dishwashers, toilets, and washing machines. Rainwater is another way to recycle. Collecting it in a barrel will conserve your primary water source.
Sustainable design doesn't just have to do with buildings and structures, either. The American Society of Landscape Architects advised that landscaping can also play a role in the health of communities, including things like urban gardens, ecosystem rehabilitation, green roofs, or a feng shui garden in a home. Even if changes are small, everything makes a big impact on your physical and mental well-being and can cause significant changes in the world at large.