Why Soft-Close Cabinets Might Not Be Worth The Money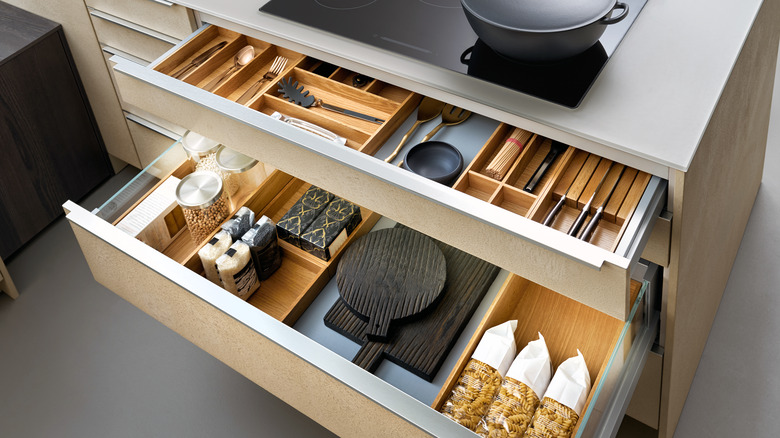 Shutterstock
Soft-close cabinets are all the rage today. According to Kitchen Cabinet Kings, this upgrade in cabinet hardware came to be a hot trend thanks to a European company named Blum. The cabinet and drawer technology uses hydraulics to close the door slowly and silently, avoiding the potentially noisy tap of the self-close hinge. Even better, if you accidentally shut the door or drawer shut with too much force, the soft-close mechanism will kick in and prevent it from slamming.
The soft-close system can be ideal in a number of situations. For example, if you are carrying a pile of heavy plates and need to shut the cabinet door but don't have the ability to shut it carefully at the same time, you can give it a gentle nudge, and it will shut on its own. The technology also plays a huge role in giving parents peace of mind when their little ones are eager to open and close cabinets and drawers, often getting their fingers shut by accident. With the soft-close hinge, smushed fingers are a thing of the past.
If you're considering replacing your current cabinet hardware with soft-close hinges, you are likely wondering whether the benefits outweigh the costs — especially considering how pricey they can be. Keep reading to find out why you may want to hold off on replacing your hinges if you're on the fence.
Soft-close cabinets might not get you the return on investment you're hoping for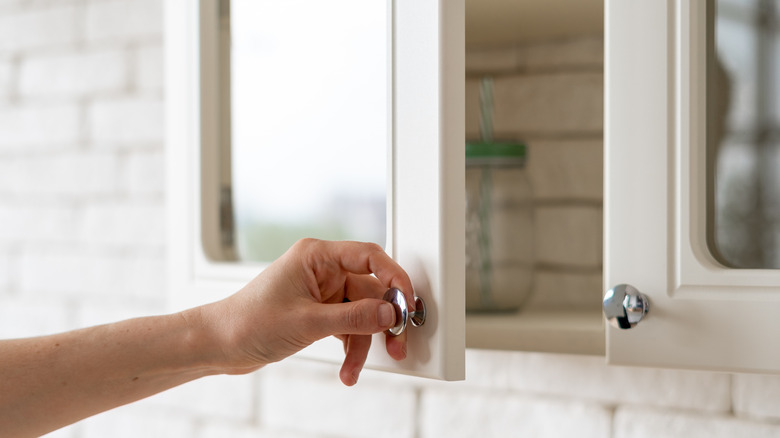 Shutterstock
There are a couple reasons why you may want to reconsider switching your hinges to the soft-close variety — especially if you're hoping to make a greater return on your investment. According to Million Acres, self-close hinges are convenient and exciting for potential buyers to see during an open house, but they're not a deal-breaker. You also won't gain much of a return investment by installing them. Most homebuyers pay attention to what they can see as they look around the room and will be more interested in the aesthetics of the cabinetry you have. Additionally, your fixtures and appliances are more likely to bump up the price of your home — especially if they're of the high-end variety. Instead of focusing on the hinges, make sure your drawers and cabinets have ample room inside and are conveniently located within the space.
Another issue that may arise if you're considering soft-close hinges has to do with how they are installed. In the case of drawers, the hydraulic slides are placed underneath the drawer rather than on the sides (via Kitchen Cabinet Kings). This means you would have to switch out the entire drawer rather than just the hardware, which would further increase the renovation costs.
Soft-close cabinets may be convenient, but they aren't necessary and may be more of a headache than they're worth. Remember — you can never go wrong with the regular self-close hinge!