Here's Where Kim And The Kids Are Living Compared To Kanye's Wyoming Ranch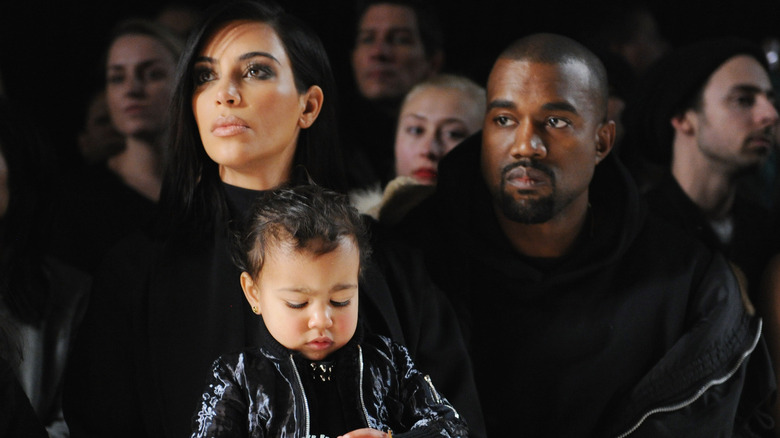 Craig Barritt/Getty Images
As of February 2021, "Keeping Up with the Kardashians" star Kim Kardashian and rapper Kanye West have gone their separate ways with a much-talked-about celebrity divorce. However, we're sure that planning how to co-parent their four children, North, Saint, Chicago, and Psalm is at the top of the former couple's mind as they navigate their new future.
Kim Kardashian and Kanye West have a pretty impressive real estate portfolio, but you may wonder where the West kids are living through all of this? Let's take a closer look at where Kim and the kids are spending their days and how different the mansion is from Kanye's sprawling Wyoming ranch. Of course, both of these properties have some epic celebrity touches, so we aren't too concerned. The West children have some pretty spectacular pads to split their time between, albeit very different homes to suit every whim they may have, thanks to their parents' unique real estate holdings.
The Calabasas mansion Kim Kardashian and the children call home is calming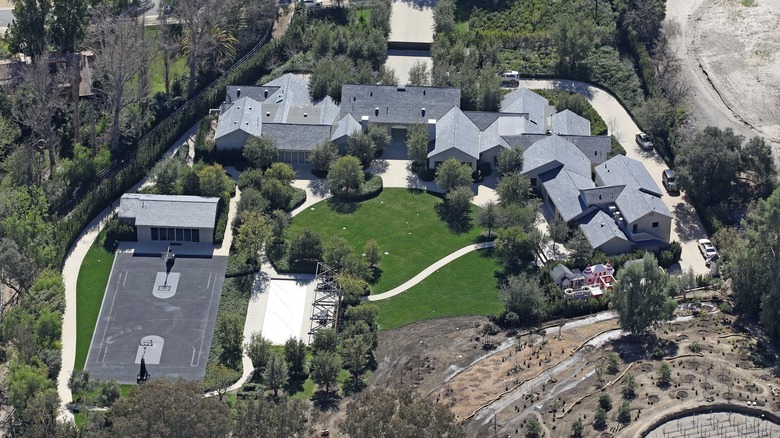 Vasquez-Max Lopes / BACKGRID
While you may have thought that Kim Kardashian and the kids would hightail it to brand new digs, they are staying put in the $60 million mansion they formerly shared with West, according to People. Kim described Calabasas as "very chill" and the 3.5-acre home as a "minimal monastery" in the 73 Questions interview with Vogue. In an interview with Architectural Digest, Kardashian also noted that she "was the voice of functionality" when it came to some of Kanye's "far-out ideas." 
During their seven-year marriage, the couple could agree on a stress-free color palette of whites and beiges for the home's decor. "The one thing Kanye and I had in common was our preference for a neutral palette. I love the simplicity of the design. Everything in the outside world is so chaotic. I like to come into a place and immediately feel the calmness," Kim told Architectural Digest. West chose to work with Belgian designer Axel Vervoordt who helped to create the look of the home. "When I saw the kind of work he was doing, I thought, this man could design Batman's house. I had to work with him," West told the outlet.
While most of the home seemed untouchable and stark, the couple noted that it was, in fact, kid-friendly with playrooms filled with toys, including rocking horses, a concert stage, and musical instruments, per House Beautiful. Now that's something we can keep up with.
Kanye West's Wyoming Ranch investment is a private retreat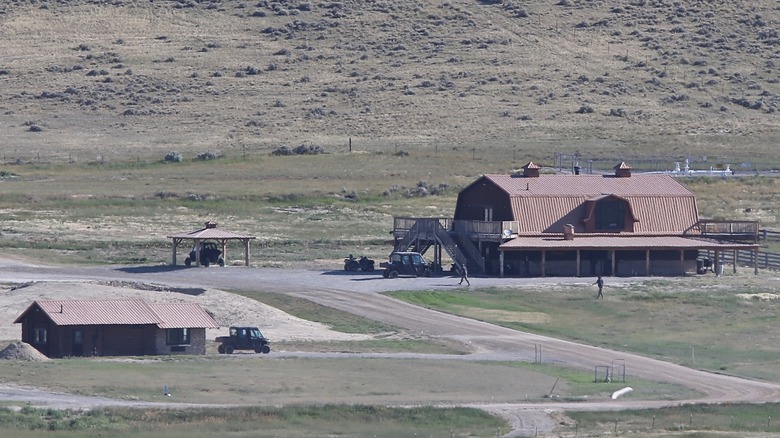 Javiles / GLH / BACKGRID
Kanye West purchased the Cody, Wyoming Ranch in 2019. The Monster Lake lot was listed for $14 million, per Variety. The outlet noted its many amenities: a primary ranch-style residence, a cattle ranch, a horse barn, and cabins by the lake, along with a caretaker for the 180-acre lake.
Realtor.com caught up with several professionals to see if this purchase was a good investment. Ryan Paliukaitis of Real Estate Solution Providers explained that to make an educated guess, they'd have to find out what West paid for the property, how much it costs to maintain each month, and the total amount of money the ranch makes. Most realtors noted in the article that the one drawback was how remote the location is for an empire expansion, with Benjamin Ross of Mission Real Estate Group telling Realtor.com, this "would be the last property you would want to buy."
However, seclusion is likely what attracted West to the ranch in the first place. Ross continued, "I am sure we can agree that Kanye didn't have the word 'luxury' on his mind when he decided to make an offer. If I had to guess, the words 'escape' or 'privacy' would be closer to his thoughts. If society has driven you mad, this is the place to go." Sometimes privacy is the best — especially when raising four kids in the spotlight. Downtime in the middle of nowhere may be exactly what the doctor ordered!