What You Need To Buy When Transitioning From A House To An Apartment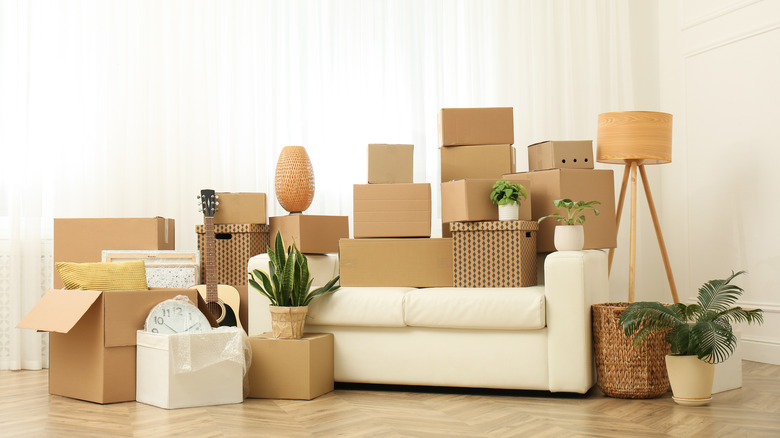 Shutterstock
We may receive a commission on purchases made from links.
Most people think of moving as an upgrade, such as from an apartment to a house. However, increasingly more people are deciding to downsize, which means many are choosing to sell their home and rent an apartment instead (via Rental Housing Journal). Apartment life actually offers plenty of benefits when compared to having a house. A prime example is that apartments are lower maintenance, which brings costs way down. Oftentimes, plumbing and electrical repairs, among others, are covered by the apartment complex. 
It's no secret that apartment living is synonymous with lower costs, whether in terms of potential repairs or simply lower utility bills due to needing to heat and light less space. However, apartment dwellers can also benefit from other amenities that are typically included in the complex or community, such as a gym, pool, dog park, and laundry facilities. More and more apartment communities are upping their perk game as the trend towards luxury apartment living continues to thrive, with some adding convenience stores, movie theaters, and even sporting facilities. Current trends also include a communal work room in some buildings to accommodate working from home, providing a comfy office feel.
If you're looking to downsize from a house to an apartment — whether to cut costs or simply because you no longer need or want the space and hassle that comes along with home ownership — check out the following tips on what to buy to make the move a successful and happy one.
The basics you'll need to get started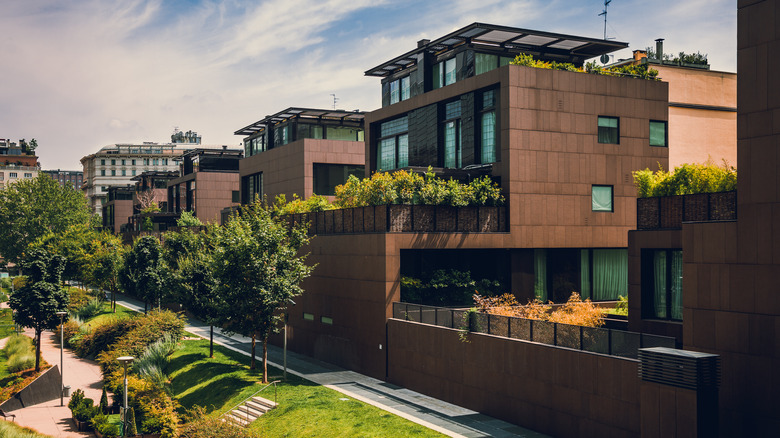 Shutterstock
Moving from a house to an apartment means you'll be downsizing, so it's important to also reduce the items you'll be taking with you. Before making purchases that'll better suit your new apartment life, look through your possessions to see what you no longer need. Having a garage sale, selling on Craigslist, and donating to charities are good options for getting rid of excess items. Once you've fine-tuned your belongings to the necessities, there are a few extra purchases you might want to make to maximize your apartment-living experience. In addition, there are a few things you need to do. 
According to Millennial Homeowner, you'll want to make it a point to do a thorough cleaning of your new apartment before moving anything in. You'll want to head to the store and stock up on all the cleaning essentials you'll need so you're not scrambling when you get there. You may also want to purchase new locks for your apartment if they haven't been changed already, so keep that in mind.
Another tip? Apartments are often smaller than houses, meaning you'll need to get creative when it comes to storage solutions (via Make Space). Look for opportunities to use the vertical space in your apartment to install shelving units and other storage solutions up high. You can also utilize the backs of doors to hang shoe dividers or a mirror. One trip to a Walmart and Home Depot is necessary before shopping for the fun stuff.
Multi-functional furniture is honestly the way to go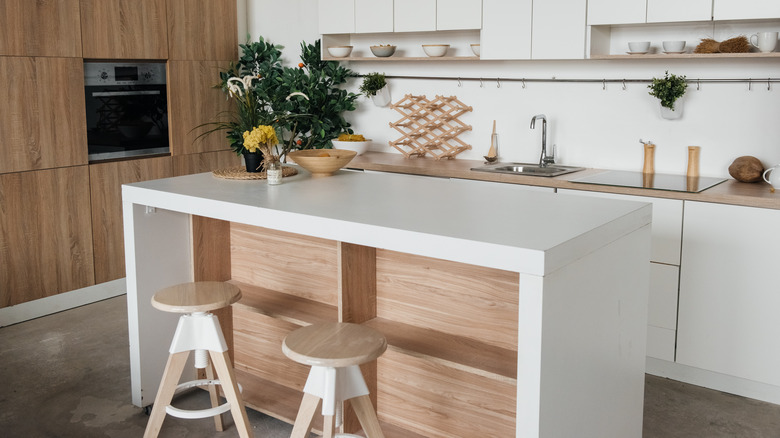 Shutterstock
Now that you have the basics covered, it's time to talk multi-functional furniture. With less space, you'll want to purchase items that can store other items or have many uses. For example, a kitchen island with storage space underneath and barstools is the perfect alternative to a kitchen table and chairs. Not only is the design modern and aesthetically pleasing, it's also incredibly functional. A comfy pull-out sofa in your living space can make an instant guest bedroom for overnight company.
It's so easy to find furniture that works well in small spaces. You can find a lounge chair that converts into a bed, or you can even purchase a Murphy bed that folds right up into the wall. Another popular item to consider is a coffee table with a removable top that doubles as a storage unit. If you're moving into a studio apartment or an apartment with an open floor plan, you can easily find pieces that can divide up your space to create private areas with lots of extra storage. For example, consider a floor-to-ceiling structure with built-in shelving and storage units. This will be a great spot to display some picture frames and even baskets that you can keep personal items in.
Bunk beds are always a great idea, and some of them even house a desk underneath instead of a bottom bunk. It's a really fun setup for children and a smart way to utilize space.
Furniture isn't the only way you can save space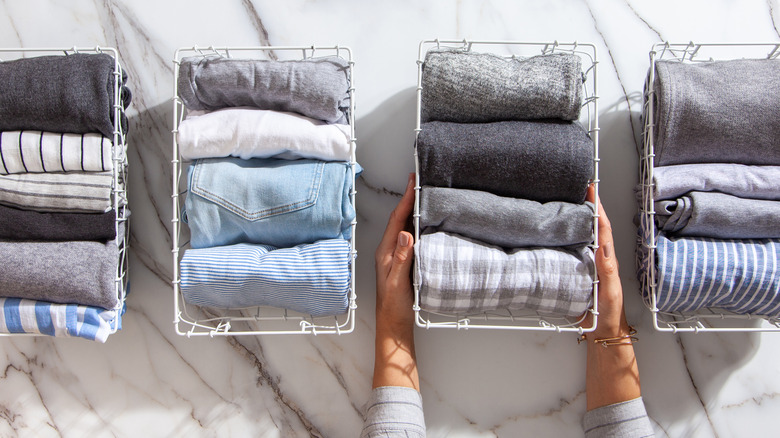 Shutterstock
There are many products you can find that will help you get organized in your cabinets and drawers, while providing a neat, uncluttered look and feel. When it comes to storing kitchen supplies, look for organizers that can help you stack items and keep everything tidy in your cupboards and drawers. You can find pieces that will store your bowls, cutting boards, utensils, foils and wraps, and storage containers. If there is a place for everything, everything will always be in place!
Other great items to maximize storage space within closets and pantries are baskets, dividers, and pull-out drawers. Wire shelving units are great for closets and are cheap and easy to install while allowing you to make sure all of your belongings have a designated space. Vacuum compression bags are perfect for storing bulky blankets and winter items that aren't in use all year round.
You will likely be downsizing in bathroom space as well, which means items like a shower caddy for the shower and a drawstring laundry bag for the back of the door can be functional without taking up a ton of space. You've got this process covered — you will simply need to get creative.
Make sure your kids are organized, too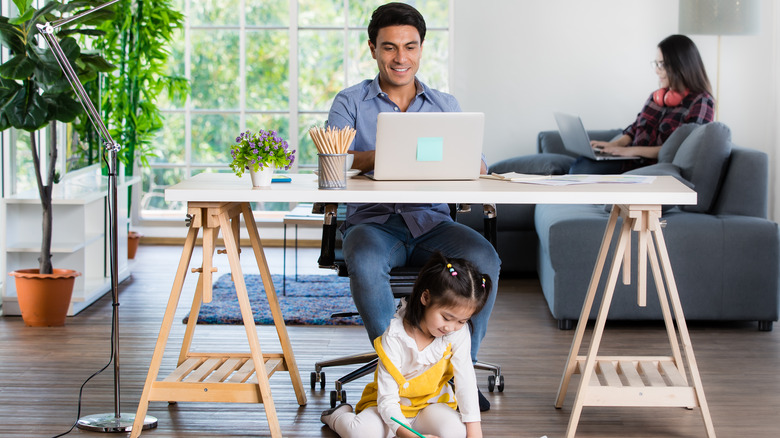 Shutterstock
Kids come with a lot of extra stuff, but that doesn't mean it can't all fit in an apartment smartly. Between books, craft items, toys, and stuffed animals, shelving on the walls, basket organizers under beds, and hanging closet organizers will be essential in providing a home for all of your kid's belongings. The more you are able to put away and keep off the floor, the more space your kid(s) will have to play and chill in their own space.
You may also want to rethink buying desks for your kids if you don't have the extra space, and instead, let them use the kitchen island for homework and crafts. (Of course, make sure the seating height will be absolutely safe for them.) In fact, if there is an extra bin under the island that you can designate for craft items, the kiddos will love having their own homework and arts area.
The key to living in an apartment with or without kids is making sure all space is usable in more ways than one. If you make purchases with this in mind, there's no reason why you won't love apartment living. Happy shopping and happy apartment life!