The Real Reason That Your HOA Fees Are Through The Roof
Shutterstock
If you have already moved into or are planning to move into a planned development, such as a condominium, townhouse, or even a single-family home, you're likely going to be required to join the community's homeowners association, or HOA. According to HOA Management, the main reason this community structure exists is to boost property value by enforcing regulations that keep the community in top shape.
However, the HOA structure, made up of member residents, has pros and cons. You will likely benefit from a reduction in homeowner obligations and responsibilities, but you'll also have to pay fees to continue your membership and you may be required to adhere to certain rules that clash with your own living preferences (via Investopedia). For example, joining an HOA may give you access to perks you wouldn't normally be able to afford otherwise, such as a community pool, gym, or clubhouse. On the other hand, if you want to paint your front door bright pink, this likely won't be permitted.
The biggest issue you might face if you purchase a property within an HOA community is exorbitant monthly fees. The fees may be worth it to you as they often cover utilities, including electric, waste disposal, and water, in addition to property upkeep and maintenance. You will also contribute to HOA management fees, insurance, and emergency reserves. Per HOA Management, the average monthly HOA fees range from $200 to $300 depending on where you live, but there are a couple reasons why you may be paying significantly more than this.
The HOA may be spending more than it needs to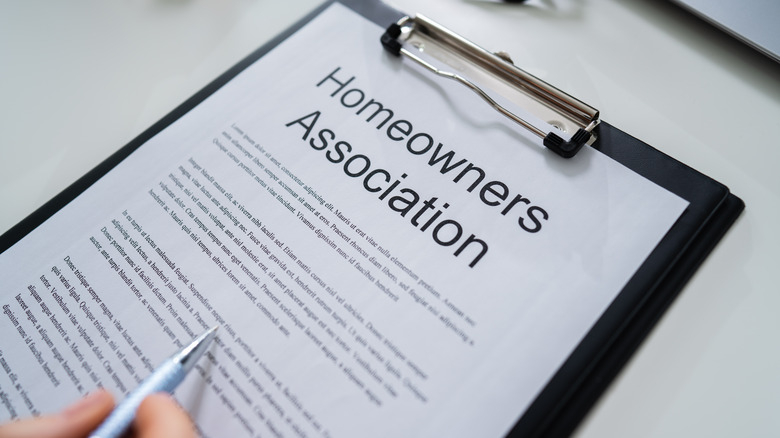 Shutterstock
When you're considering whether or not your HOA fees are high, you'll first want to research the average costs in the area that you live in. For example, the average HOA costs across the United States is around $330 per month, according to Real Estate Info Guide, but if you live in New York City, the average is closer to $570. If you've verified that the fees for your community are much higher than they should be, there could be a few reasons why. The first culprit could be that the maintenance and repair contracts in place are out of date or list unnecessarily high costs. Contracts should be updated regularly to accurately reflect service rates in the area you live in. Another common cause for high HOA fees is a large financial reserve. There are currently no laws that dictate how much money an HOA should keep in their emergency fund and some may be building up more than is absolutely necessary. According to HOA Management, landscaping costs could also come at a high price point, especially if common areas contain high-maintenance gardens and plants.
If your HOA fees are through the roof, consider joining the HOA board and exploring the budget, contracts, insurance, and other important documentation in order to get a better idea of where the HOA can cut costs. As a homeowner in the community, you also have a voice in how fee rates are set.