This Full-Length Mirror Hack Is Perfect For Storage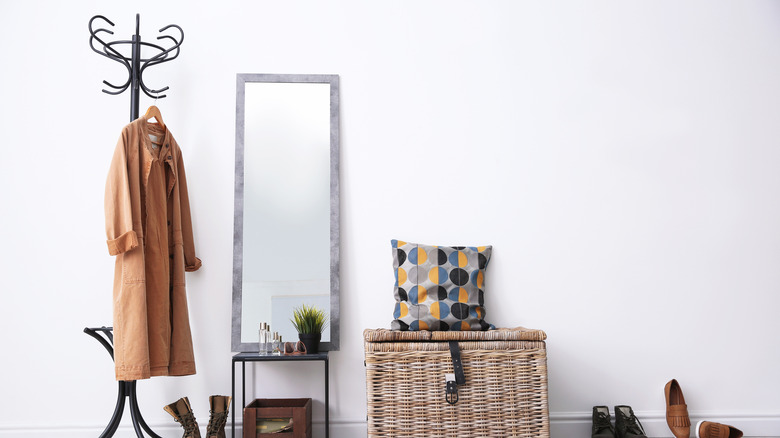 Shutterstock
Whether you live in a 600-square-foot studio or a sprawling suburban ranch, everyone can use a little more storage space. We tend to surround ourselves with things our home doesn't actually need, and those knick-knacks and odds-and-ends can create clutter if not organized properly. While closets and cabinets obviously work well, you can also edge out some extra storage in some very unexpected places.
Case in point: There is a full-length mirror hack that is perfect for extra storage. Specifically, this mirror DIY creates entryway storage that can be used to house your keys, sunglasses, and any other grab-and-go items. If you feel frustrated when small items clutter your entryway table, or are constantly misplacing your wallet or bag because they don't have a proper "home," then this storage hack is for you. And the best part is that all you need to create it is an inexpensive mirror and a few pieces of wood.
This full-length mirror doubles as a closet
To help those who are struggling with messy entryways, YouTube channel Hometalk created an easy and affordable DIY that creates storage behind a full-length mirror. To replicate it, all you need is a $7 Walmart full-length mirror (or other similar choice) and a couple of 1x4-inch wooden boards.
In the video, the DIYer for Hometalk paints the back of the mirror black, which will act as the back of the storage door. She then takes two 1x4-inch wooden boards and cuts them to match the length of the wooden mirror to create its cabinet frame. She also cuts three planks to match the width of the mirror, which will form the top and bottom of the frame, as well as the shelf inside the storage unit.
Using a nail gun, the DIYer staples the wooden planks together to create the secret cabinet that will be behind the mirror. She paints the entire piece black to match the original black mirror frame, and she uses hinges to install the mirror to the frame. The final piece of the puzzle is to use L-brackets to attach the cabinet onto the wall. The end result is a modern mirror unit that swings open to reveal a hidden cabinet.
This Walmart mirror hack is the perfect thing to create a design element in your entryway, and to keep your to-go things permanently organized. You will never misplace your keys again.