The Most Unique Room In Kelly Clarkson's Recently Sold $6.3 Million Mansion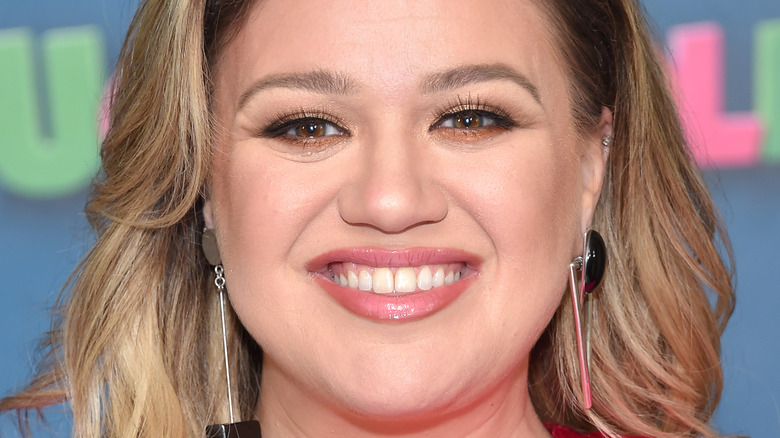 Shutterstock
Singer, television personality, and Wayfair designer Kelly Clarkson had a difficult 2020, culminating with a divorce from her husband Brandon Blackstock — the former stepson of country crooner Reba McEntire, per "The Kelly Clarkson Show." The former couple owned an awe-inspiring waterfront estate in Hendersonville, Tennessee, located under 30 minutes from downtown Nashville. The well-known town dubbed the "city by the lake" is renowned for water sports such as kayaking, boating and is an ideal spot to catch fish. But that isn't the only draw; the town has attracted a slew of famous country singers and celebrities who have called Hendersonville home over the years. Some stars that have lived there include Taylor Swift, Diplo, and country music icons Johnny and June Carter Cash, who resided there from 1968 until they died in 2003, per Visit Sumner County Tennessee.
"American Idol" alum Kelly Clarkson and her former husband of seven years purchased the property in 2012 for $2,860,000, according to Realtor.com, who spoke with listing agent Jack Miller in 2018. Per the outlet, his prediction came true regarding how long the mansion's sale could take. "When we list at that price range, almost $9 million, we tell our clients to look at three, four years." The sprawling mansion was first listed in 2017 for a whopping $8.75 million and sold on June 17, 2021, for $6.3 million, via Zillow. Here's the most unique room you'll find at the mansion!
This unique room is definitely a favorite spot
It's no secret that we are house-obsessed here at House Digest, checking out many celebrity homes virtually, from Kim Kardashian's Calabasas mansion to Prince Harry and Meghan Markle's abode. After peering at the images of Kelly Clarkson's recently sold Tennessee mansion on Old Hickory Lake, one thing is for sure — it's a unique estate. "It's a fabulous, luxury lake home ... it definitely has Kelly's imprint," listing agent Jack Miller told Realtor.com in an interview. We couldn't agree more. 
According to Forbes, the mansion sits on four acres of land and boasts 20,121 square feet of total living space. It has 11 bathrooms, seven bedrooms, a saloon-style game room, a movie theater, and a gym. The living room could have won "most unique" with its impressive taxidermy, including a full-size bear and deer head mounts that any hunter would love to live among, per Jezebel. But, it may surprise you that it's not the most unique room in this massive home.
In our book, the most standout space is the fully-stocked cowboy bar! It features saddle seats positioned around the bar, making it a truly unique spot for guests to grab a drink and hang out (via Observer). While we can't pick up those saddle bar stools seen in the cowboy bar with Clarkson's Wayfair home collection, we can fill our home with several of her pieces, including living room furniture, rugs, pillows, and more. Happy shopping!