If You're Not Using Shaving Cream To Remove Greasy Stains, You're Doing It Wrong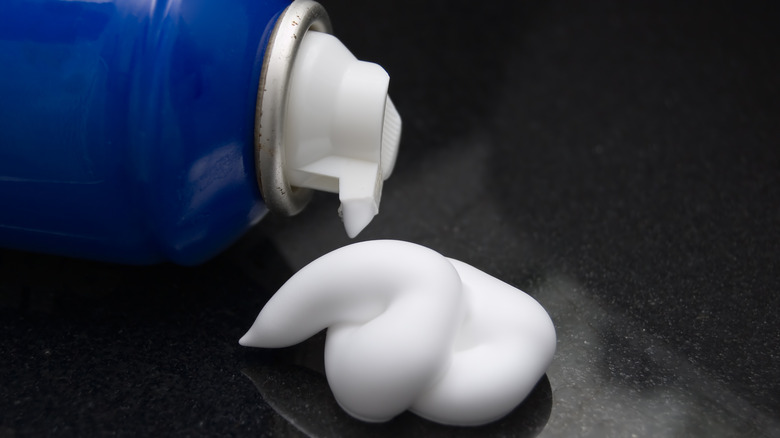 Shutterstock
It's always exciting to learn about a new cleaning hack that saves time as well as money. Take shaving cream, for instance. It's been helping men get close shaves for around 100 years, as noted by Barbasol – but one of its best-kept secrets is that it is also fabulous for removing grease stains.
What makes shaving cream such an effective grease cleaner is its foamy, soapy texture. Life Hacker recommends using classic shaving cream as opposed to gel cream for the best results. Simply squirt a bit of cream on the stain and dab it in, making sure that it sinks into the fabric. Let it sit for about half an hour and then rub it away. Depending on the type of stain or material you're working with, you may need to scrub it a bit before wiping it up. If the stain is on carpeting, you might even need to let it sit overnight (via Apartment Therapy). Shaving cream also works wonders on a dirty oven. Just dab a bit on stains — even the cooked-on, blackened ones — and use a scrubbing sponge to clean up the mess away, suggests Kitchn.
Shaving cream is not just for greasy stains, either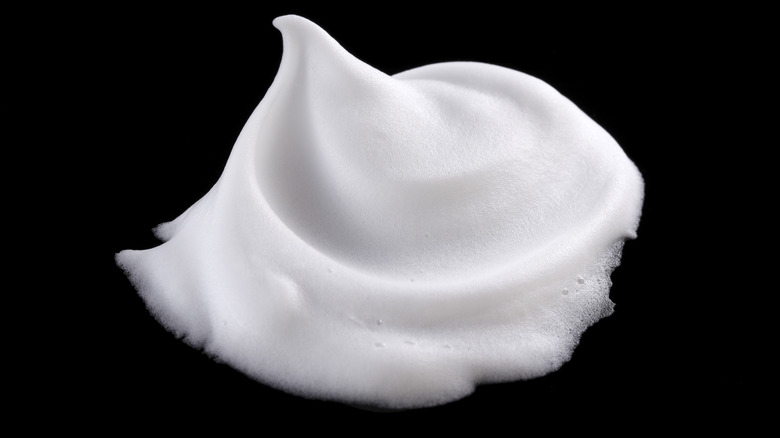 sumire8/Shutterstock
Since shaving cream is basically soap, it is ideal for removing a variety of other stains around the house. For example, you can use shaving cream to lift tough stains from carpeting; simply apply some to the stain and let it sit for 30 minutes, and wipe it away, per CNET. In addition, shaving cream is also good for removing coffee, ketchup, and tomato sauce stains from fabric; just squirt some on the stain and rub it in before putting it in the washing machine (via Reader's Digest). Shaving cream can also remove makeup from collars, which is why Apartment Therapy recommends carrying a travel-size bottle of it in your purse. Apparently, rubbing some on the makeup stain and then wiping the cream away with a cloth is enough to lift the stain from a collar.   
So the next time you have a tough stain and are considering a high-priced cleaner, remember to reach for a can of shaving cream first. You may never go back to using conventional cleaning products again.