Why All-Wood Kitchens Are All The Rage Right Now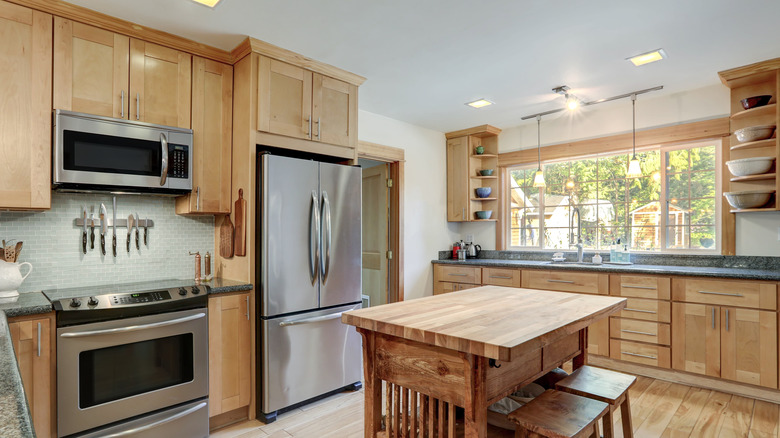 Shutterstock
It's a fact that design trends are constantly evolving. Fortunately, staying on top of these trends is something we love about our jobs here at House Digest, so when we found out that all-wood kitchens are enjoying the spotlight, we couldn't have been more thrilled. It's a welcome break from the all-white kitchens that have been on trend for several years. According to Architectural Digest, "the all-wood kitchen is having a moment," and we're excited that this trend is becoming popular again.
Interior designer Molly Kidd of Oregan-based Light & Dwell agrees that wood is all the rage, telling HomeLight, "Wood tones are coming back." Additionally, Aujla Bloomstein, co-owner of design firm Green River Project, says, "We try to use as much wood as clients will let us." The firm recently used beautiful woods — including lauan and mahogany — in a kitchen remodel in Queens, New York, so if you think the all-wood look is just for a cabin in the woods, think again! However, it's important to note that, "The rougher the wood, the harder it is to clean, but it has a much warmer feel and a softer touch," as Bloomstein explained to Architectural Digest. If you're wondering how the all-wood look in a kitchen renovation upgrade can appear modern and not outdated and cabin-y, read on.
This luxe all-wood vibe is less rustic and more chic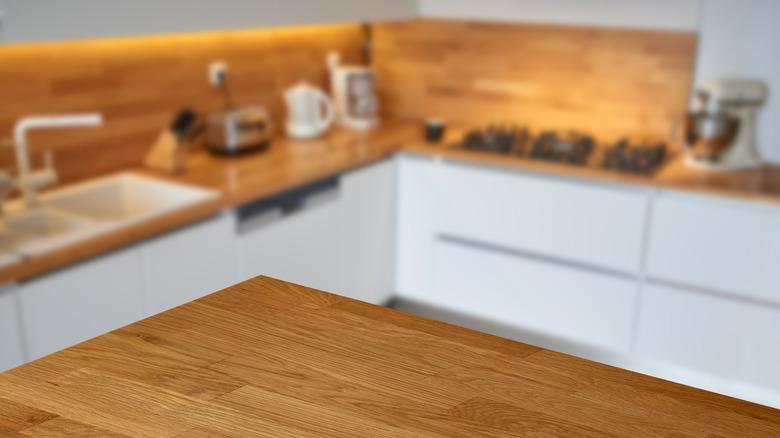 Shutterstock
If you think that an all-wood kitchen can't look chic, let us prove you wrong! Per Architectural Digest, homeowners are gravitating towards a more natural aesthetic in the kitchen. Salt Lake City full-service interior design firm Studio McGee can attest to the shift from all white to wood, but there are a few tips to really make it work, adding plenty of warmth to the room. The interior design firm suggests having open shelving and cabinets to break up the continuous flow of wood, which happens to be another top trend in 2021, per Sebring Design Build. 
Forgoing hardware is another idea to give your all-wood kitchen a modern look. "We have always preferred a wood cabinet and have used them in most of our projects," says Roman Alonso of Los Angeles-based design studio Commune to Architectural Digest. "Walnut cabinets might feel more elegant, and white oak ones more casual. Rough planks [are] more rustic; a smooth, sanded finish more refined."
Another tip if you don't think you can handle a complete flow of wood but still want that homey vibe that wood provides is opting for two-toned cabinetry. Studio McGee has used one kind of wood for the cabinets in the center island and another type of wood for the other cabinets in the kitchen, which is popular with clients. So go ahead and opt for an all-wood kitchen, and make it that homey spot for all to enjoy!