This Clever Towel Folding Trick Will Have Your Home Feeling Like A Spa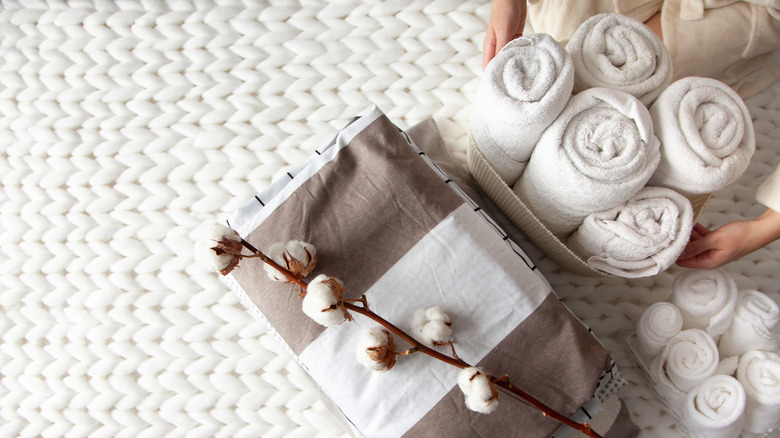 Kostikova Natalia/Shutterstock
Creating a zen atmosphere at home is now more important than ever. Just turning on the news just might put us in a downward spiral, but not to fret: your surroundings can make a massive difference with your mental health. According to the Anxiety and Depression Association of America, stress can change how a brain functions, and for those living in a city, it can contribute to faster aging and mood disorders. So keeping the pressure at bay is a top priority.
Some ways to make our home feel just like a spa are putting fabric softener in our toilet tank for a fresh-smelling room, sageing our home to ward off unwanted negative energy, and getting celebrity inspiration for spa-like bathrooms (looking at you, The Weeknd and Kourtney Kardashian!). House Beautiful suggests several ways to do this, including keeping candles lit throughout your home, creating a sound bath, or getting an infrared sleeping bag. It can also help you be more relaxed and less stressed. While we can't wait to try out all of these ideas, there's one trick you can do for free! There's a creative way to fold your towels that will have your home feeling like you are at the spa. If you're ready to learn the hack, read on!
This TikTok towel hack has our bathroom feeling more like a spa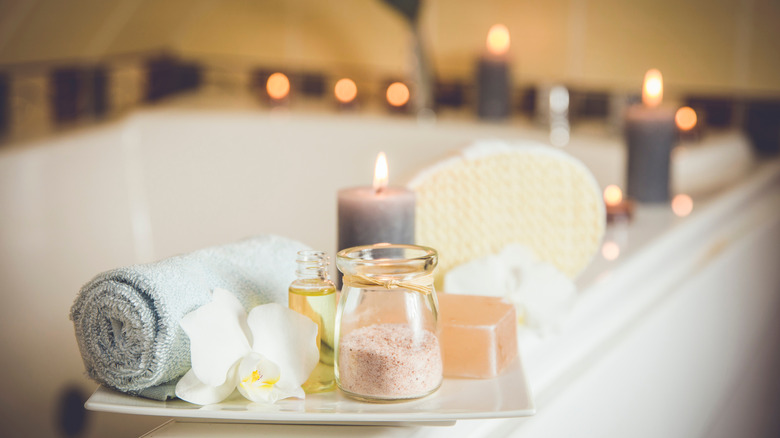 FotoHelin/Shutterstock
Ready to make your home feel more like a spa? The spa is the best form of self-care, and now there's a way to bring that home. "Going to a spa is a way of getting taken care of that is psychologically and culturally acceptable — and we can carry that feeling of being cared for with us for a period of time, and very often that can help us cope better with stress," NYU psychiatry professor, Dr. Virginia Sadock, told WebMD. 
So, let's start with how to make your towels feel like they were borrowed from the spa. Professional housekeeper Vanesa Amaro shared the hack in a TikTok video, and guides us through the towel-folding process step by step.
First, Amaro suggests laying your towel out completely, then taking the section with the tag and folding it over to the other edge to create a triangle. Next, fold over the other side on your right until the towel is completely folded in half. After that, take the towel and flip it over. Next, start rolling the towel from the straight side as tight as you can so that you create a roll. Finally, tuck the end piece inside the towel, and voila, you have a spa-approved towel without even having to leave home (it will sort of look like a rolled-up envelope). Here's to a stress-free, spa-like bathroom —you're welcome!