This Housekeeper-Approved TikTok Hack Will Keep Your Shower Spotless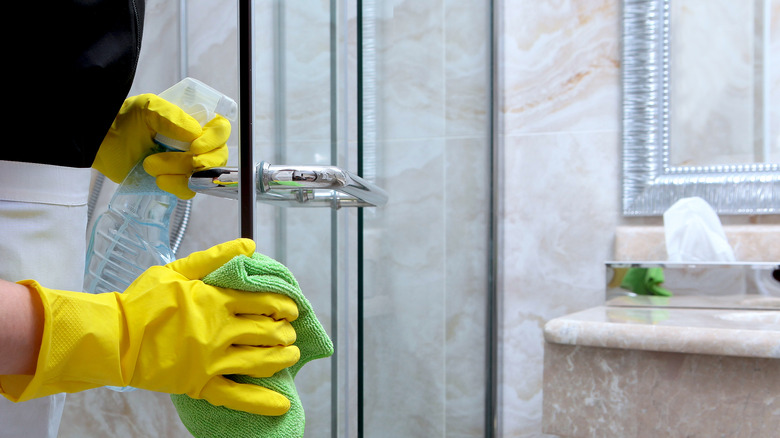 RusAKphoto/Shutterstock
If there's ever a shortcut or hack that will cut down on how much time and effort we spend cleaning, count us in. We can think of about 100 other things we'd rather be doing than scrubbing the bathroom, especially all of the nooks and crannies in a shower. To that end, what if we told you there's an easy, mess-free way to keep your shower sparkling clean? And the icing on the cake: You only need two common household ingredients, plus a tool that you probably already have in your kitchen.
This hack comes to us from the creative geniuses at TikTok. It's housekeeper-approved, and doesn't use any harmful chemicals. However, depending on the surface material(s) in your shower, you'll need to confirm it won't hurt the surface. If you have a marble shower, you'll want to skip this hack because the main ingredient is too acidic and could damage marble's porous surface. Otherwise, read on to discover the simple way to keep your shower spotless.
You only need three items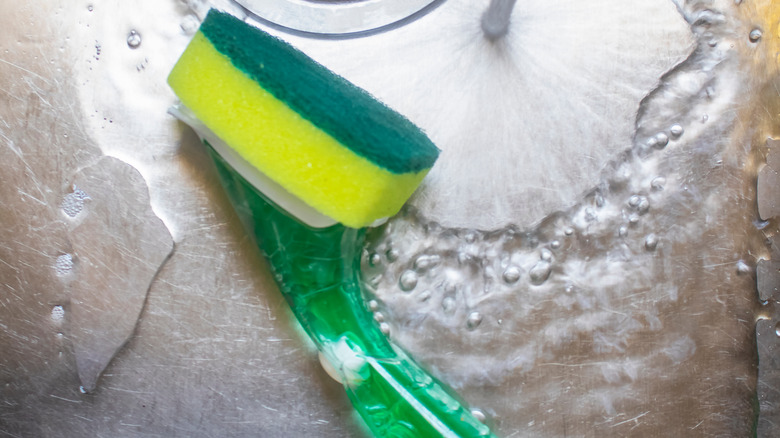 Vineyard Perspective/Shutterstock
A professional housekeeper by trade and self-proclaimed "Queen of Cleaning," TikTok user VanesaAmaro91 has millions of followers who love her practical shortcuts and industry secrets. If you want to try her shower cleaning hack, you'll only need three items: Dawn dish soap, white vinegar, and a refillable dish brush (the type you'd normally use in the kitchen). Take the cap off the dish wand and fill it with equal parts soap and vinegar. Reattach the cap, dispense the mixture from the brush around your shower, and get scrubbing. Once you're done, leave the mixture in the dish wand and then park it in your shower. Now it will always be handy when you notice the soap scum accumulating.
What makes Dawn and vinegar such a magical combination? Bob Vila explains that vinegar is tough on odors and prevents the growth of mold and bacteria, while dish soap is designed to cut through greasy grime. So when you mix the two together you've got a powerhouse cleaner at your fingertips. Regularly using the scrub brush mixture in the shower will keep it fresh, clean, and free of harmful mold. Thanks, TikTok!