The Wine Rack Hack Your Craft Room Has Been Missing This Whole Time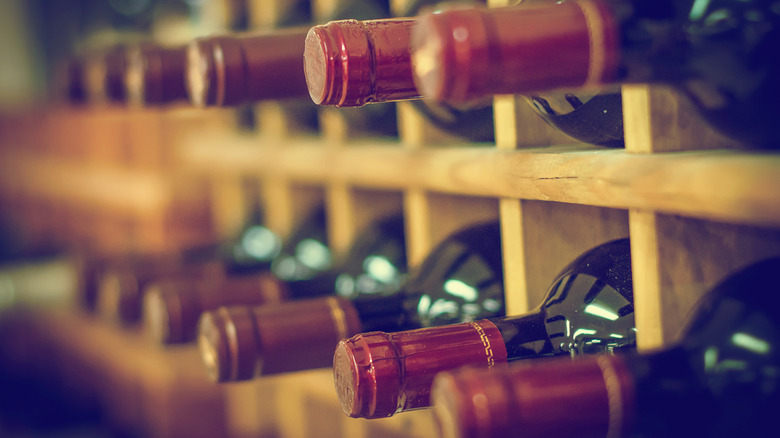 M-Production/Shutterstock
Let's be honest: our wine racks are usually sitting on empty bar carts or kitchen counters, and refilling them can be such a chore. But wine racks have a pretty essential purpose. According to Foodal, racks prevent corks from drying out since the bottles are horizontal. This storage method is crucial because the cork's seal could potentially weaken if dried out, letting oxygen into the bottle. If you are using your wine rack, you may want to avoid putting it on the kitchen counter. "The kitchen has the most variable temperatures of the entire apartment. Unfortunately, you see a lot of these little ornate on-the-counter shelves," Maria Denton, the beverage director of Old Ebbitt Grill and The Hamilton in Washington, D.C., explained to Kitchn. "Also, the kitchen tends to be the brightest."
While an in-home, fully-stocked wine cellar may be common in celebrity homes like Meghan Markle and Prince Harry's California house, it isn't a typical amenity for most of us. Some suitable spots could be a bedroom closet, basement, or even under the bed. However, if you're not using your wine rack, there's no need to throw it out. Here's a clever way to use it instead. Hint: You're going to love this if you're a crafter!
If you're crafty, you have to do this hack
Now that we've freed up your wine rack by thinking outside of the box, there are plenty of ingenious ways to use it around the house, especially in your crafting space. We love repurposing items if we can, which is why we'll take inspiration from everywhere — blogs, Pinterest, and even TikTok. If you are lucky enough to have a spare room or crafting corner in your house, adding a wine rack to the space is an excellent way to hold your craft supplies stylishly and artistically. 
Apartment Therapy shared several ways to use wine racks around the house, and we especially liked blogger Repeat Crafter Me's organizational hack. She used her oversized and unused vino organizer to organize her yarn by specific hues. Atop the wine rack, she kept different glass containers of buttons for various projects. If you're inspired by the idea to use a wine rack for storage, Homedit also suggested converting it into a bathroom towel holder, a school supplies organizational tower, and a floating kitchen herb garden.