15 Tiny Houses That Are Incredibly Charming
Home sweet home ... no matter how small it might be. While most American homes feature about 2,600 square feet, a tiny home averages 100 to 400 square feet, according to the Tiny Life. These homes can travel, if on wheels, or are set on a foundation. You can rent, own, or even vacation in these minute residences. Why go small? Well, in this age of excess, many individuals long to downsize and free themselves from their possessions. About 76% of Americans live paycheck to paycheck, with home expenses eating up 1/3 to 1/2 of their salary. A house can cost upwards of several hundred thousand dollars, while the cost of a tiny home averages between $10,000 and $40,000. 
Why live large when this smaller lifestyle is so cozy and comfortable ... and so much cheaper? Take a look at these 15 charming tiny homes; you might just want to give tiny living a try sometime.
1. An island getaway tiny home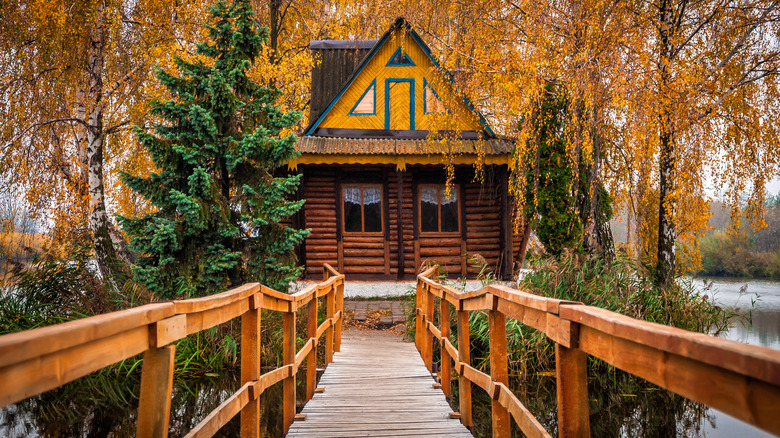 Alina Filatova/Shutterstock
Since 1985, this tiny house has protected fishermen and hunters from bad weather and displayed their trophies. The pedestrian bridge connects Love island to Staryi Solotvyn village in the Ukraine, according to Jet Set Together. The island, the shelter, and the bridge were built by locals. Visitors are welcome, and can even camp close by.
2. Glass houses with perfect views
Nothing makes a tiny home look bigger than large windows that let natural light in and fill the space with brightness, said Smaller Living. This contemporary lake home brings modernity to a secluded forest filled with pine trees and no busy-body neighbors to see you spend yet another night relaxing by the crackling fireplace.
3. A tiny house with a cozy porch
Who says a tiny home can't have all the amenities? Case in point is this sweet cottage in central Texas. This wood frame home sports a minute porch perfect for a compact rocker. Such additions can help maximize your space, according to Front Porch Ideas and More, and offer outdoor refuges.
4. Tiny houses can include sheds and garages
Sometimes the space outdoors offers more room than the inside of your tiny house, according to the Remodeling Guy. This small blue home increases its square footage with a storage unit in the back and a carport. The residence's under skirting, shaded windows, and metal fence make it look tidy and homey.
5. Modernism in a tiny home
Tiny homes can offer function and style, said The Spruce. Clean lines and white hues accentuate the space, making it appear bigger. The glass with the black trim gives this modern tiny house a visual pop and brings in lots of light. 
6. A barbershop in a tiny home
Not all tiny houses need to become homes; they also make good business spaces. In Florida, you can find the Tallahassee Smokey Hollow Barbershop, a small historic building re-built in its original location, reported the Tallahassee Democrat. The site re-opened in 2018, and while haircuts are no longer given, you can visit the site.
7. Small and homey cabin in the woods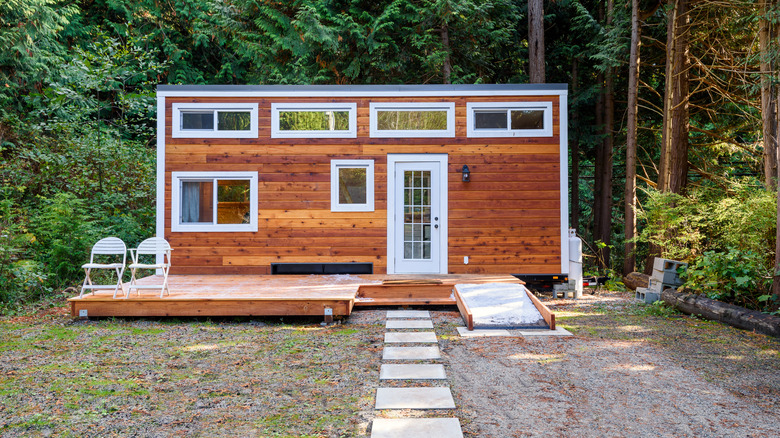 ppa/Shutterstock
A tiny log cabin in the wood provides the perfect vacation getaway. Lots of these homes come pre-fabricated, according to Conestoga Log Cabins & Homes, which allows you to comply with building codes while creating a charming, relaxing space. You can customize your digs by adding a wooden patio, ramp, or other areas.
8. Mobile tiny house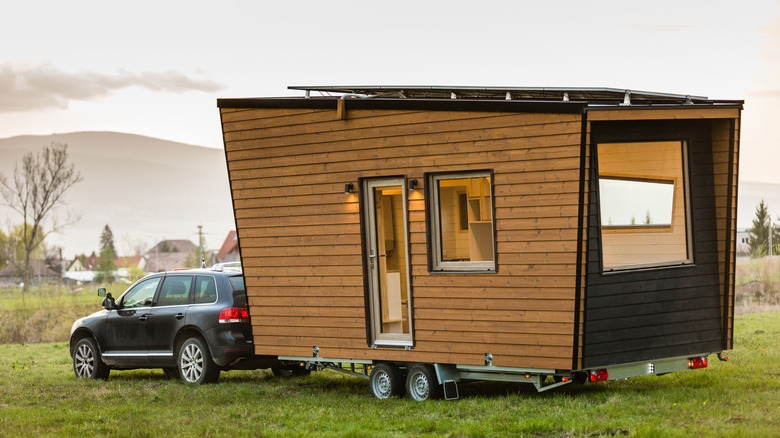 inrainbows/Shutterstock
Sure, you can purchase a trailer and explore the countryside, but why not just take your home along for the adventure? Tiny homes on wheels are technically considered recreational vehicles (RV), according to Curbed, and you can register yours as such within your state. If you take it on your travels, you'll never get homesick.
9. Tiny house with a second-floor patio
This tiny house in Waco, Texas took a shipping container and made it into a home. Such transformations are common, according to Tiny House Container.  These constructions offer an open layout and are simple to transport. They also customize well, as you can see by the spiraling staircase that leads to a roof patio.
10. A-frame tiny house
A-frame tiny houses are perfect for the first-time small space owner, said The Tiny Life; they're easy to build and don't require much land. The style does take away some internal space since you'll have a bigger roof plane. Still, the strong design is appealing, thanks to the many windows capitalizing on the bucolic forest views. 
11. Tiny house in a canyon
Tiny homes can have two floors, as you see with this charming home in Topanga Canyon, California. This often means that the main rooms like the living space and kitchen are downstairs, with the bedroom(s) on the top floor, said Brighter Craft. This home utilizes its grounds well, adding a fenced area and slight porch.

12. Little bright-colored houses
This string of bright-colored wooden houses on Helgoline in Germany's North Sea provide an oasis for visitors with its natural beauty, said FRS Helgoline. So why not leave your hefty suitcases behind and settle into these small-sized spaces close to the shore? You can try out the tiny home philosophy while on vacation.
13. A sauna for all seasons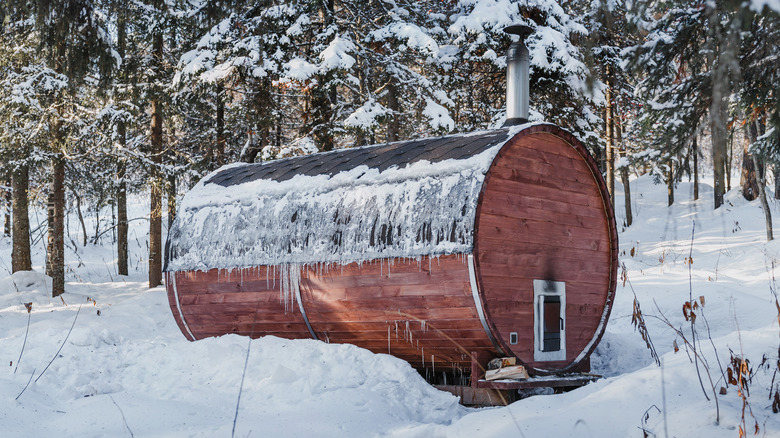 frantic00/Shutterstock
This quaint sauna keeps you warm even though its nestled in a snow bank. Barrel saunas, named because they sometimes use enlarged wine caskets, according to the Tiny House blog, foster the hot moisture with their rounded edges. If you decide the heat is too much, the space also makes good offices and guest bedrooms.
14. Tiny house space odyssey
Like something out of science fiction, this 420-square-foot home with its porthole windows and space capsule construction is called Airship 002, said Airbnb.  The sustainable home located in the Scottish Highlands was dreamed up by couple Amanda Markham and Roderick James, the latter an architect, and offers views of the Sound of Mull. 
15. A tiny Hawaiian treehouse
A treehouse captures the adventurous spirit of childhood, and this Hawaiian retreat takes those younger fantasies and ratchets up the design factor. You'll climb 15 feet to your bedroom, where you'll sleep a full 20 feet from the ground. Airbnb said the goal was to "bring the outdoors in and the indoors outside."