The Shower Curtain Mistake That's Growing Mildew In Your Bathroom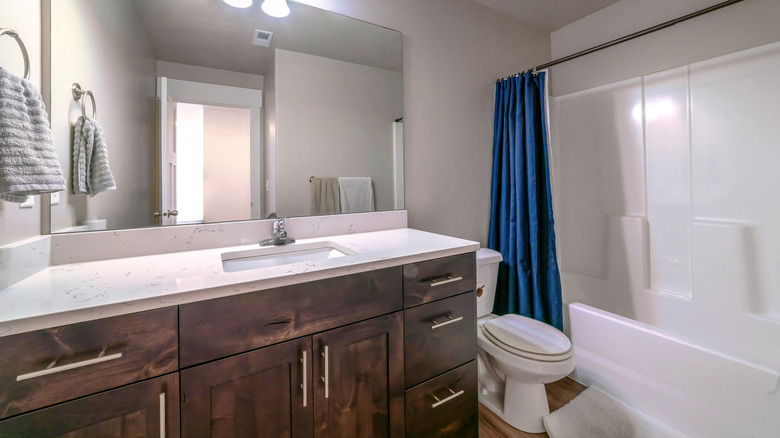 Jason Finn/Shutterstock
When you consider the bathroom surfaces that need regular cleaning, chances are the shower curtain doesn't make the top of your list. That is until you enjoy a long, hot shower and realize there's an unappealing mildew smell. The fact is, you should be regularly cleaning your shower curtain to ensure it stays fresh. However, if you don't see yourself washing your shower curtain weekly, then there is one small thing you can do to ensure it doesn't get a funky scent.
If you push the curtains aside when you step out of the shower and then just leave them there, you need to change that habit ASAP if you want to help keep mildew at bay. According to The Spruce, the simple act of closing your shower curtain can help speed up the drying process. Since humid, damp environments are the perfect spot for mildew to flourish (via Mansfield Plumbing), closing your curtain and ensuring it dries between uses should help keep mold from forming. If you have a dual curtain situation that includes a plastic liner, you'll want to ensure that the lining stays inside the tub as it dries (via House Caravan).
A few more tips to consider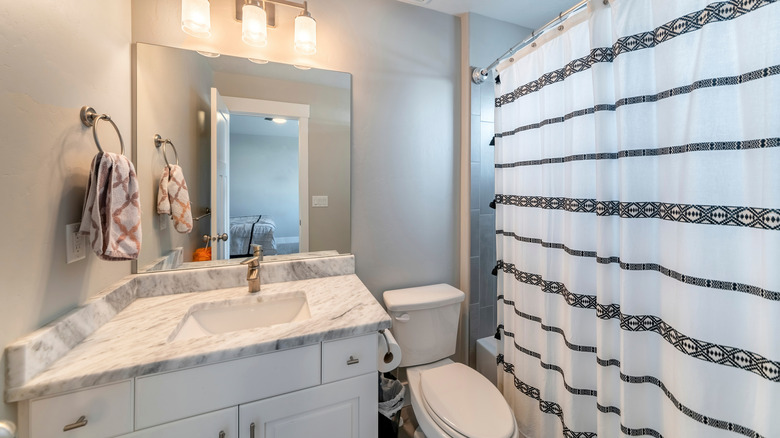 Jason Finn/Shutterstock
The number one tip to prevent mildew from forming on your shower curtain is to deal with the moisture on your curtain in a timely fashion. This means ensuring it is drawn closed when you finish showering. Well+Good suggests that a bit of ventilation can also help. Leave your bathroom door or window open to encourage that drying process.
However, you may also want to consider the type of curtain you're using. If you're using a plastic, waterproof curtain, you should have a much easier time cleaning it if necessary. Certain materials like silk or satin can be problematic, even if you use a plastic liner to help waterproof the glamorous fabrics. Finally, if you happen to get a spot or two of mildew on your shower curtain despite your best efforts, don't worry — it is possible to clean it. For minor issues, you can spray the curtain with your cleaning solution of choice and allow the water to rinse it off. If a strong case of mildew has set into your curtain, you can toss it into the washing machine, as Molly Maid suggests, allowing it to air dry when done.