40 Inspiring Living Room Paint Color Ideas To Brighten Up Your Home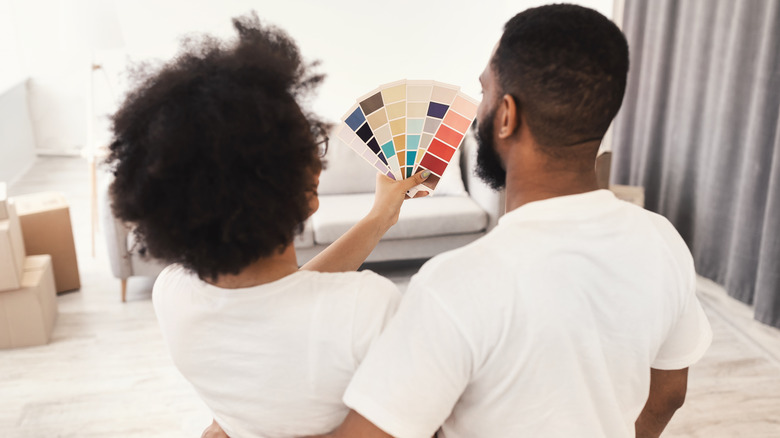 Prostock-studio/Shutterstock
One of the best parts about owning or renting a home is the transformation that can take place when you decide to paint. It's genuinely one of the things you can do to that can completely change the mood or feeling of a room — that and lighting, of course. "Paint has a tremendous amount of impact in any room and really sets the tone for your mood and overall design," confirms Nicole Gibbons, founder of Clare to Domino Magazine. 
Whether you are inspired by an influencer's home on Instagram or by what you see on Pinterest, finding a hue that you can connect with can make your home stand out, no matter the color you choose. As Melanie Millner of The Design Atelier explains, "The amount of sunlight, or the lack thereof, can affect the outcome of a paint color. Something that works in one space can look totally different in another."
Something else to consider is how you want the room to make you feel. Better Homes & Gardens caught up with several designers to get their take. For instance, a calming light blue can make you feel productive, or a taupe can make your room feel cozy, which we love. Scroll down and get inspired by these paint color ideas for 40 living rooms to brighten up your home — and you just may get motivated to pick up a paintbrush for your next weekend project.
1. A bright yellow abode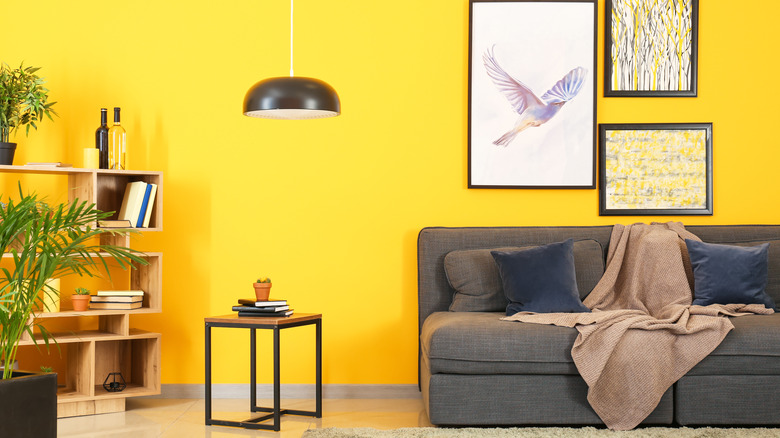 Pixel-Shot/Shutterstock
If you're feeling down, brighten up any room with punchy yellow paint that is sure to make the dullest room a little brighter. Now there's a way to make your neutral sofa really stand out!
2. Bring on the purple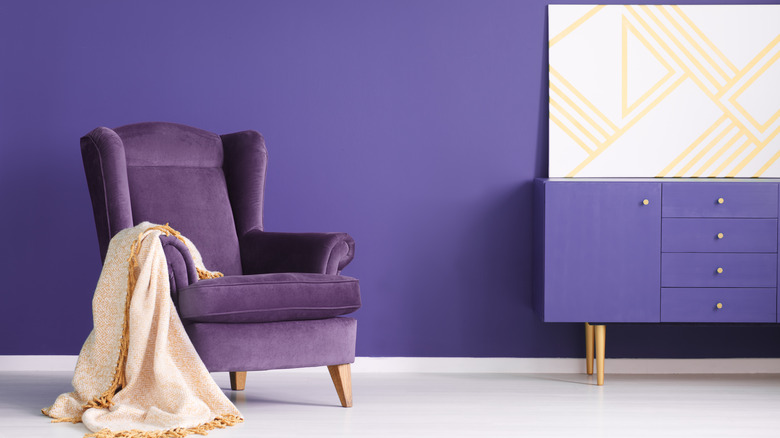 Photographee.eu/Shutterstock
If purple was one of your favorite childhood colors, then you must bring the hue into your living room to infuse a little fun into your elegant living space. We love how they brought in a geometric yellow painting to add interest.
3. Add drama with burgundy walls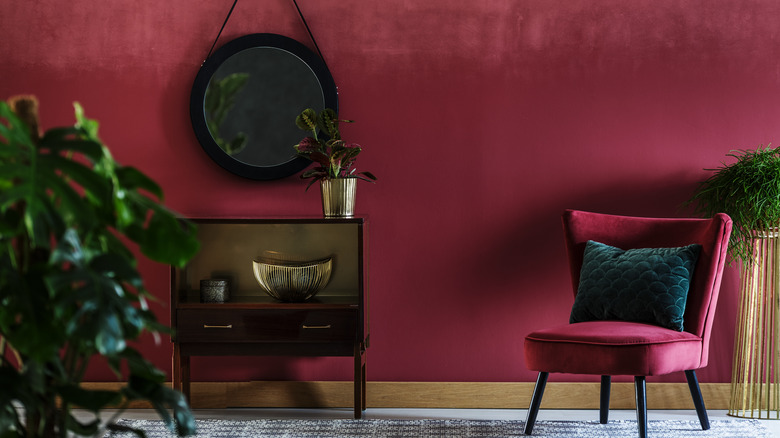 Photographee.eu/Shutterstock
Seduce guests with this inviting burgundy paint color that is sure to add drama to a space. Pair it with a velvet chair or couch, and adding plenty of leafy plants is just the vibe our living space needs.
4. Neutrals that pop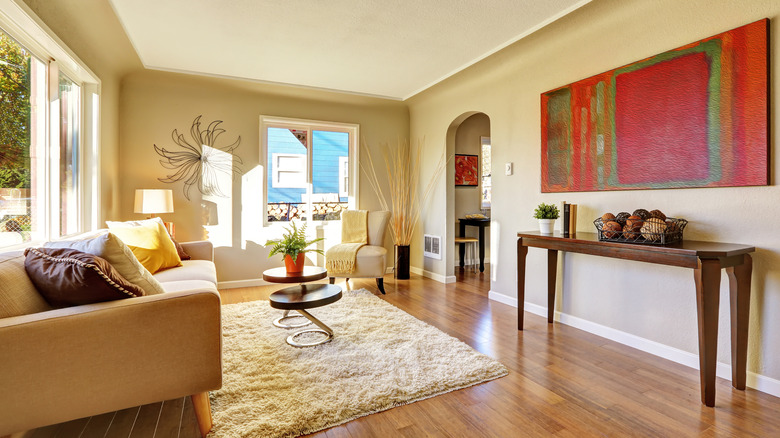 Artazum/Shutterstock
This monochromatic look is seen in the walls and the furniture, which gives off serious celebrity vibes. Toned-down neutral can pack a punch when you incorporate it into every piece in your living room. To liven up your living room, though, we suggest adding some eye-popping, colorful artwork to the space.
5. Two-toned green walls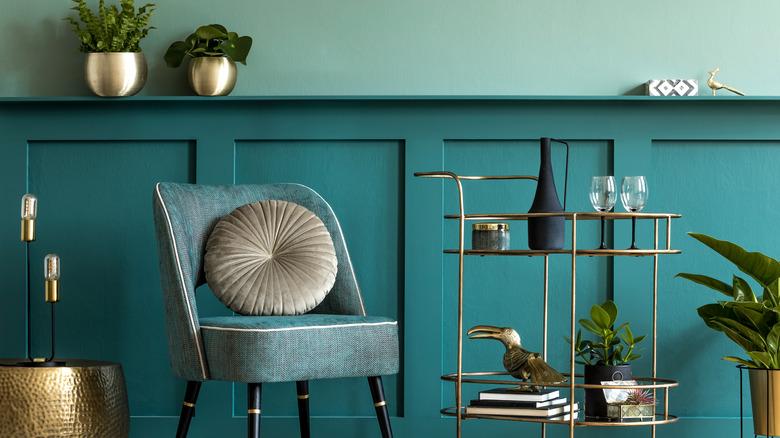 Followtheflow/Shutterstock
Add some pizazz with two-toned green walls. Finish off the look with plenty of gold accessories, from a chic side table to planters.
6. Marigold yellow and white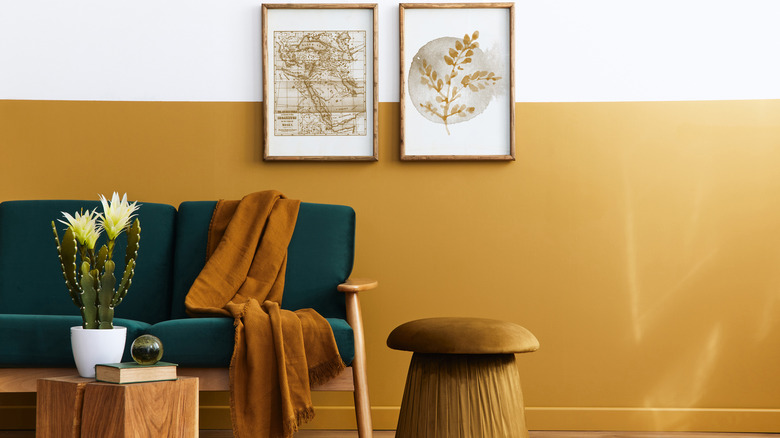 Followtheflow/Shutterstock
Give the bottom half of your room some extra spice by painting the walls in a marigold color while leaving the rest of the upper portion plain white. We love how they centered the artwork between the two colors and added a beautiful, green velvet couch for high style.
7. Royal blue living room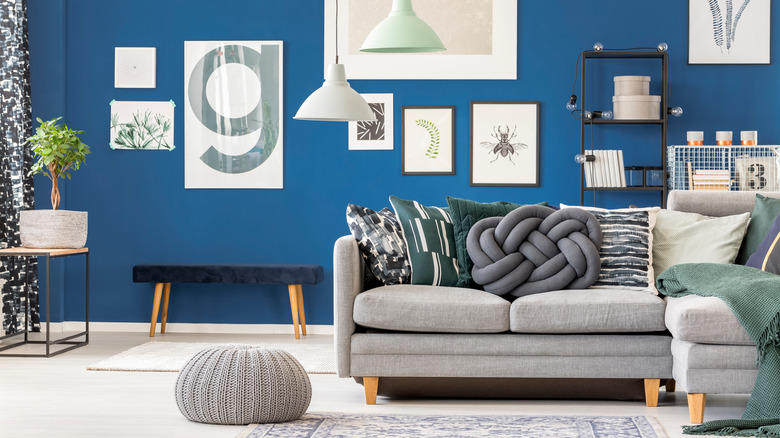 Photographee.eu/Shutterstock
Infuse your living room with royal blue-painted walls that will make your neutral gray couch and accessories stand out.
8. Coral living room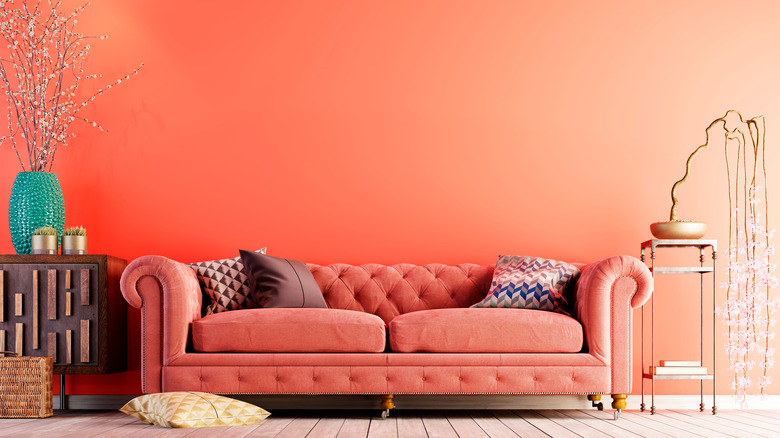 visualstock/Shutterstock
According to The Spruce, coral painted on walls isn't used often enough. Just looking at this room brings us joy — and so does the tufted coral couch.
9. Mint green walls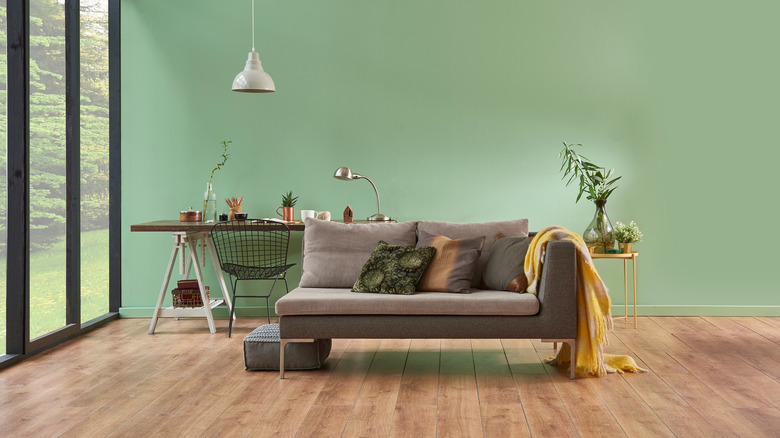 united photo studio/Shutterstock
Wouldn't you agree that mint green is a soothing paint color? It just so happens to pair well with other colors, such as white, beige, violet, and royal blue, per House Beautiful. However, neutrals look just as great, too.
10. Navy walls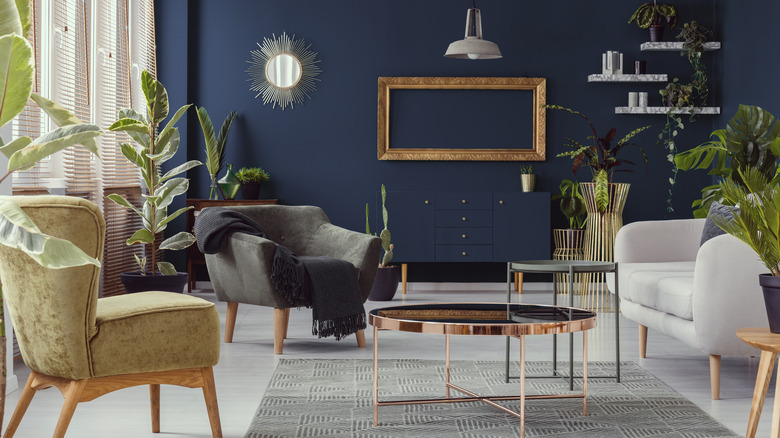 Photographee.eu/Shutterstock
Add a touch of drama to your living room space with navy, a deep hue that can really add that je nais se quois to a space. We love the idea of painting a console the same color so that it makes a smaller room feel larger.
11. Peach walls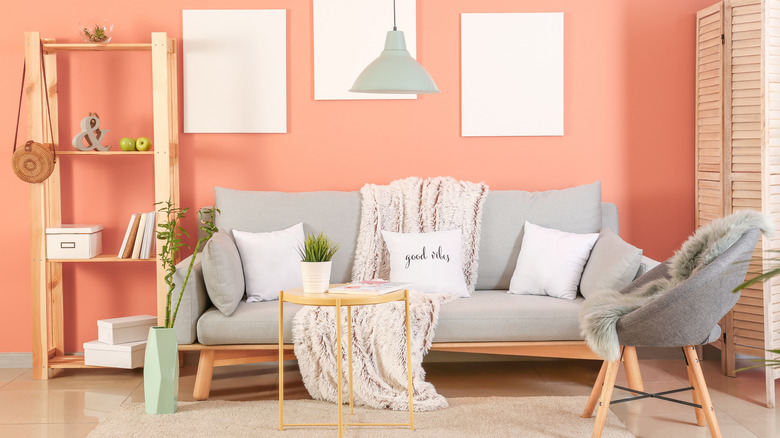 Pixel-Shot/Shutterstock
There's something about peach walls that would make any day start happier. It makes the rather basic-looking living room with simple gray furniture anything but ordinary.
12. Powder blue walls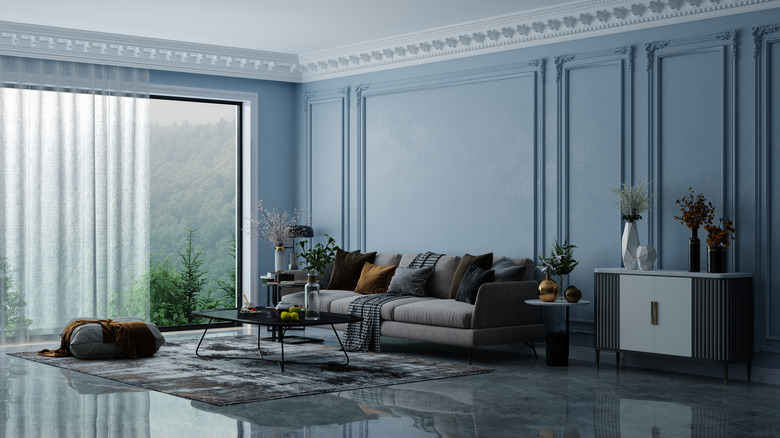 mixphotos/Shutterstock
According to HGTV, walls painted a powder blue color can bring a calmness to the air — and who doesn't need that? We loved how they paired the relaxing hue with moodier hued furniture in darker grey, accented with pillows in deeper colors.
13. The red accent wall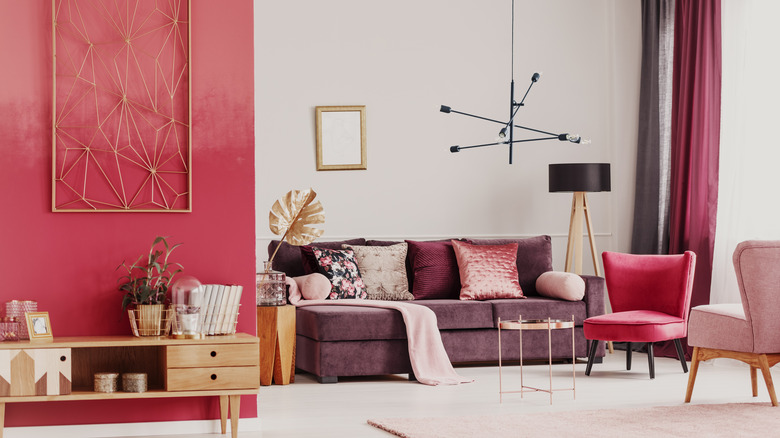 Photographee.eu/Shutterstock
If you don't want to go all out with a spicy color like red, we suggest an accent wall. It can bring out a piece of artwork and be the perfect entrance to a living room with white walls and different red tones seen in the furniture, all while making a bold statement.
14. Black Walls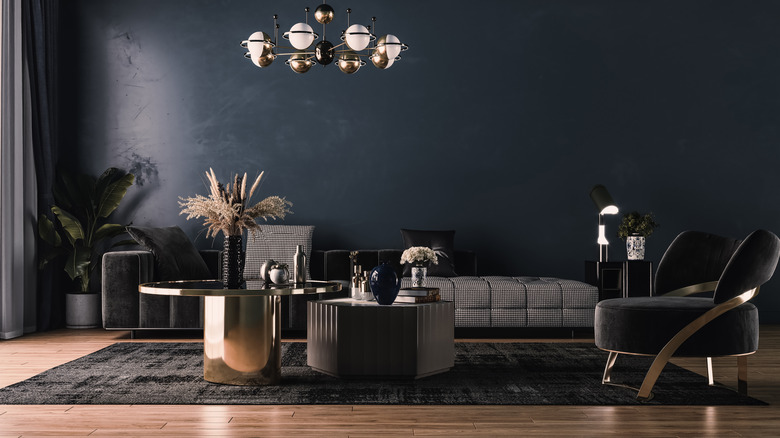 mixphotos/Shutterstock
Black walls definitely don't have to be melancholy. Paired with gray and black furniture with a sprinkle of gold, and you have yourself an incredibly chic space.
15. Punchy pink walls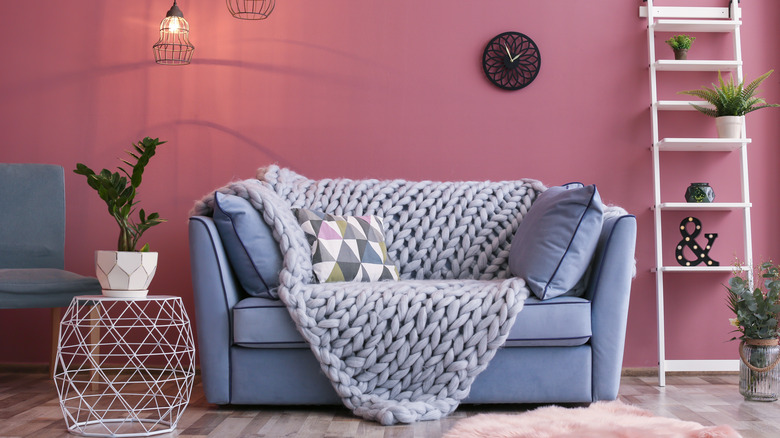 New Africa/Shutterstock
Bring in an ultra-feminine feel with a punchy, bright pink paint color, and pair that with a blue sofa with a comfy sweater-like throw blanket to balance it all out.
16. Pale pink wall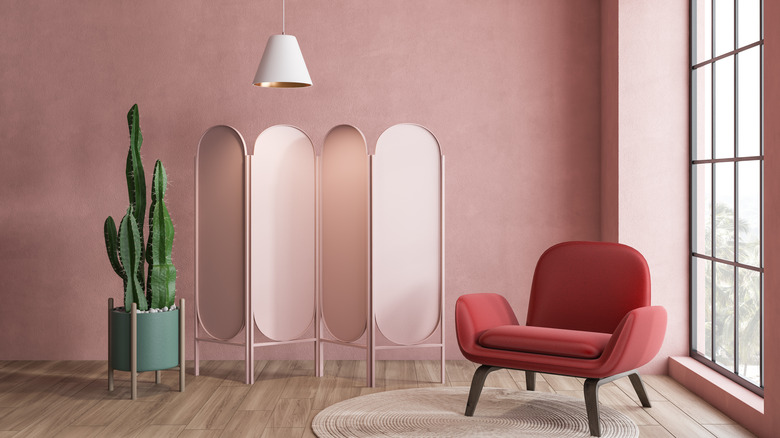 ImageFlow/Shutterstock
Pale pink can be incredibly romantic, but it can also be given a fresh spin by mixing it with red. Even Apartment Therapy agrees that adding red furniture can be elegant, but not too serious for the space.
17. Dark gray room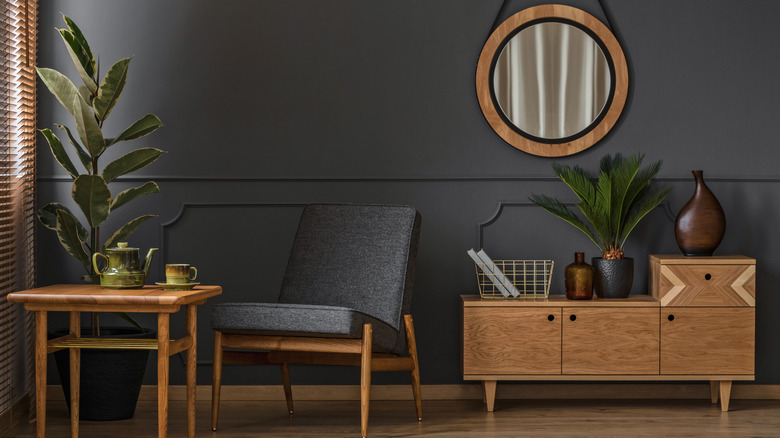 Photographee.eu/Shutterstock
Dark gray can be an exquisite paint color option for your living room walls. When you pair it with furniture in light wood tones, it really makes the room stand out.
18. Dark green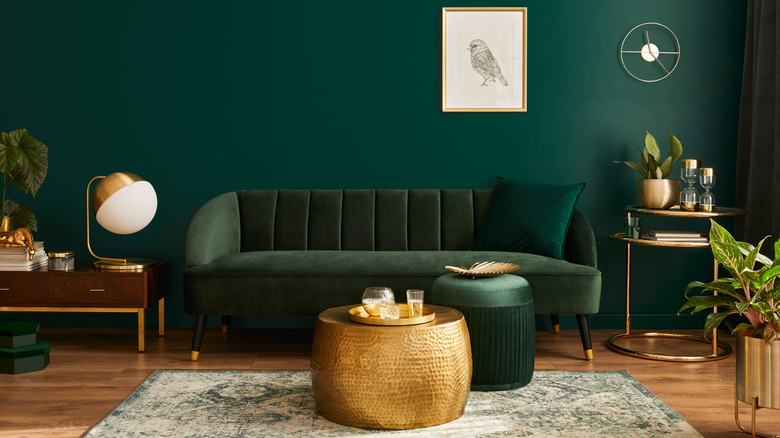 Followtheflow/Shutterstock
There's something about dark green walls that transform a room. In fact, Family Handyman calls the emerald color "sophisticated," and we couldn't agree more, especially when paired with gold accents.
19. Tan walls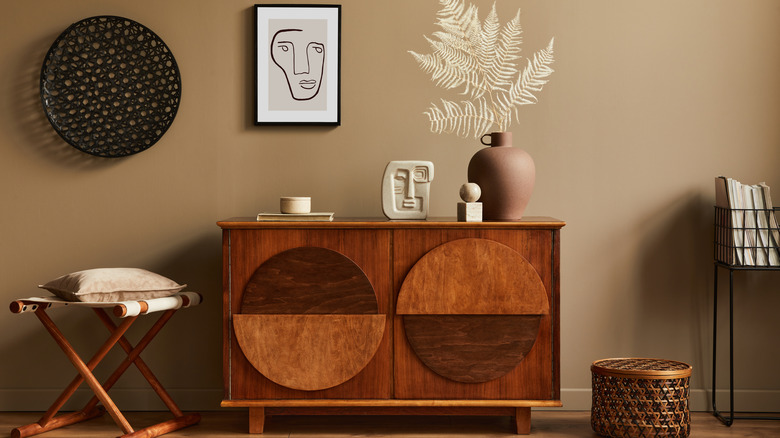 Followtheflow/Shutterstock
Don't want to go too bold with a bright jewel-toned paint color for your walls? No problem! We love how these tan walls make this Picasso-style art really pop. Plus, if you want to take baby steps to add color to your space, opt for some throw pillows to get you started.
20. Emerald green and light gray walls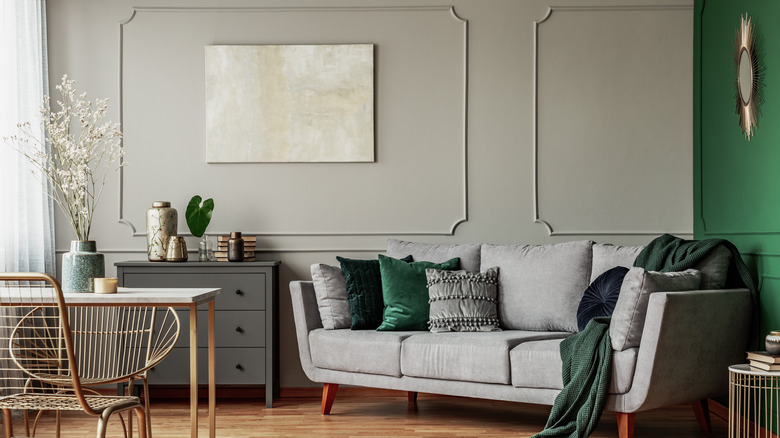 Photographee.eu/Shutterstock
​With a mix of gray and emerald-painted walls, you can really give your room separate spaces — say, for a corner office — and tie it all together with your green accessories found in the pillows, throw blanket, and plants.
21. Light brown/decorative yellow wall combo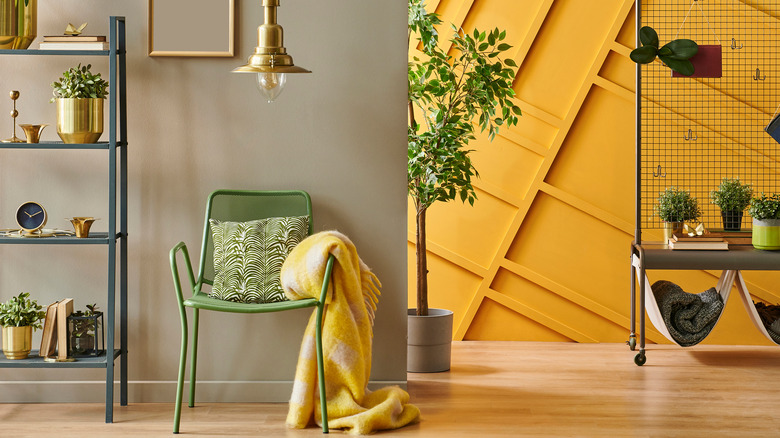 united photo studio/Shutterstock
If you have a decorative hallway wall that leads to your light brown living room, consider painting it a bright yellow color for extra excitement.
22. A splash of lime green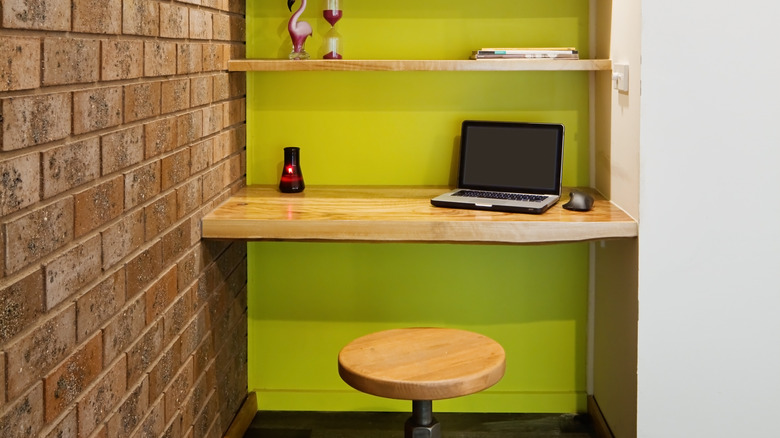 Jodie Johnson/Shutterstock
If you have a nook with shelving in the living room, add a splash of lime green paint to the walls and really create some extra excitement for your corner office. It just might give you that extra zest to meet all of your deadlines.
23. Eucalyptus walls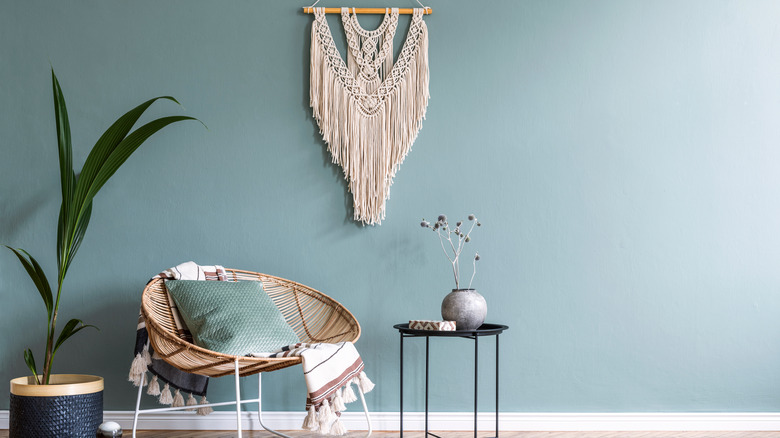 Followtheflow/Shutterstock
Add a wicker chair that's making a design comeback, and set it against gorgeous Eucalyptus walls for a thoroughly calming space.
24. Orange walls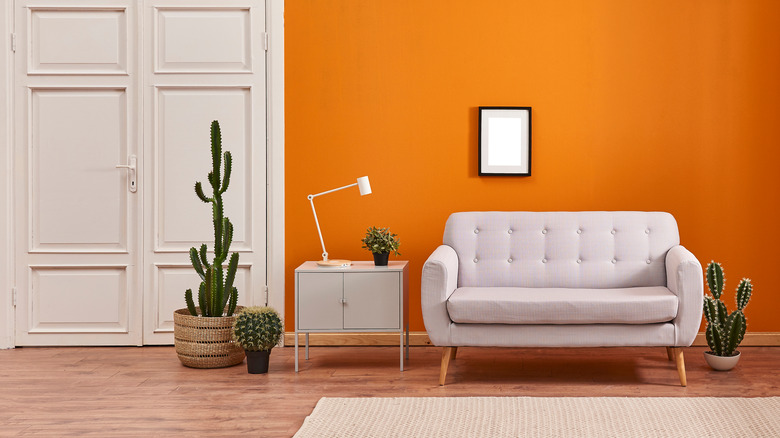 united photo studio/Shutterstock
If you haven't considered orange walls, we suggest doing so! It may be a bright color, but totally cool in our opinion.
25. Medium gray walls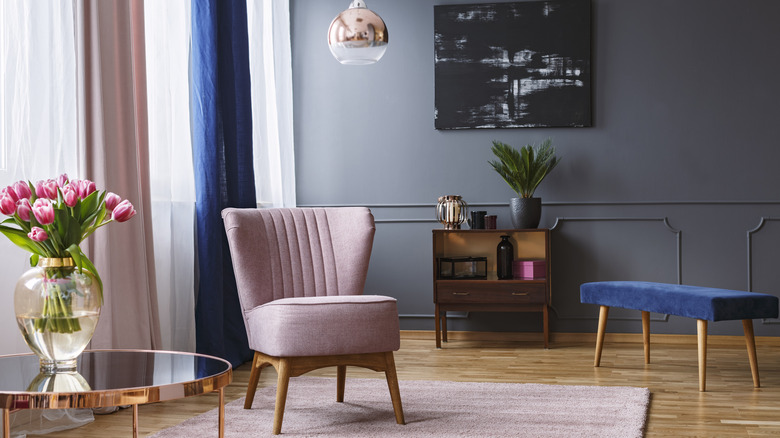 Photographee.eu/Shutterstock
If black or dark gray walls are out of the question, go for a medium gray color that looks excellent with light pink furniture and curtains.
26. Soothing yellow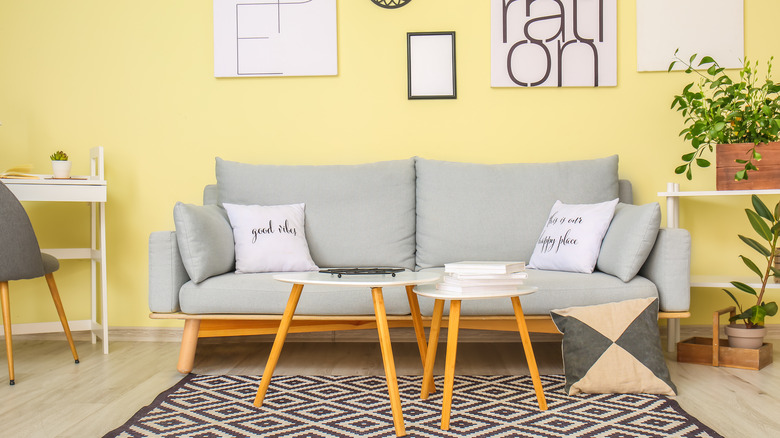 Pixel-Shot/Shutterstock
We can't imagine a happier paint color than soft yellow as we read the morning news with a frothy cup of coffee. This color pairs well with a black and white rug and a neutral gray sofa.
27. Blue Ombre walls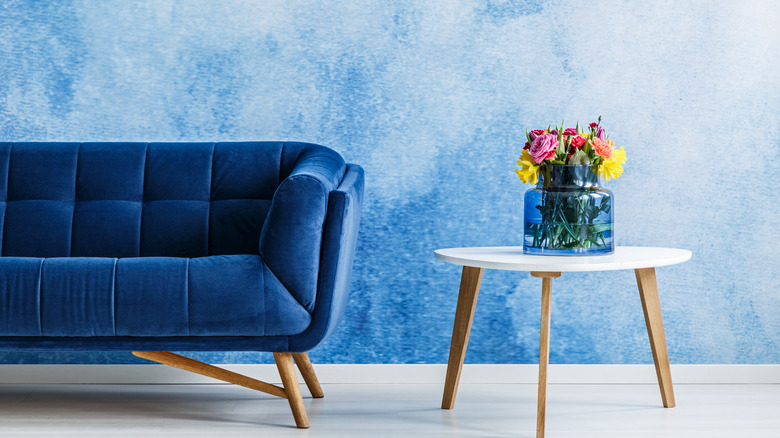 Photographee.eu/Shutterstock
Design a creative environment with Ombre blue walls that are sure to get your guests talking when they come over for drinks.
28. Beige and white aren't boring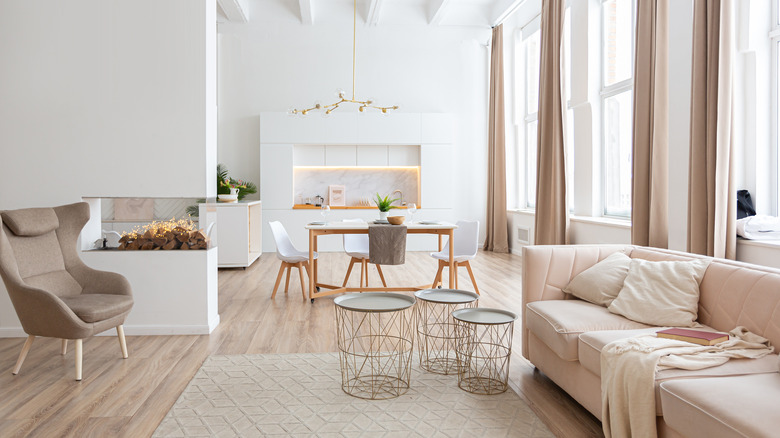 PinkyWinky/Shutterstock
White walls that pop without any paint color can still be really exciting! A light sofa, and a tan chair and curtains really make this bright space look chic.
29. Teal living room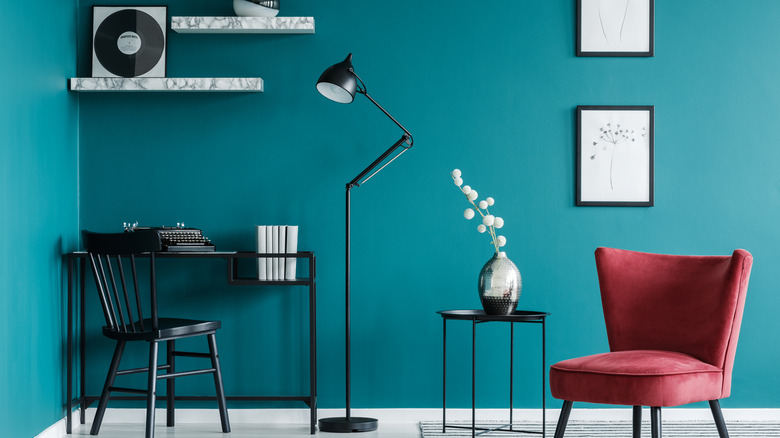 Photographee.eu/Shutterstock
We have to say, a teal living room is tempting and makes a stylish statement with black furniture, artwork and accessories, and a simple red chair.
30. Brown living room walls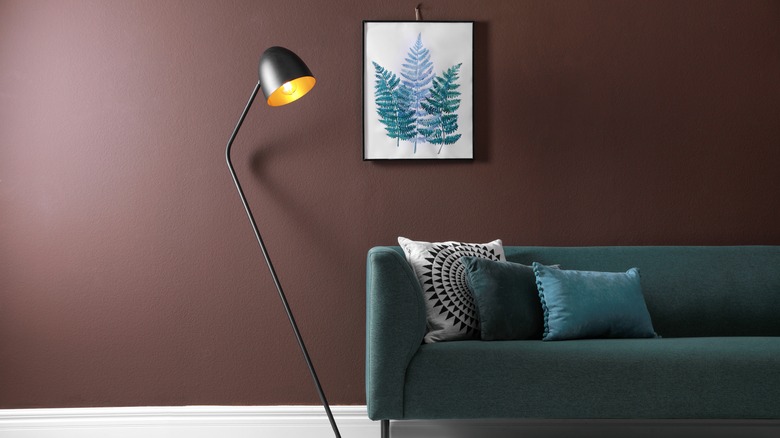 New Africa/Shutterstock
There's one word that The Spruce uses to talk about brown walls: versatile. There are so many different shades, and dark brown is a rarity, making your living room extremely unique.
31. Light orange walls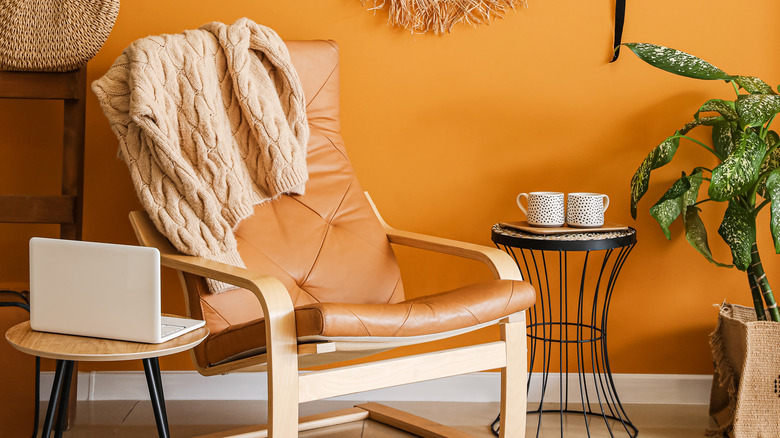 Pixel-Shot/Shutterstock
Scared to go too bright with orange paint? This light orange color is rather calming since it's paired with neutral tans.
32. Burgundy Ombre wall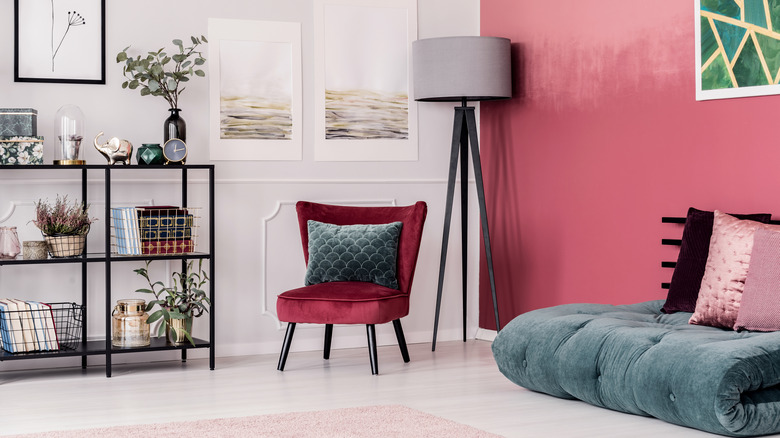 Photographee.eu/Shutterstock
We love how the emerald green furniture and accessories pair so well with this beautiful Ombre burgundy wall. It's definitely a statement-making option for your living room!
33. All black interior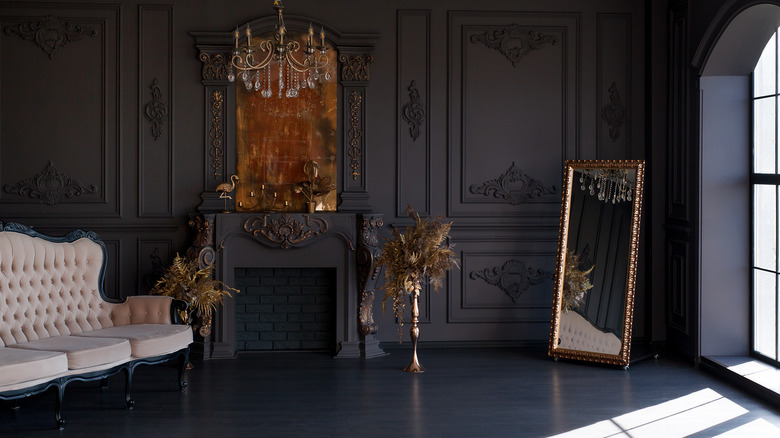 sergiophoto/Shutterstock
This room filled with dark, soft black walls and floors is so elegant with an elaborate fireplace, chandelier, and mirror.
34. Taupe walls
Artazum/Shutterstock
This room is the epitome of comfort with taupe-colored walls, a large green sectional sofa, and light pink lampshades — everything a home should be!
35. Warm brick-colored walls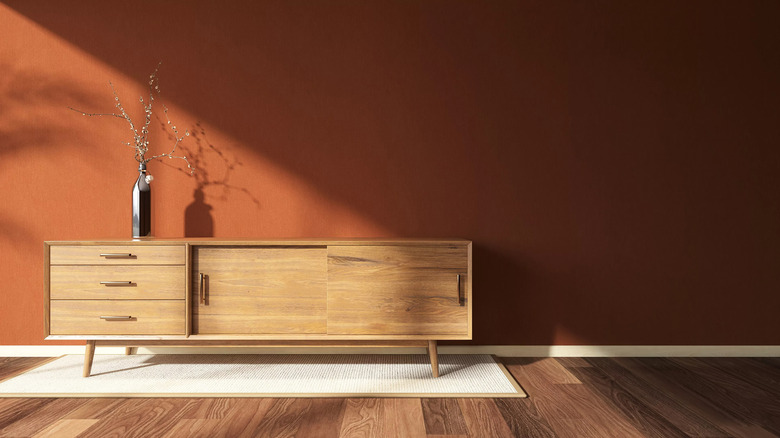 myboys.me/Shutterstock
This warm brick paint color on these walls gives the room a comforting vibe, especially since the sun hits it just right.
36. Multi-pastel colors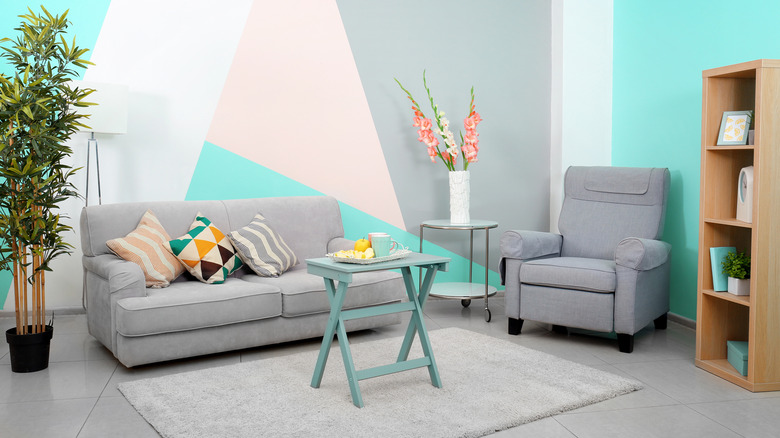 Africa Studio/Shutterstock
Bring the entire family together to create this cool, multi-pastel color pattern of teal, white, light pink, and gray that is sure to show guests your creative side.
37. Light gray walls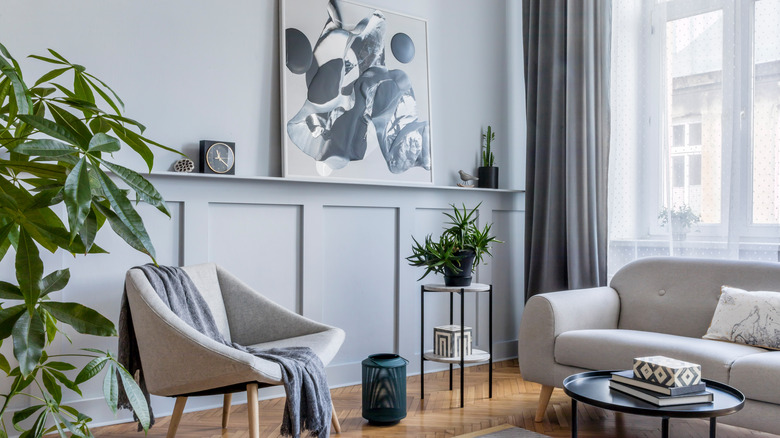 Followtheflow/Shutterstock
Light furniture and interesting black-and-white artwork are brought together with calming light gray walls in this chic living room space bathed in bright light.
38. Soothing cream walls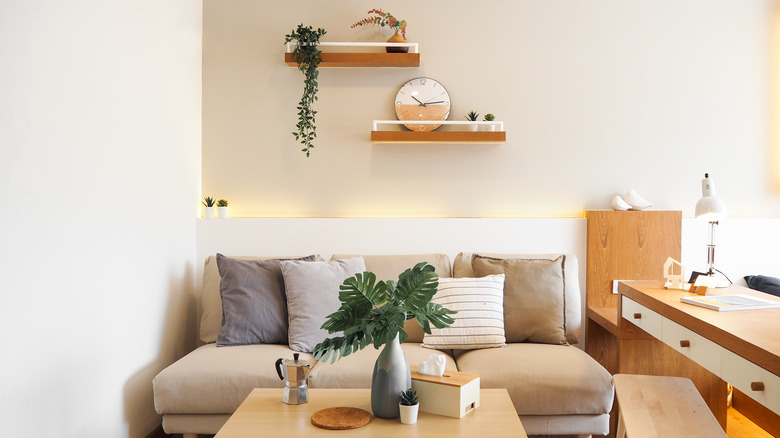 Apinya Kurakhan/Shutterstock
A light tan couch and wood furniture go perfectly with these soothing cream-colored walls, proving that light colors can be really beautiful in a space. Add greenery, either real or faux (but real-looking) to give the room a natural feeling.
39. Living in Lilac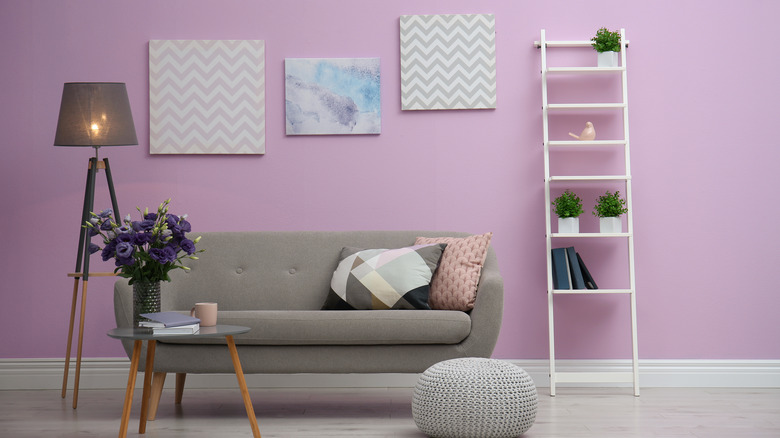 New Africa/Shutterstock
HGTV says you can make your living room feel like spring all year round by painting it lilac. We must admit, we love the idea, especially during the dead of winter.
40. Textured concrete gray wall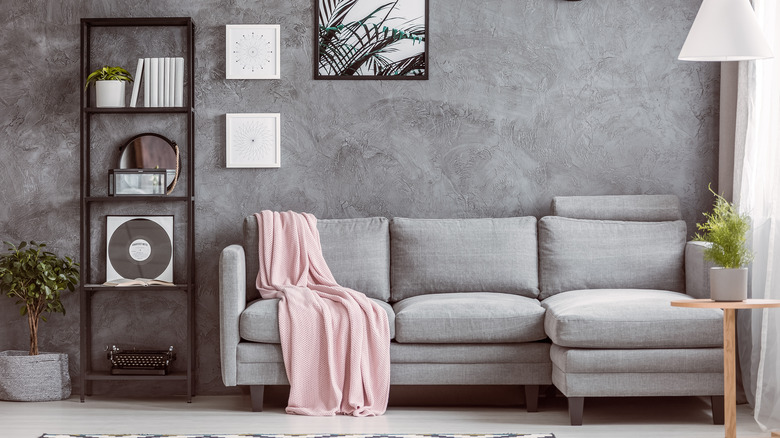 Photographee.eu/Shutterstock
Add a bit of texture to your wall with this textured concrete gray wall, paired perfectly with a gray sofa and a light pink throw blanket.