Joanna Gaines' Best Tip For Livening Up A Boring Space
Rob Kim/Getty Images
If you've ever walked into your entryway and felt like something was missing, there might be a simple décor solution you haven't thought of yet. The queen of home renovations herself, Joanna Gaines, suggests installing a chair rail to add appeal to the space, per Best Life. It's a nice way to add a personal touch to your new house or a change to one you've lived in for some time.
The entryway is the first thing that you or a guest notice when walking inside. Behind the front yard, it is the real first impression your home gives. Entryways are best designed to be clutter free, so crowding it with multiple pieces of furniture and décor can make it feel overwhelming. However, a chair rail can visually enhance the area in a subtle way. Not to mention, they are easy to create even for a homeowner who is a novice when it comes to DIY projects.
Benefits of a chair rail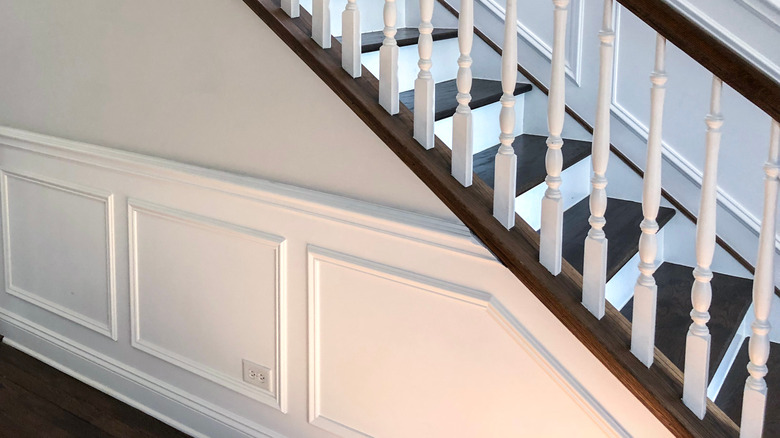 StudioDin/Shutterstock
The DIY Network has a detailed tutorial on how to install a chair rail, complete with videos of each step. The supplies needed to create one can easily be found in a local hardware store and the investment may pay off in more ways than one.
While a chair rail will add a classy detail to your entryway, it may potentially increase the selling value of your home as well, as noted by Williams Professional Painting. If you're planning to put your house on the market in the future, many buyers will likely take notice of the sophisticated, yet neutral, element. And, in the grand scheme of things, it's much more uncomplicated than remodeling the kitchen or a bathroom.
We highly recommend taking a page from Joanna Gaines' book and adding this classic design to your entryway if you're looking to spruce up the space that welcomes guests (and yourself!) into your home. A simple weekend project can turn into years of satisfaction when you walk through the front door.