The Paint Roller Hack You've Been Missing Your Whole Life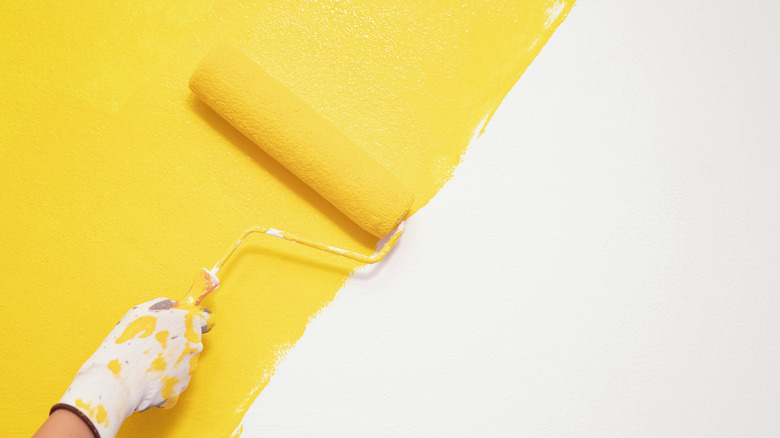 fongbeerredhot/Shutterstock
As The Created Home explains, a simple can of paint is one of the easiest ways to completely transform a space. And, not only does it make a major impact, it's also quite inexpensive, and very easy to do it yourself in a limited time frame. The process is easy, but there's one sticking point you may have faced before in your painting adventures: the need to maintain the few tools you use, like that handy roller. If you just leave it out while you wait for your latest coat of paint to dry, there's a good chance the roller will dry out as well. Sure, you could buy a new one every time you get a new can of paint, but that's both not sustainable and not budget-friendly. However, it can be a total pain to have to thoroughly clean out your roller between coats.
Luckily, there's a quick and easy hack that will totally change the way you paint, and will have you itching to use that paint roller for your DIY ideas rather than avoiding it — and it requires something you likely already have at home. As Apartment Therapy outlines, all you need is some aluminum foil. Then, instead of leaving your roller resting uncovered in your painting tray between coats, you just wrap the entire roller with a layer of aluminum foil. The added step takes just seconds, and will keep your roller usable even if you leave it for days.
Alternatives to keep your paint roller fresh throughout your whole project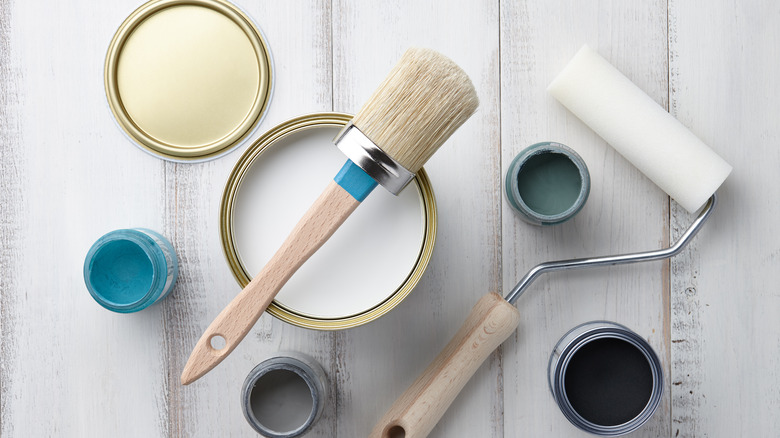 kobeza/Shutterstock
If you don't happen to have aluminum foil on hand, there are a few other quick alternatives for protecting your paint roller and keeping it fresh for a few hours between projects, as This Old House explains, with the most similar to foil being plastic wrap. The process is identical to what you'd do with aluminum foil, as you simply want to wrap your roller so that it's all covered and the paint isn't exposed to the air. Then, when you're ready to use the roller again, just unwrap and get painting.
Or, if you don't relish the idea of wrestling with a paint-logged roller and a sheet of aluminum foil or plastic wrap, you can also simply place the roller in a plastic bag, and then squeeze until all the air is removed — basically the same idea as with the foil or wrap, but perhaps a little easier to just contain the roller in the bag and then eliminate the air.
However, it's also important to consider just how long you'll be leaving that roller between projects. If you're planning to leave the roller for 24 hours or more, Jenn Stimpson of the blog Build Basic suggests using the airtight plastic bag hack, and then levelling up by storing the covered roller in the fridge to best protect the paint.