Our Favorite IKEA Bestsellers For 2021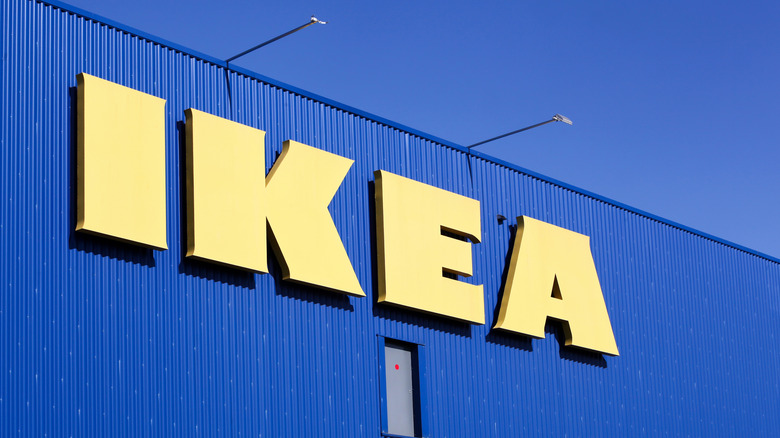 ricochet64/Shutterstock
IKEA has a knack for having just the right product for just the right price at times. While it's target market is generally known to be millennials, per Query Sprout, it's little wonder that people of all ages are seen wandering the aisles on any given day. Access to affordable, attractive, and functional furniture is something on everyone's wish list — especially with so many of us still spending a majority of our time living and working at home.
Before getting to our favorite bestsellers of this past year, it's important to note that buying IKEA furniture doesn't mean your home has to look identical to your neighbors' abode. Thanks to sites such as Pinterest and TikTok, the world has been introduced to endless hacks that add uniqueness to everything from headboards to dressers and bar carts to desks, as noted by The Spruce. Something as simple as swapping out the hardware to knobs found in antique stores or on Etsy can elevate a piece and make it appear one of a kind.
The classic winner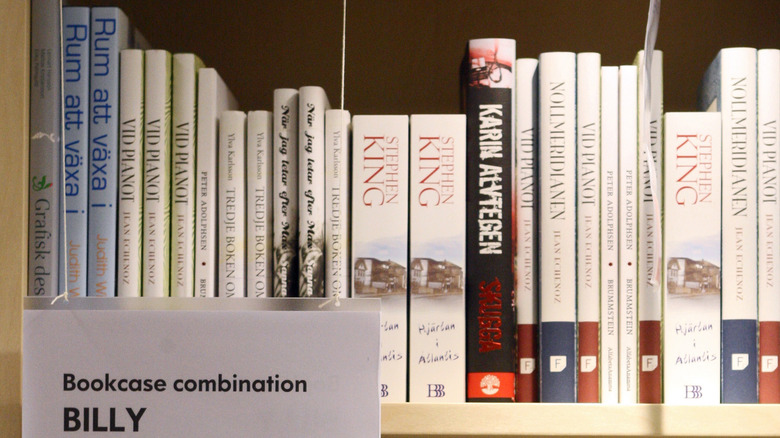 Bloomberg/Getty Images
If you're already familiar with IKEA, it shouldn't come as a surprise that our favorite top-selling item of 2021 is one that has been a longtime favorite: The Billy bookcase is officially 42 years old and, according to IKEA themselves, one is sold somewhere in the world approximately every five seconds. With four colors to choose from and a price tag of $229, the original Billy appeals to buyers looking for ample, versatile, and vertical storage.
What's better is that the Billy also comes in a wide variety of sizes and features. The narrow options are perfect for slim spaces, and glass or cabinet doors let you display your things while minimizing dust collection as well as potential visual clutter. Most units are customizable, allowing for add-on extension pieces as needed.
While intended for books, it can hold just about anything you want to store. The possibilities are truly endless when you think about it. Items such as shoes, plants, photos, souvenirs, collectible cars, files, serving ware, or board games can all find an organized home and be easily accessible on a bookcase such as the dependable Billy.
Runner-ups
A few of our favorite runner-ups are also considered classic IKEA pieces, according to the IKEA website. For one, the Kallax is another multifunctional storage piece that can make an ideal TV console or playroom addition. Similar to the Billy, there are multiple colors and sizing to choose from. Adding perfectly sized baskets with natural elements, such as the rattan Branas, gives a cozy feel to any living space.
Also popular is the Hemnes dresser due to its attractive aesthetic, low cost, and the high volume of clothing it can store. The classic model has eight drawers, four of which are more narrow, which makes organizing smaller items, such as socks and underwear, an easy task.
Lastly, while working and learning from home is still a reality for many, mobile pieces such as the Raskog three tier cart are invaluable. It can be used to store office or school supplies and rolled to the dining room or kitchen table during the day, then rolled away in time for dinner. A cart like this can also be used as a movable diaper or feeding caddy, a snack station, or even a beauty tool organizer in a small bathroom.